The Soubise 70 Carbon Line Catamaran has just started production in the French shipyard, Tournier Marine. This company is well known for their fast seaworthy sailing catamarans and this one is not exception. This will be a 70 foot sailing cat. In house designer and yard owner Philippe Tournier has designed this one. He wanted to construct and design a catamaran that would be ideal for passionate owners who wanted a fast sailing cat, without compromising comfort. This ship does it all and more.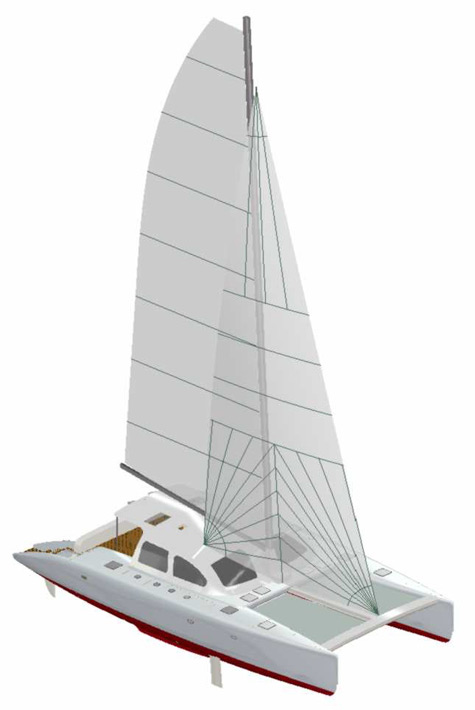 With both the rigging as well as the structure made from full carbon, the Soubise 70′ is superbly balanced, lightweight, and will be able to sail long distances quickly and in style. Philippe had been asked several times to build a large cruising catamaran that had different kinds of specialties, because nothing like it was already on the market. He ended up sitting down and creating a whole new design concept based on his twenty some years of naval building experience. The final result is the Soubise 70.' Here are some of the main features of this catamaran.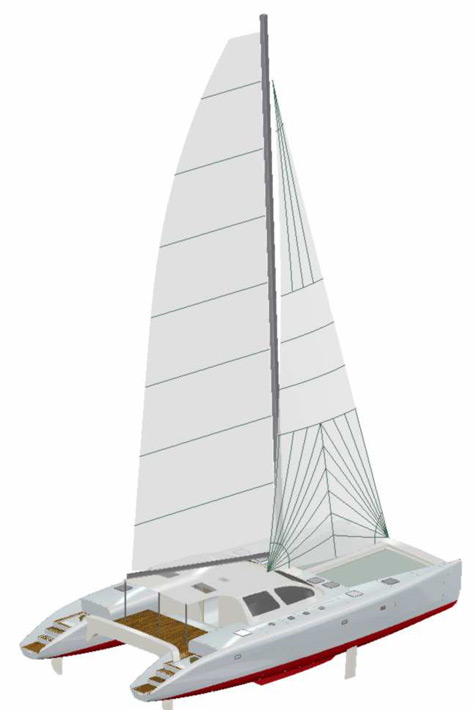 It will have cabins to sleep 6-8 people comfortably, keeping technical spaces to one hull and bedding capacity in the gangway. It will have a large cockpit, that is on the same level and that can be emptied quickly. It will also be simple and easy to handle, even in rough seas. The motors, while not the main propulsion, will have good performance and enough power to get passed tricky situations. With it's bow propeller, helms on both sides, it will be highly maneuverable in marinas and harbors. The deck and sails are planned to be able to sail with just a minimum of crew even in rough conditions. This catamaran also has top of the line sails and masts, for easy handling, as well as special breeze sails for cruising even with just light breezes.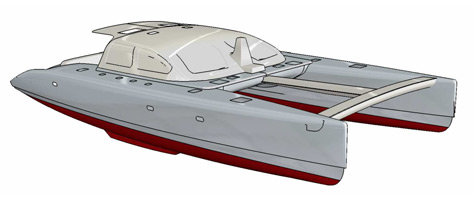 The Soubise will be able to cruise at around 5 knots in light winds, and up to 20 knots in steady wind. There is active on board navigation, with computers and forecast reception so you can either find the best winds, or move away from them if you want. A research consultant team has defined the structure itself, in order to optimize the solidness, as well as age. Weights and materials were chosen for equal distribution as well as a decreased overall weight of the catamaran. Boarding areas are well padded for safety of the passengers and owner.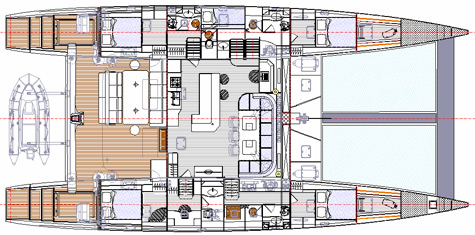 There will be three different cabin configurations to choose from, so you are a sure to find the right one for your needs. You can find out more information through Tournier Marine, which has a website, and several other sites on the internet. If you want a large sailing catamaran that will not only handle just about any condition, but still provide the comforts you expect, then the Soubise 70′ is the one to choose.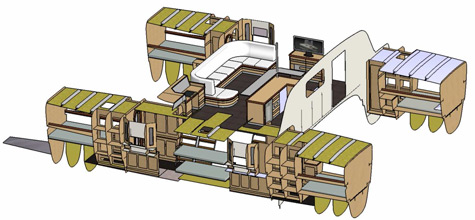 Specifications of the Soubise 70 Carbon Line Catamaran:
Length: 21.50 m
Length at waterline: 21.00 m
Draft (rudder): 1.30/2.80 m
Light displacement: 18 à 20 t
Bridgedeck height on load: 1.15 m
Height under deck beam: 2.10 m
Height in hulls: 2.00 m
Saloon surface area: 31 m²
Cockpit – steering station surface: 24 m²
* * *
Related link:
Tournier Marine

Photo: tourniermarine.com