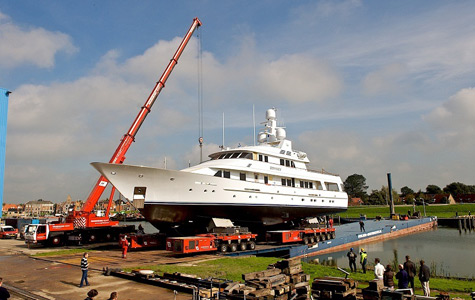 Sometimes a boat is built, and sometimes that boat is parked for an indefinite period of time. When the Odyssey originally launched in 1989, it was known as the White Rabbit, and eventually called Lady Columbo. Later it's name was changed to Ladina and finally to Bullish. These days it is known as the Odyssey, and it has finally been relaunched. Not only has it been relaunched, it has been fully refitted with a new hydraulic swim platform and a hydraulic passerelle. In addition to that, quite a few other new facilities have been added to make the trip more comfortable and even more modern!
This yacht was purchased by a new family in the year 2009, and it's size is no coincidence. They chose this yacht simply because they wanted to sail around the world, but they needed the ability to stop at various ports along the way. This isn't possible with some of the larger yachts out there, and this boat's ability to carry out that function while providing a high level of comfort is priceless in the nautical world.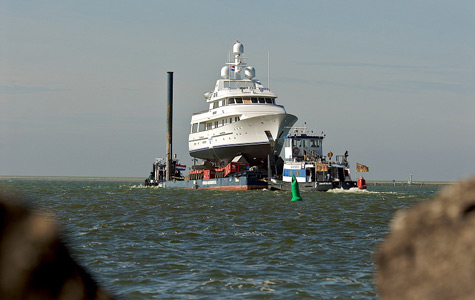 It should be noted that the rebuilding of a yacht is an extremely complicated project. There are many who might try having theirs rebuilt at a shipyard, but the problem with such logic is that the building crew will constantly change throughout the project. In other words, the shipyard will outsource the work to multiple contractors. When you are dealing with a yacht rebuilding situation, it is more than important to make sure the crew that starts the project is the crew that finishes the project. Luckily, there are several rebuilding facilities that are dedicated to yacht reconstruction, and Odyssey was seen to by the Feadship Refit Team.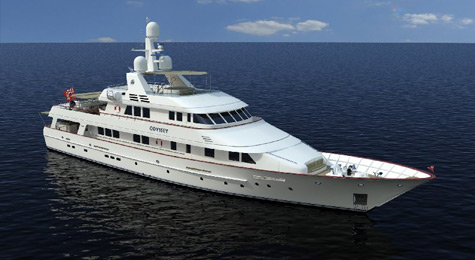 Once the refit agreement was signed and everything was in order, the team began to refit the yacht to the pre-established specifications. For one, the decks have been re-laid with teak and brand new cap rails. In addition to that, all new bathrooms and suites have been installed, and even the galley has been upgraded. It now houses stainless steel equipment and furniture, meaning meals can be prepared while paying attention to health and safety specifications.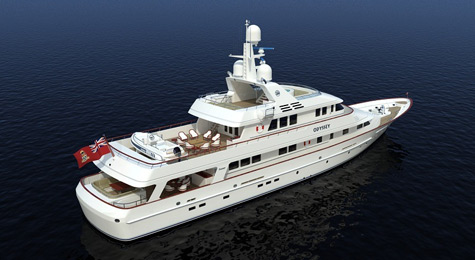 New laundry equipment and crew cabins have been added which will ensure that all of the amenities are fully taken care of. This is truly a great luxury yacht that while several decades old can still keep up with the best of them, especially with the two new Caterpillar C6.6 kW generators in the engine room! As the Odyssey embarks on a Caribbean cruise, it will make use of all the new improvements, providing it's new owners with a ride that they will not forget anytime soon.
Specifications of the Odyssey:
Length Overall: 41.05 m/134.68 ft
Length Waterline: 33.66 m/110.43 ft
Beam: 8.14 m/26.71 ft
Draught Max: 3.54 m/11.61 ft
Hull Material: GRP
Superstructure: GRP
Engines: 2 x MTU 12V 4000 M93, 6,800 HP, 5,071 KW total
Fuel Capacity: 37,854 l/10,001 ft
Water Capacity: 7,571 l/2,000 ft
Guests: 10
Crew: 10
Naval Architect: Gulf Craft Inc
Exterior Designer: Gulf Craft Inc
* * *
Related links:
Feadship
De Voogt Naval Architects

Photo: feadship.nl