With the great success of the 37 Meter motor yacht Tee-Dje, Bilgin Yachts and H2 Yacht Design are joining forces once again to design and build the Bilgin 132, a 132′ motor yacht with some of the same designs as their previous collaboration.
This newer addition is now being built at their Istanbul shipyard. It has the same interior as well as exterior designs, including a newer vertical plumb bow design, which gives a much more aggressive appearance overall. This bow design also allow the five cabin full layout, with the large forward main deck owner's suite. There are going to be large spacious lounges on both the main decks.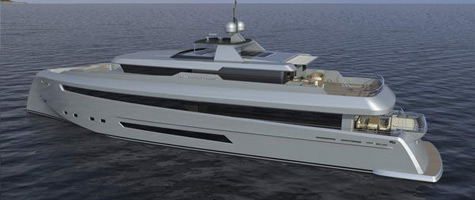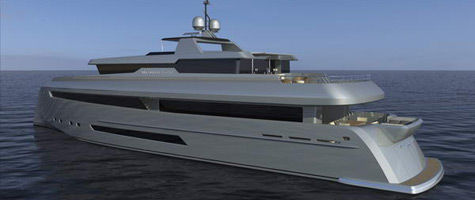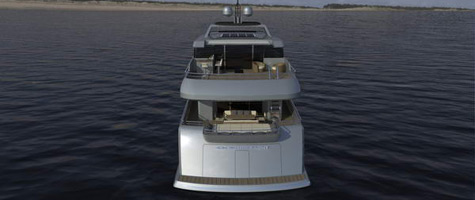 Bilgin as well as the Istanbul, Turkey shipyard are becoming one of the premiere yacht builders, and are offering some stiff competition to many of the companies and yards around the world. They have started to establish partnerships with some of the more famous designers, and consultants in the world, including H2 Yacht Designs. This combination of innovative design and consultants is producing a big impact on the whole yachting market. The Bilgin shipyard itself has been building pleasure craft for more that 45 years, and has already delivered four such super yachts this year alone. These include the Tee-Dje, the Noor, the Megayacht Madness, and the Indiana. Not only is H2 Yacht Design and Bilgin working on the 132 right now, but they are also getting ready to reveal an even bigger 45 meter version as their next collaboration.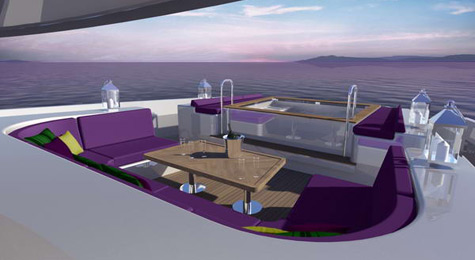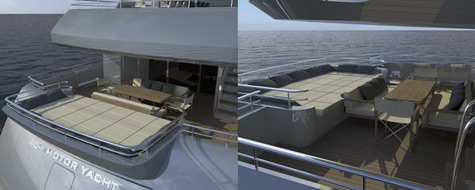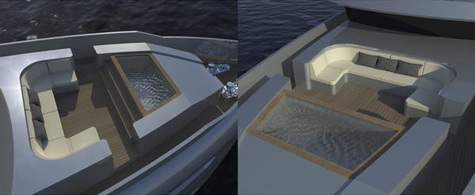 The Bilgin 132 will have from three to four guest cabins, and at least two crew cabins, including a captain's quarters. At 195 tons this yacht is expected to have top speeds of almost 23 knots, with a cruising average of around 18. The 132 will be powered by twin MTU 16 valve, 2000 horsepower M93 Blue Line Diesel engines. It will have a fuel capacity of 20,000 liters, with a fresh water holding tank of 3,500 liters.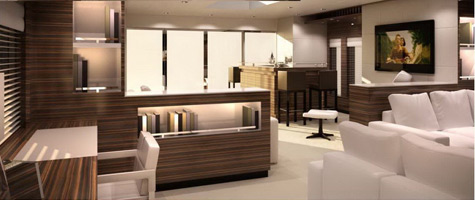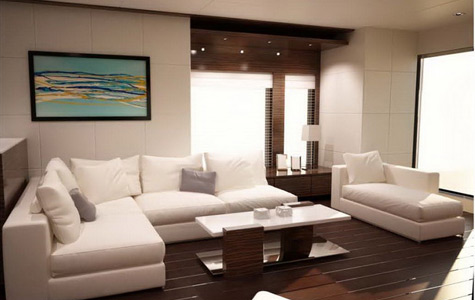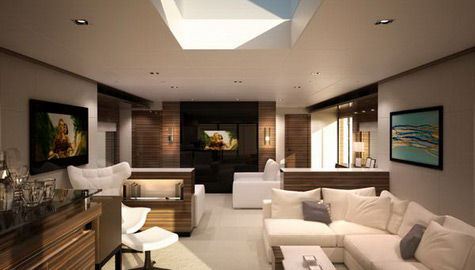 The interior spaces will be warm and inviting with an open floor plan and design so that even if you are sitting in one area, you can see into the other lounge areas. It is equipped with a full kitchen and state of the art appliances, large cabinets and storage areas, as well as two large refrigerators. The owner's quarters has large wrap around windows, with ample views, as well as a full luxurious bathroom. This bathroom has a separate spa tub and shower as well as his and hers sinks and vanities.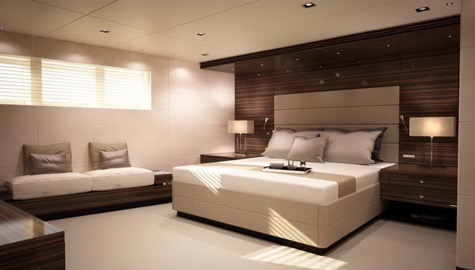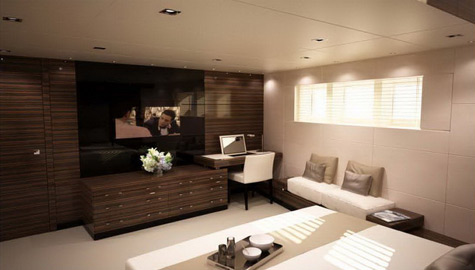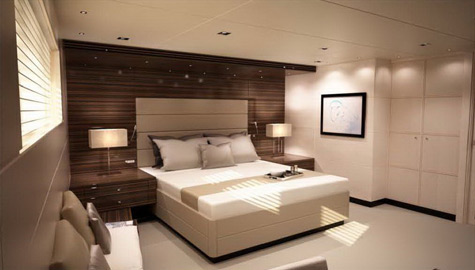 The flybridge has a lounge area, and a pool. The lower level's aft section has a fully opening hydraulic door that opens up to the swimming platform as well as a launch area for the hidden tender garage. This is just a few of the many amenities that are going to be offered. The Bilgin 132 will be fully equipped with state of the art entertainment areas, and have large wide screen televisions in both the owner's quarters, as well as through out the lounging areas. You can choose formal, casual, and even Al Fresco dining, as well as many bar options on almost every level.
Specification of the Bilgin 132:
Loa: 40.0 m
Lwl: 38.90 m
Beam: 8.50 m
Draft: 1.90 m
Displacement Full Load: 195 t
Engines: 2 x MTU/ Blue Line 16V – 2000/M93
Max. Speed: 23 knot
Cruising Speed: 18 knot
Water Tank: 3,500 l
Master Cabin: 1
Guest Cabin: 3
Crew Cabin: 2
* * *
Related links:
Bilgin Yachts
H2 Yacht Design
Photo: bilginyacht.com