Luxury and "panoramic" views set the Intermarine 85 apart from other yachts. The Intermarine 85 is manufactured at Intermarine, a yard that leads the Brazilian South American markets in boats that are between 43 and 76 feet long. This yard has been in business for 37 years, having built thousands of boats since 1973, the year it was first established. Recently, it decided to revamp its whole flybridge line. The new line was designed and established by Luiz de Basto; Basto has worked with the yard in the past, and his job was to establish a "new "family look" for the large models of the line. Hence, the Intermarine 85 was born.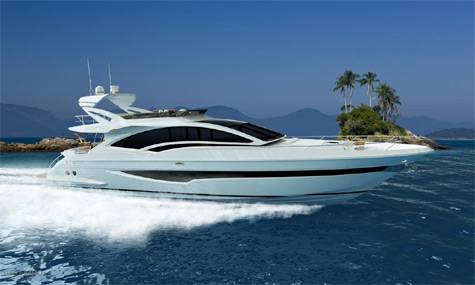 The 85-foot model is its flagship. The Intermarine 85 is the most advanced yacht built yet by Intermarine, and is extremely luxurious. Its bold design, top-notch performance, and luxurious fittings will make this yacht very sought after by yacht enthusiasts.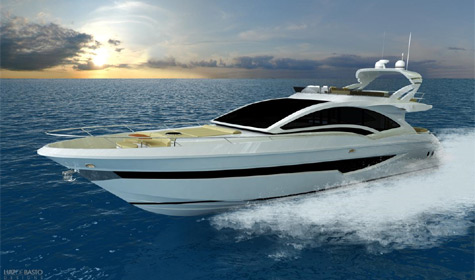 The interior and exterior have been integrated in the Intermarine 85, so that anyone who owns this yacht feels "a part of the sea." Designer and architect Luiz de Basto has designed it so that glass runs along both sides of the hull, with large windows looking out from the main salon. This gives anybody in the interior an unencumbered view from within, wherever one is in the yacht. There's also a windshield that becomes a skylight, which makes the main salon truly bright and full of natural light. One can absolutely see the boat "leaping forward" through the water, explosively.
The yacht is laid out so that there is the owner stateroom, VIP and two guest quarters below, and a bathroom. The stateroom has a king size bed, sofa, and working desk. There are his and hers bathrooms in the stateroom, walk-in closet, and of course the aforementioned endless windows that provide a view that simply unsurpassed. There's also a washer and dryer in the hallway for the guests' use.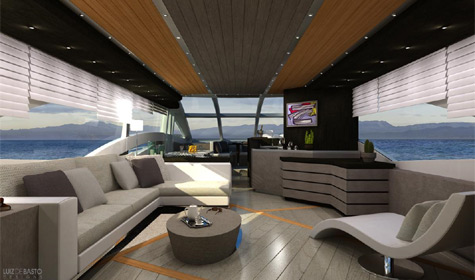 The crew has not been forgotten, either. Crew quarters boast two cabins for four as accommodations, in addition to a bathroom, galley, lounge, and service laundry. For guests, there is a huge salon with a chaise lounge and U-shaped sofa, with again, panoramic windows that look out onto the sea. The open galley provides dining accommodations for eight guests, with a second dinette by the helm seat and dashboard.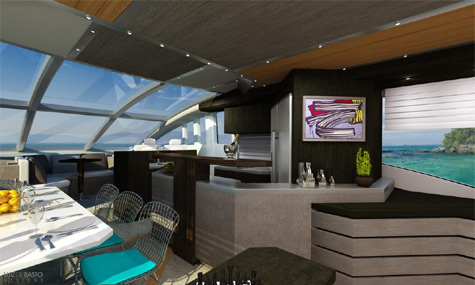 It's 88.25 feet long, 20.17 feet high at the beam, and weighs 60 tons. Its top speed is 34 kn, with a cruising speed of 27 minutes. The fuel tank holds 6000 L, and there are two 1800 HP with triple control engines.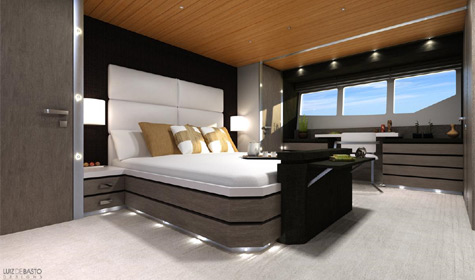 Luxury and comfort on the open sea can be yours, with the Intermarine 85 ready to offer every amenity possible.
Specification of the Intermarine 85:
LOA: 26.9 m/88.25 ft
Beam: 6.15 m/20.17 ft
Draft: 1.7 m/5.57 ft
Dry Weight: 60 t
Engines- 2x 1800 HP with triple control
Top speed: 34 knots
Cruising: 27 knots
Fuel tank: 6,000 l
Exterior and Interior Design: Luiz de Basto Designs
* * *
Related links:
Luiz de Basto Designs
Photo: luizdebasto.com