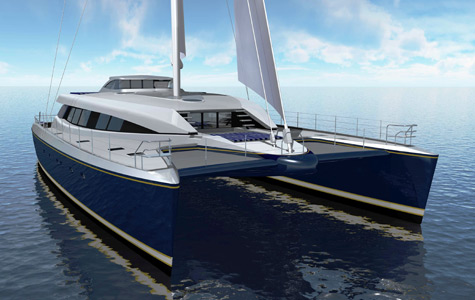 The Q5 is a large sailing catamaran that is 100′ long and has a beam of 48,' currently being finished by the construction team of Yachting Developments in the Auckland yard. She was slated for completion in 2008, but her owner had suspended building until now. During this hibernation period the superstructure was meticulously maintained, to ensure that she would be ready for the finishing work.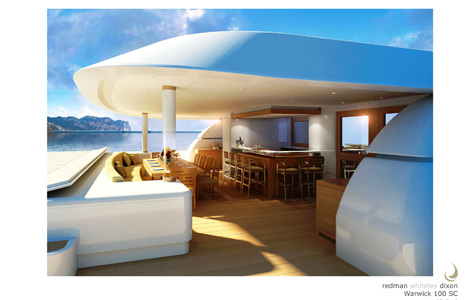 The exterior styling and superstructure was designed by Warwick Yacht Design, the interior by Redman Whiteley Dixon. The whole project is being managed by MCM, and is being built to specific GL class survey. Construction materials include lightweight but super strong post cured Eglass and composite carbon fiber. It is structurally engineered by SP-High Modulus, and is designed for cruising around the world in complete comfort. The Q5 will have five large cabins to accommodate up to 10 guests at a time, as well as three crew cabins. The lounge saloon will be large an spacious, with all the comforts of home. There will be a state of the art galley, outside Alfresco dining areas, as well as a full bar. The bow of the main deck will have a large and accommodation sun deck. The owner's suite will have a luxurious bath, king sized bed, and even an office area.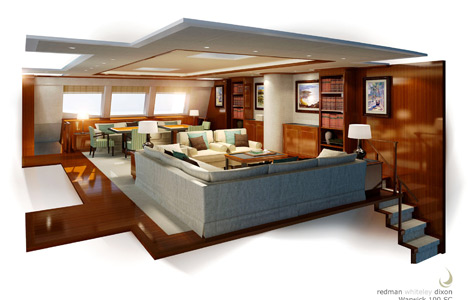 While the Q5 Catamaran will be mostly under sail power, it is also equipped with tow 450 horsepower diesel engines, with a fuel capacity of almost 10,000 liters. Twin 55 kilowatt generators will power all the electricity. It will have a 6,000 liter fresh water holding tank, so it will be able to go very long distances between ports if desired. The boom and mast are made from lightweight carbon fiber, and with the state of the art electronics can be controlled easily with just a few people.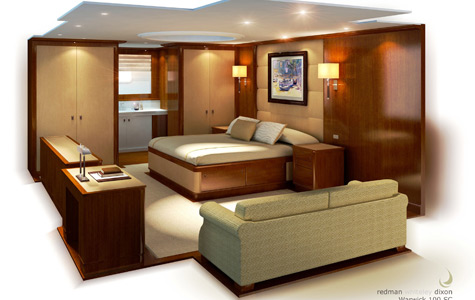 Unfortunately, there is just not a lot of information about the Q5, and since it won't be stated for release until sometime in 2012, well will just have to keep guessing at all the intricate details of the project. Charter World online has a few different concept drawings of the interior and exterior spaces, but most of the detailed information is not available.
Specifications of the Q5 30 Meter Catamaran:
LOA: 30.49 m/100'0″
DWL: 28.00 m/91'10″
Beam: 14.64 m/48'0″
Draft: 2.10 m/6'10″
Displacement light: 97,000 kg
Displacement Heavy: 113,000 kg
Fuel capacity: 9,735 l
Water capacity: 6,000 l
Engines: 2 x MAN D 0836 LE402
Guest Cabins: 5
Crew Cabins: 3
Designer: Warwick Yacht Design
Interior Designer: Redman Whiteley Dixon
* * *
Related links:
Yachting Developments
Redman Whiteley Dixon
Warwick Yacht Design

Photo: yachtingdevelopments.co.nz, rwd.co.uk