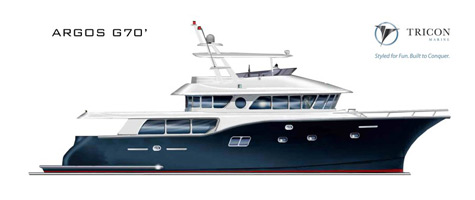 Tricon Marine has a plan to build a new custom Argos Gulfstream G70 for a private buyer, and they have in fact signed the papers. This boat is a monster at approximately 70 feet and it will be constructed at Tricon's shipyard, the launch being scheduled for late 2011. It should of course be noted that the Argos Gulfstream will provide a number of different rooms, all of which are built specifically for luxury.
The Gulfstream G70 will sleep six guests in three posh staterooms with ensuite heads. There will of course be a number of other amenities including the pilothouse, galley, salon, restroom, and a split-levels unblock that offers endless possibilities. This yacht could easily be compared to staying at a high end luxury suite at virtually any land based location, but the real stars of this show are the engine.
The Argos Gulfstream G70 will be outfitted with Cat C-12 715 HP engines which will provide a cruising speed of 17 knots and a max speed of 20 knots. Thus far, Cat has proven itself to be the top provider of nautical engines over and over again. While it's engines are expensive (The C-12 715 HP being about $28,000), you can count on them to keep your boat moving regardless of the water conditions.
The hulls for this yacht are built under a limited-production guarantee, meaning only three hulls will be built each year. While this seems a bit limiting, it does ensure that Tricon will create a high quality product each and every time it chooses to create one of these hulls. Of course it is also assumed that due to the overall cost of these boats very few individuals will be damaging their own to a point that a replacement will be needed. Typical maintenance will involve patching and sealing in most cases.
There is some concern however that the limited number of hulls on the market will discourage new buyers, and perhaps steer them away from the Agros Gulfstream G70. Yes, this is a very real possiblity, but Tricon is clearly willing to deal with that possibility on it's own terms. What we know right now is that a new yacht is bursting onto the scene with state of the art amenities, guest quarters, and even crew amenities.
Though it will certainly be prohibitively expensive for some, for those privileged few, this yacht will find it to be an amazing addition to their collection of luxury items. All in all this is an incredible boat that will likely be in the Tricon yacht lineup for many years to come, with just a few being offered to their most distinguished customers.
* * *
Related links:
Tricon Marine

Photo: triconmarine.com