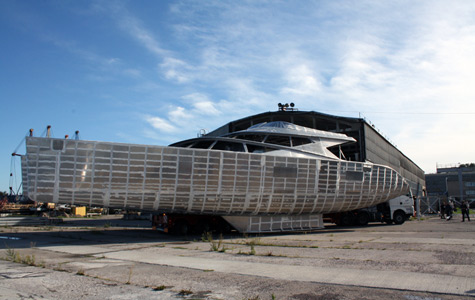 The Latitude 88 is a double decked sailing catamaran built by Latitude Yachts. She is due to be finished by 2011 and is one of the most beautiful and innovative yachts under construction today. She is being constructed at the Latvian shipyards in the town of Riga. With accommodations for 8 guests in four different cabins, there is plenty of room to roam around.
The Latitude 88 is following strict BV rules, under the supervision of the leading catamaran designer and French Naval Architect Jean-Jacques Coste. It is also being constructed with the latest state of the art technologies, impressive volume both inside and out. The owner's cabin will have impressive full views of the ocean from the main deck. The fly bridge will have the main control center, with controls on both port and starboard sides, for greater maneuverability in port or marina situations. It will also feature a bar area, sun decks, and a jacuzzi.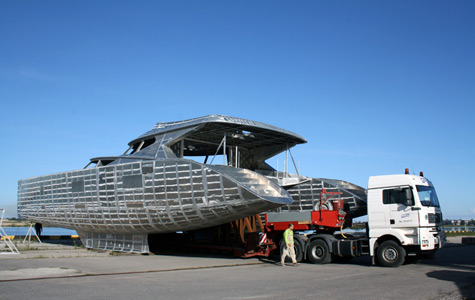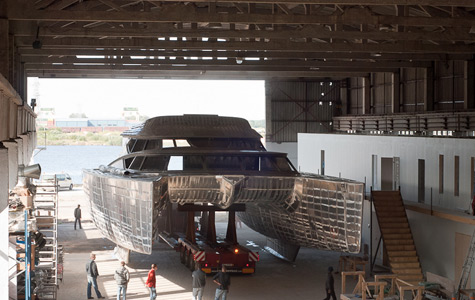 The main deck will consist of the owner's private quarters, taking up most of the bow area. This will open up to the main lounge area, where there will be many entertaining opportunities. This is also where the main dining area is located, as well as another navigation center and state of the art electronics. The main saloon opens up to the aft covered deck, with a bar, and lounge area where meals can also be serve alfresco. This opens out to stairs going down to two different swimming platforms.
The lower deck will be comprised of the main guest cabins, each with ample storage space and a private bathroom. There is the crew quarters, including the captain's master suite, and the galley. The entire aft hull area is dedicated to swimming platforms and skiff launch area. The Latitude 88 is going to have large and spacious guest and crew accommodations, making everyone happy. The lower levels will also have access to the twin 425 HP diesel engines, all the electronics and power generators. There will be the twin 22 kW generators to power everything.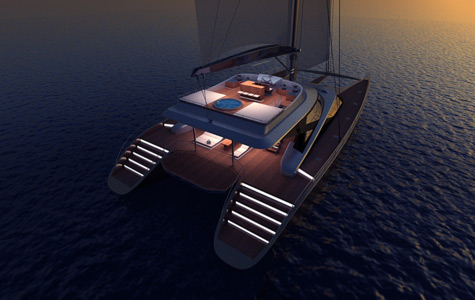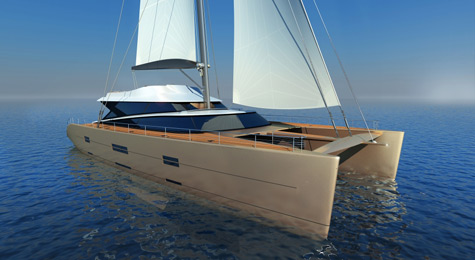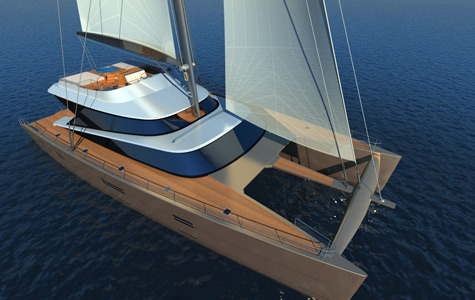 The 88 will have two 3,000 liter fuel tanks, twin 1,500 liter fresh water tanks. Gray and black water tanks will be two 400 liter tanks each. To extend voyages, the latitude will also be equipped with two 230 liter per hour fresh water makers. It has a class A navigation system, is MCA BV certified and has a full ten year warranty on the hull. Under power it will be able to have a maximum speed of 13 knots.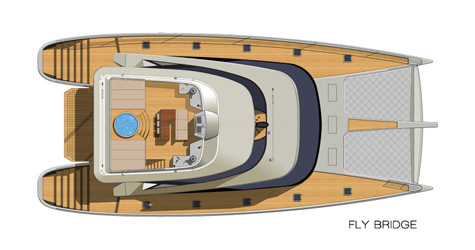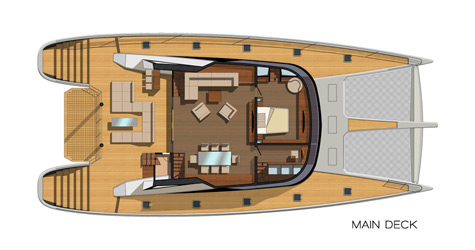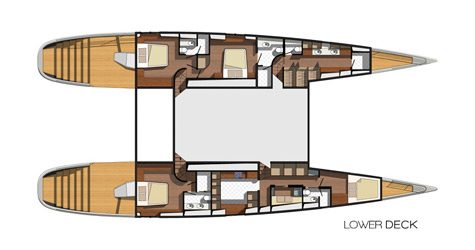 The Latitude 88 is just one of many different yachts offered buy the Latitude Yacht Company. They have been in business for a number of years and are consider a leader in the yachting industry. They have brand new facilities in Riga Latvia. They can work with your needs, to help you design a yacht that will be the best in your world.
Specification of the Latitude 88 Catamaran:
Length LOA: 27.00 m/88.58 ft
Ma ximum Beam: 12,75 m/41,83 ft
Draft: 2 m/6,5 ft
Light displacement: 60 t
Construction: Aluminium
Speed under power: 13 knots
Ppopulsion: 2 x 425 HP
Power: 2 x 1000 Amp / 24 Volts
Generators 220 V: AC power generator 2 x 25 KVA
Guests: 8
Crew: 4
Feul capacity: 2 x 3,000 l/2 x 792 gal
Fresh water capacity: 2 x 1,500 l/2 x 396 gal
* * *
Related links:
Latitude Yachts

Photo: latitude-yachts.com