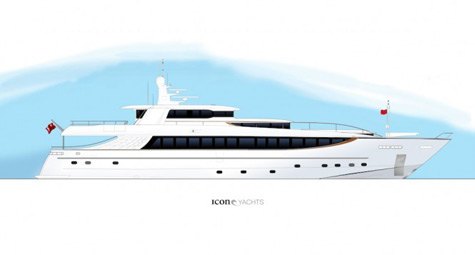 The Yacht Sunbeam is nearing completion at Icon Yachts, one of the leading yacht designers and builders int eh industry. This will have unrestricted service levels, and be well within LY2 standards, as usual. The superstructure as well as the hull were built by a Northern European company and Icon Yachts was chosen to complete the project because of their attention to detail, expertise, and level of quality that was needed to ensure the yacht was finished to the high standards of the owner.
Mega Marine was the technical team that has been involved with the project since the beginning, coordinating construction, to make sure that not only it is being built to top standards, but also to keep Sunbeam in budget and on schedule. Since the owner is creating the most modern vessel with unique and highly innovative design features, only Mega Marine could keep up with the demands. They worked with many different sub contractors to ensure that no matter how complex the different aspects of the project were, that these challenges were met.
The highest priorities were placed on engineering and innovation, yet ensuring that the comfort, efficiency and safety were the most important aspects of the Sunbeam Yacht. Only the finest fabrics and materials were used in the interior areas, and the latest audio/visual systems were used throughout. There is also a specially designed tender, as well as high powered underwater lighting systems, to make sure that this is a one of a kind yacht.
Icon Yachts, located in Northern Holland was chosen as the projects site because of many different things. It is a facility set near deep open water, with yachts and commercial vessels up to 160 meters long with drafts of seven meters can come for maintenance and refitting. This yard has already refitted many projects, and was only logical that the Sunbeam Yacht was completed here. The yacht was already partially completed, but in house designers extended the transom, allowing a deeper bathing platform, with access from the main deck, as well as deeper lazarette storage facilities, while maintaining a modern profile and shape.
Much of the Sunbeam project is being kept under wraps, such as the guest accommodations, crew quarters, and all the extra features that will be included.
Specification of the Sunbeam:
Length Overall: 42.00 m/137.80 ft
Hull Material: GRP
Superstructure: GRP
* * *
Related links:
Mega Marine
Icon Yachts
Photo: iconyachts.eu