The 74m NB55 is currently a project being constructed at Proteksan Turquoise, a shipyard in Turkey. This yacht, designed by Andrew Winch Designs, is expected to be finished and delivered sometime in 2013. This design group is in charge of both the interior as well as the exterior style.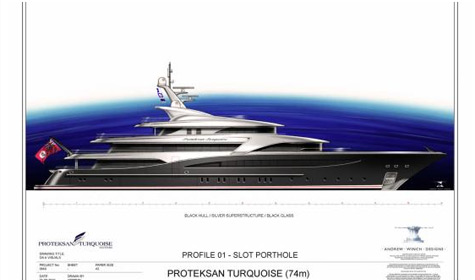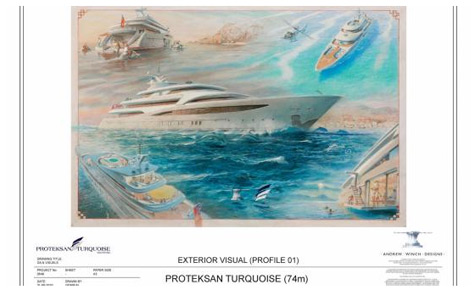 The NB55 is a motor yacht with room enough to accommodate up to 16 guests. There will be a Master suite located on the upper deck, with two VIP staterooms, and five double cabins on the main deck. The master suite will have an office, hers and his bathrooms, and take up most of the upper deck area. There will also be a private foredeck, with sun beds and a jacuzzi, accessed only from the master stateroom.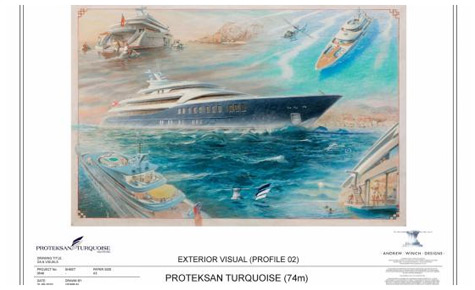 There will be many different kinds of entertainment areas. On the lower deck there will be a large beach club, featuring an area on the starboard side that will open up to the water, for a swimming platform. You will also find a hair salon, plunge pool, massage and steam rooms, as well as a movie theater. This deck will also accommodate two 7m tenders. Here will also be located a full shower and bathroom for day use. There will also be a bar, with a full seating area, and access to the main deck from the lobby or elevator.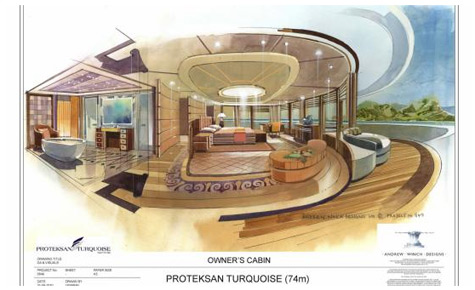 On the main deck, you will find enough outdoor aft seating to have alfresco dinners, plus many other lounge areas. There will be a large gym, which opens to the aft of the deck. The foredeck will have a large open area with a bar, sun bathing pads and another guest jacuzzi pool. The elevator will be located under the shaded area, and this will also have another day bathroom and bar. In the far bow, an isolated helicopter pad will be set up, allowing the rest of the ship to be dedicated to relaxing and leisurely entertaining. The operations deck will be multifunctional, and even have a indoor/outdoor gym and exercise area, or can be changed to a sunset bar and a library.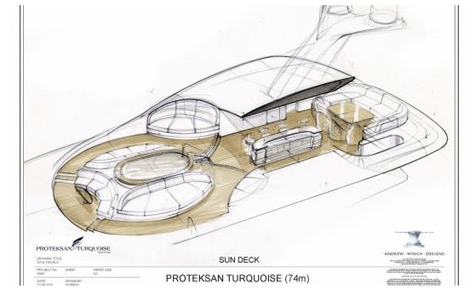 The Proteksan Turquoise 74m NB55 takes its basic design for an already existing 70 meter platform, but will have a not aggressive contemporary design, with sleek and impressive lines. This vessel will be powered by dual 2,447 HP 3516B Caterpillar diesel motors, and will be able to achieve a maximum speed of 17 knots, with a cruising speed of 15. This will give her a 4,000 nautical mile range at cruising speeds.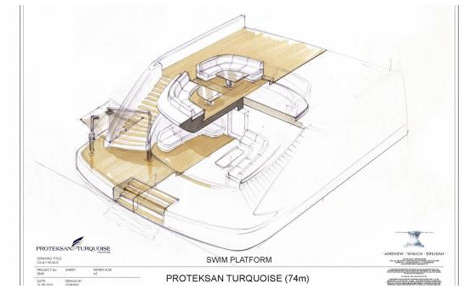 There will be a variety of different design options offered, so that the owner can add their own personal touches and layouts. The fully glazed recessed windows for the guest cabins can be changed from a elegant exterior signature and replaced by longer, more vertical windows, for an example. With all the options, this is sure to be one of the most successful of the Proteksan-Turquoise lines.
* * *
Related links:
Proteksan-Turquoise
Photo: proteksan-turquoise.com