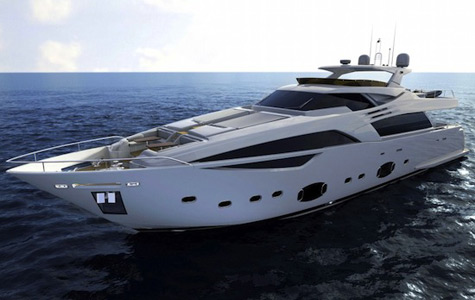 Ferretti Group in cooperation with Studio Zuccon International Project and the Advanced Yacht Technology (AYT)presents the new Ferretti Custom Line 100 project.
"The project for the 100', which we will see in the water in spring 2011, was developed to satisfy the demands of those of our Owners, including younger Owners, seeking a more sporty design without, however, foregoing the functional features and more spacious areas of a wide bodied yacht," commented Marco Segato, Ferretti Custom Line Brand Manager.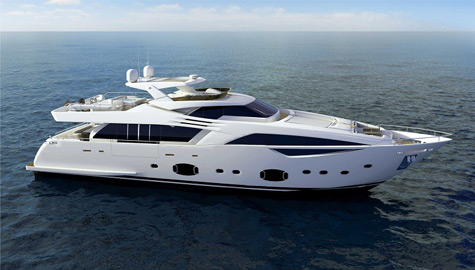 Externally, the precise lines of Ferretti Custom Line 100 give the profile an extraordinarily sporty appearance, impressing any onlooker immediately. The overall impression is that of a lightweight model thanks to the presence of continuous glazing which extends from the stern of the main deck around to the raised helm station.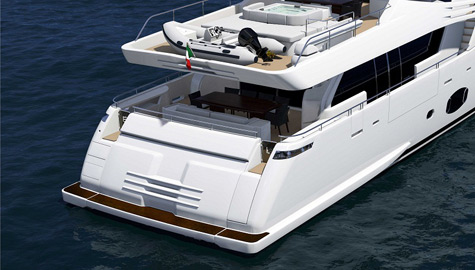 One particular new feature, unique to yachts of this segment, has been developed with the aim of improving the living conditions inside the yacht through the introduction of the wide body type near the bow area where the master cabin is located. This feature has led to a significant increase in on-board space and to creating new external routes typical of larger yachts.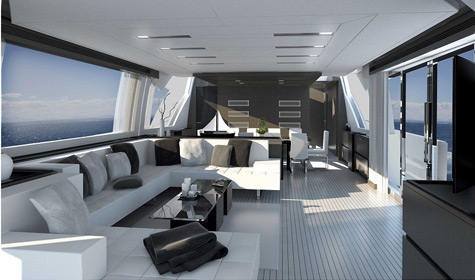 Light dominates the extraordinarily spacious interiors. The salon has been split into living and dining areas, and decked out with free standing furniture which can be chosen from a large selection of proposals and personalized solutions, as is the Ferretti Custom Line tradition. Painstaking attention has been paid to each and every detail of the interior decor, characterized by a contemporary style which harmoniously matches a range of different materials.

Powered by twin MTU 2639 mph engines Ferretti Custom Line 100 will easily reach a top speed of 26 knots.
* * *
Related links:
Custom Line Yacht
Photo: customline-yacht.com