Sauter Carbon Offset Design revealed the concept of the world first carbon neutral Speed Boat – the Guardian S Class.
The all carbon fibre Guardian is a 45 knot Solar Hybrid Vessel powered by an EPA car regulated Mercedes Benz Bluetec engine coupled to a Carbon-Grobbauteile electric motor. When combined with other currently available technology her fuel consumption and GHG emissions are 50 to 100% lower than any competitive speed boat ever built.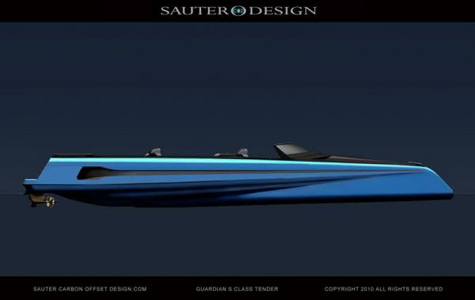 The Guardian Tender demonstrates how "global warning pollution" can be reduced by 280 million tons per year.
"Taking advantage of existing advances in Green Technology the Guardian S Class leads the way in attacking one of the major causes of global warming and in doing so lays the foundation for the only marketing force likely to revitalize the boating industry in the face of ever increasing fuel prices, While many look to revitalizing inland waterways, doing so without regulating the inevitable increase in pollution that will come as a result, wont benefit the related communities. By employing dry catylitic exhaust systems Solar Hybrid power boats are activrly protecting rather than contaminating marine bio-system" said Richard Sauter, head of design.

Specification of the Guardian S Class Tender:
Length:  9 m
Beam: 2.1 m
Draft: 5 m
Passengers: 8
Max Speed: 45 knots
Power: 300 KW
Zero Carbon Motoring Range: 50 nm
Fuel and CO2 reduction:  50 to 100%
Carbon neutral cruising range: 1,000 nm
* * *
Related links:
Sauter Carbon Offset Design
Photo: sautercarbonoffsetdesign.com