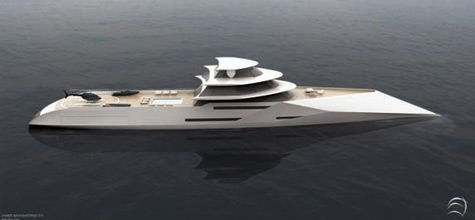 At the Monaco Yacht Show 2010 Sigmund Yacht Design (Vienna, Austria) revealed their new 112-metre concept Centurion.
The Superyacht Centurion is the result of a collaboration of Peter Symonds, director and founder Sigmund Yacht Design, and Olivier Dorrell, a joint partner in Totti Design.
"The design combines elements of stealth with hard, aggressive lines and some innovative features, - explains Peter Symonds. – These include retractable bow thruster doors for extra efficiency and a flying superstructure (the three delta wings) with large windows for viewing the sea on the move."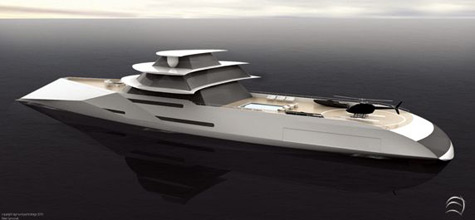 Centurion will have a steel hull and alloy superstructure. The hull of the vessel has been adapted from a Queen Elizabeth II class destroyer hull concept. Centurion will also have four custom tenders and a helipad.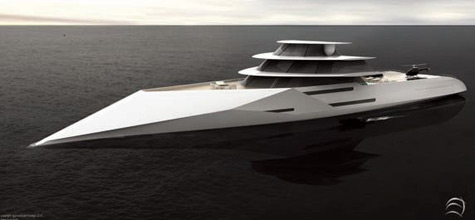 Powered by twin 8710 MTU engines with propulsion pods, Centurion will be able to achieve a top speed of 26 knots and cruise at speeds up to 22 knots.
* * *
Related links:
Sigmund Yacht Design
Totti Design
Photo: sigmundyachtdesign.com