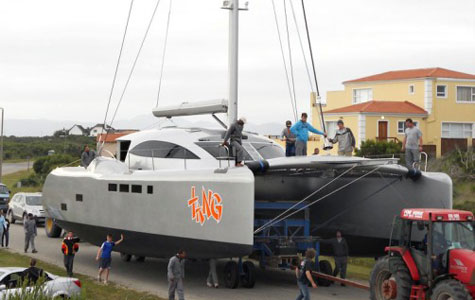 The 18-metre hybrid-electric catamaran Tag 60 touched the water in the end of September 2010. Created by Tag Shipyard in cooperation with International Battery and Electric Marine Propulsion (EMP) this carbon-fiber cat can be powered by the wind even when the wind isn't blowing.
The TAG 60 features slim easily driven hull shapes with high levels of reserve buoyancy, very high bridge deck clearance. High tech construction materials and techniques were used to restrict weight and optimize centre of gravity positions. The Tag 60 has a potential top speed of 20 knots.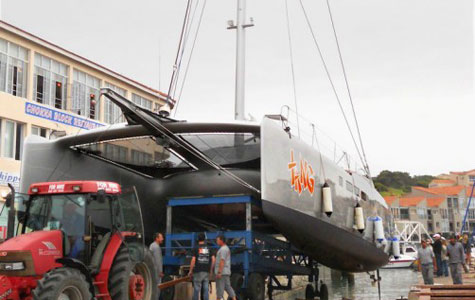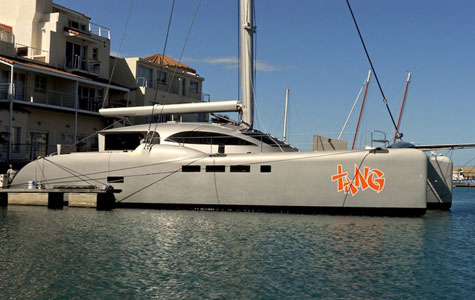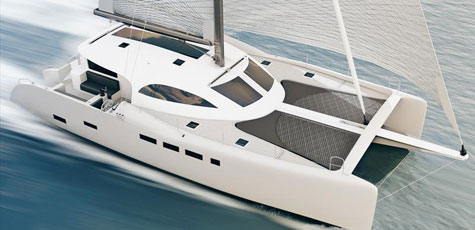 The TAG 60 has high freeboard and high bridge deck clearance (ocean going 4WD), this means the crew can safely sail the boat harder, longer before having to back off. Even when backing off and sailing at 70% of its potential, the TAG 60 is still very fast and capable. The vessel is drier and has less slamming from waves than is normal. In extreme conditions you can raise the centreboards so the cat can slide sideways on breaking waves; this is a significant safety point as well as performance enhancement compared with fixed keels as seen on many older style catamarans.
The new catamaran features a breakthrough concept in the creation of our truly unique cabin design, by incorporating the cockpit and saloon. The first benefit of this cabin design is that it offers a better aesthetic. Most cats have cabins that are wide and short. This makes the vessel look squat and not very attractive. With the TAG 60 design the main cabin is long and has a very aerodynamic shape. The long cabin creates a correct impression of sleek lines and high performance.The second benefit is that it effectively "doubles" the useable space normally found on a cat this size by creating a clever method of opening and closing this cabin.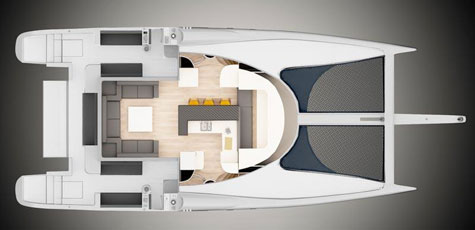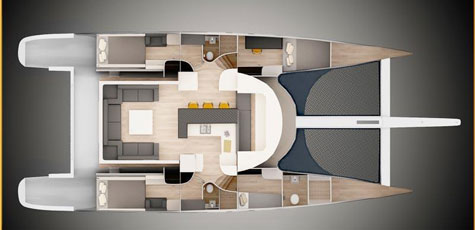 Tag 60 is one of the most ecologically friendly projects. This design has electric engines that run on high performance batteries that are charged every time the cat sails. Having a high performance cat means that the loss of speed while regenerating is much less of an impact. It has been shown that the loss of performance while sailing amounts to about 1.5 knots of boat speed.
The entire electric propulsion system has been designed by Dave Tether. Dave is the industry pioneer of electric propulsion for pleasure vessels and we are delighted to offer these leading edge designs as standard in the TAG 60.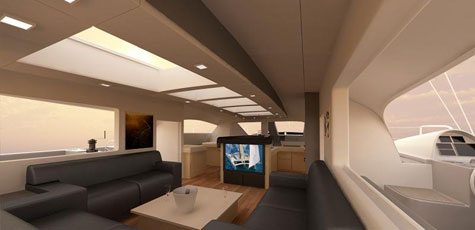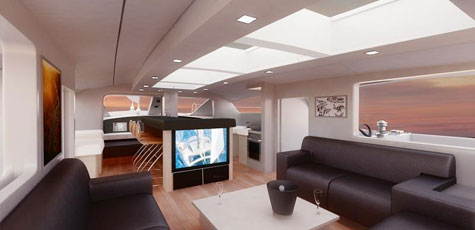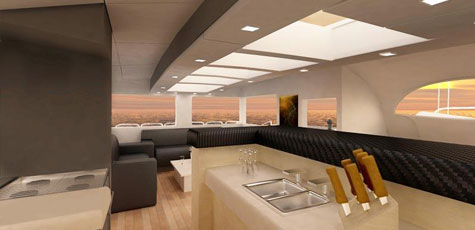 Tag 60 is currently undergoing tests at Tag facilities in St. Francis Bay, South Africa. She's due to set sail across the Atlantic to her owner in Florida later this year and will appear at the Miami Sailboat Show in February.
Specification of the Tag 60 catamaran:
LOA: 18.3 m/60 ft
LWL: 17.2 m/57 ft
Beam: 8.4 m/27.6 ft
Draft hull: 2 ft
Displacement: 15,600 kg/34,300 lbs
Fuel capacity: 800 l/210 gal
Water capacity: 800 l/210 gal
* * *
Related links:
Tag Yachts
Electric Marine Propulsion
International Battery
Photo: tagyachts.com