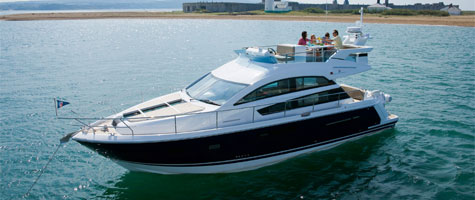 One of the newest boats in the Fairline yacht series is the Squadron 42. The Squadron series has earned a reputation as being one of Fairline's most handsome, advanced in design and exclusive models.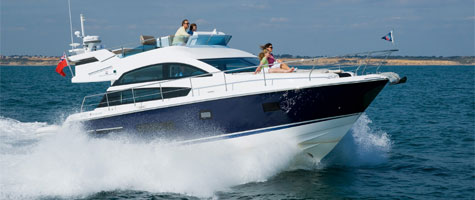 The new Squadron 42 incorporates a good number of the advances in technology that were originally pioneered in the larger sister ships in the line. The yacht features a number of practical, cutting-edge innovations never seen prior to now. Fairline seems to have created a unique flybridge-type yacht that combines luxury, spaciousness and performance, all contained within a remarkably compact hull length of 41 feet 5 inches (12.62 meters).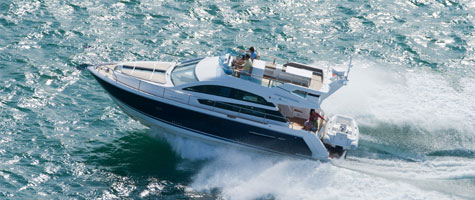 The elegant Squadron 42 features a huge, panoramic window area that floods the interior with ambient light and gives an airy, spacious feeling. This sense of openness and the luxurious feel of a big boat is enhanced by the extremely large flybridge, the side decks which allow passengers to walk around, and the unique openness of the cockpit which features twin transom gates. These gates make it easy to access the cockpit on either side of the cockpit seating. This seating converts into a one of a kind, rear facing lounger.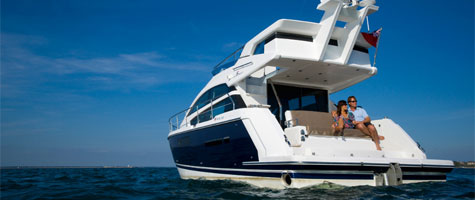 One exciting new feature on the Squadron 42 is the option of having a concealed tender launching system that is cantilevered. This system will hold a tender like the Williams 285 Jet RIB. It also incorporates a boarding area that is lowered. These advantages, in conjunction with the separate passerelle, provide a convenient layout of stern and facilities never before seen on a yacht of this size.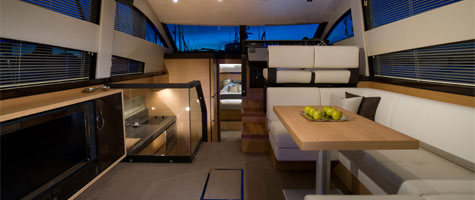 The inside of the Squadron 42 offers quality craftsmanship and designs that are both practical and user friendly. These features have become the hallmark of these incomparable yachts. Both owners and guests alike will enjoy accommodations that are unparalleled in their class. The saloon is light and airy, featuring full-length windows and luxurious furnishings (there is a foldout bed with a 6-inch thick mattress in the sofa).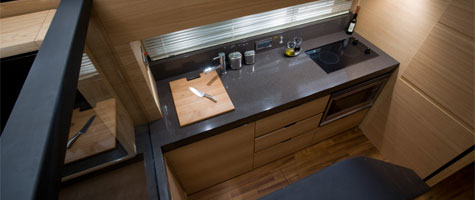 The master cabin features skylights, and the guest cabin has beds that rapidly convert from two singles into a double. The guest cabin has a unique layout incorporating double doors that convert it into to its own suite. These doors, when open, almost double the guest cabin in useable size and offers a great feeling of spaciousness. Both the guest cabin and the master cabin have attached bathrooms with showers, sinks and toilets.
As expected in a cruising yacht, the galley is spacious, filled with light and comes equipped with up to two refrigerators and a cornucopia of options for storage. There is a 2-burner gas hob, an oven and a grill for convenient cooking.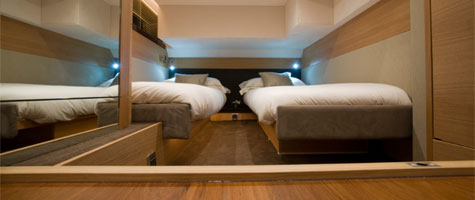 The Squadron 42 is a perfect getaway vehicle for a vacation on the water, be it on a lake or in the ocean, and is well worth a look for those in the market for a craft of this size.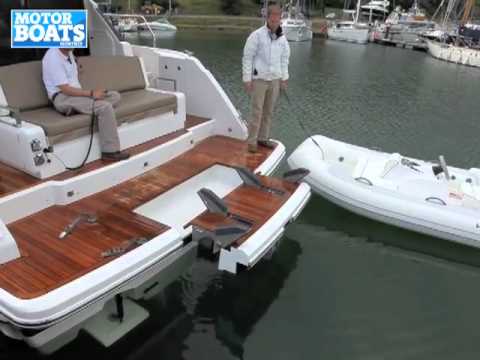 Specification of the Squadron 42:
Length of hull: 12.62 m/41'5″
Length overall: 12.94 m/42'5″
Beam: 4.22 m/13'10″
Number of berths: 4 – 6
Draught: 1.07 m/3'6″
Height above waterline: 4.84 m/15'11″
Dry weight: 13,000kg/12.79 t
Fuel capacity: 996 l/263 gal
Water capacity: 471 l/124 gal
* * *
Related links:
Fairline Boats
Photo: fairline.com