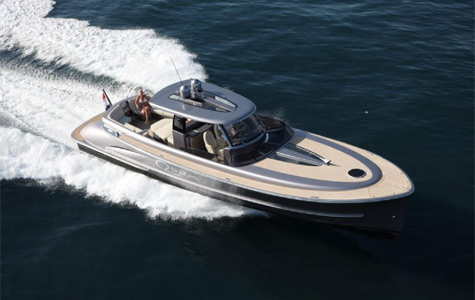 The Brandaris Q52 is the latest design by Vripack to be a finalist in the ShowBoats design awards. This organization knows that designers and craftsmen of quality yachts deserve to have recognition. They base their awards on innovation, technology, styling as well as interior design. This year they have named the Brandaris Q52 as a finalist for two different categories of tenders, the Limousine Tender, as well as the Sports Tender. The Sports Tender award is one that recognizes the best tender of this type, with considerations given for cockpit designs, mechanics, appearances, as well as the ability to perform the best in the task as a tender.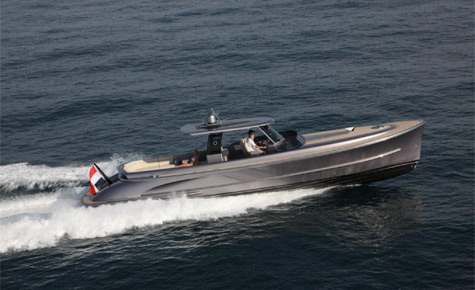 The Limousine Tender award is given to those tenders that are designed to protect passengers from the weather and other elements, whether with the use of a hard or soft top. These too are judged on functionality, style and appearance, as well as cockpit and mechanical installation. The winners will be announced during the ceremony at a gala dinner in Palm Beach Florida at the Mar-a-Lago, on October 26th of this year. Of course Vripack will be attending.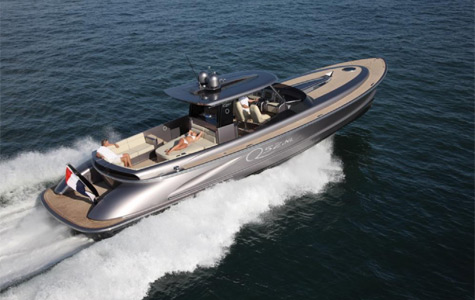 What makes the Brandaris Q52 a cut above the rest when it comes to tender designs? Her design and layout are excellently suited not just for cruising in open water, as well as bay's and marinas, but also for guests to really enjoy the seas and oceans, with the ability to accommodate many overnight journeys. This Tender is considered to be the 'Bentley of Boats,' because of her quality comfort, and exclusivity.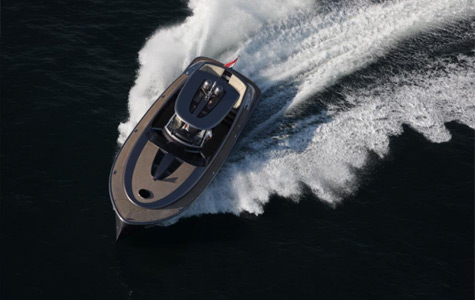 There are many different comforts, both above as well as below decks. Included on the main deck is a jacuzzi that pops up from the sun bed for added use of space, the center bar console has a built in flat screen television. There is an automatic sun awning, as well as a full glass entry, allowing for the maximum natural light for the interior.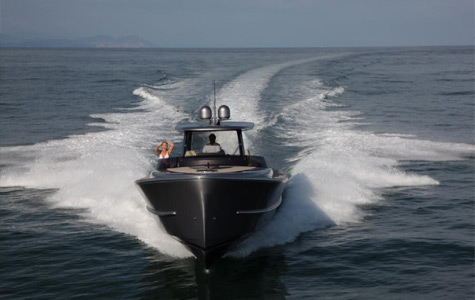 Below decks are just as detailed. There are LED lights, which are multicolored in order to bring the outdoor atmosphere inside. These lighting systems also enhance the mood, bringing in an more personal feeling to the lower deck area. There is ample space for guest and VIP cabins, one full bathroom as well as a galley. This tender, equipped with the newest Zeus propulsion system, and powered by twin Cummins 600hp engines, can provide a cruising speed of up to 40kts.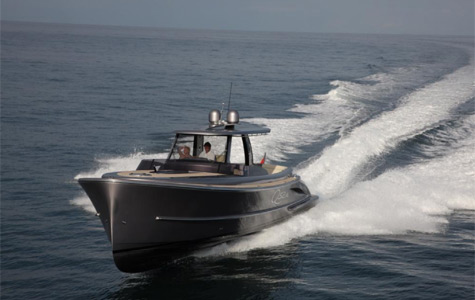 The Brandaris Q52 is 16 meters long, making it almost as large as some regular yacht designs. It has a bow of 4.5 meters, and a 1.65 meter draught, including the Zeus propulsion pod. It has a 1,500 liter fuel tank, 500 liter fresh water holding tank, and a 300 liter black water tank. Again, as much as a regular yacht in some respects.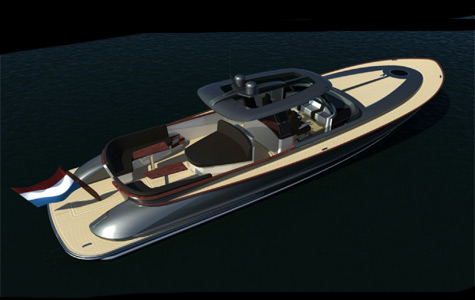 Every piece of the Brandaris Q52 is made completely by hand, in Holland, and is probably one of her best features, above all others. Each and every detail is perfection, and it is no wonder that she is a big contender for the ShowBoats design awards As always, Vripack is a leader in naval architecture, engineering as well as design, and strive towards long term association with not only it's clients, but everyone involved in creating their luxury yacht designs.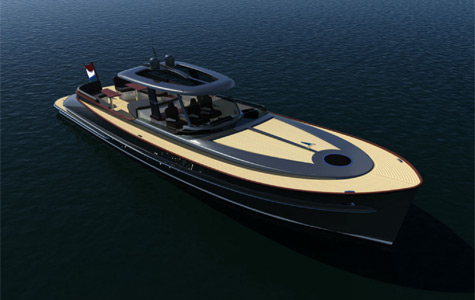 Specification of the Brandaris Q52 Tender:
Length: 16,00 m/52 ft
Beam: 4,50 m/15 ft
Draft: 1,02 m/3 ft
Materials: GRP
Engines: 2x Cummins ZEUS 3800 QSC600HP
Designer: Vripack
Naval architect: Vripack
Interior design: Vripack
* * *
Related links:
Vripack