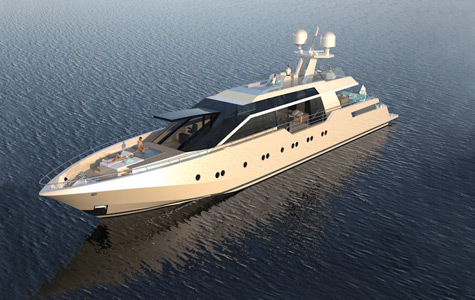 The latest Danish Yachts AeroCruiser 38F III, designed by Espen Oeino is a great work of art. It is designed to be a high performance yacht, while offering unmatched aesthetic appeal. This superyacht is designed for both the young clients living life on the fast lane and the older, more conservative clients who want a vessel that will not guzzle a lot of fuel. It has twin MTU engines, with a 3440 KW capacity each. This offers great versatility as clients can opt for this engine package that features lower fuel consumption.
The AeroCruiser 38F III runs on two jet-drives, easily powered by the combined horsepower of two engines. The two have a total of 4750 horsepower and cruises at speeds of between 48 and 52 knots. The easy maneuverability of this yacht is so great that it can switch from full speed to stop in 3 boat lengths. It is designed for a sailing range of up to 900 miles. It has a fuel capacity of 20 000 litres (diesel), a fresh water capacity of 6 000 litres, black and grey water capacity of 4 500 litres and a 1 500 litre sludge tank.

This super yacht is 38 meters long, an equivalent of 125 feet and 7.5 m in width. This makes it one of the larger vessels currently in the market. It is made of full height glass, which gives the yacht a lovely open look and feel. The glass is not just there for beauty purposes. It can collect enough solar energy to power the air conditioning and lighting. That is another innovative function Oeino thought about when creating this design. It also provides a clear view of the waters from inside the yacht. When opened fully, the forward facing hatch doubles up as a sun awning and provides a walk through from stern to stern.

Its hull and external structure is an infusion of CNC-created female mould with vacuum bag, epoxy carbon and Divinicell foam core material. The air conditioning is fuel efficient. It consists of a ducted system consisting of twin semi-hermetic compressors on frequency drives, a dual coil frequency-controlled air handler and direct expansion fan coil units. In the cabins, lightweight ducting is used to facilitate air conditioning.
It has a fully stocked gallery with a washing machine (tumble drier), hot plate, oven, refrigerator, microwave, freezer, coffee machine and dish washer. The owner's suit and guest cabins are luxuriously furnished to provide comfort. Entertainment is enabled through a TV and music system.
The AeroCruiser 38F III is made to high safety standards. It meets all MCA (Marine Coastguard Agency) specifications and is equipped with the necessary communication and life saving equipment. This includes 2 Furuno radars, GPS Furuno, autopilot, satellite compass, color sounder, boat speed monitoring, wind speed direction and an electronic chart plotter. Life saving equipment includes 4 life rafts with a capacity of 8 people each, 14 self-inflating life jackets, full internal sprinkler, hand flares, lifebuoys and fire fighting equipment.

Buyers will be able to customize some of the features they would like in the boat. The AeroCruiser 38F III is the most environment friendly superyacht, another reason that will endear it to yacht lovers.
Specification of the AeroCruiser 38F III:
Length Overall: 38.00 m/124.67 ft
Beam: 7.50 m/24.61 ft
Draught Max: 1.35 m/4.43 ft
Hull Material: GRP
Superstructure: GR
Engines: 2 x MTU 6V 4000 M92L, 9,226 HP, 6,880 KW total
Max Speed: 52 knots
Cruise Speed: 48 knots
Fuel Capacity: 20,000 l/    5,284 gal
Water Capacity: 6,000 l/1,585 gal
Naval Architect: Espen Oeino International
Exterior Designer: Espen Oeino International
Interior Designer: Art Line
* * *
Related links:
Danish Yachts
Espen Oeino
Photo: danishyachts.com