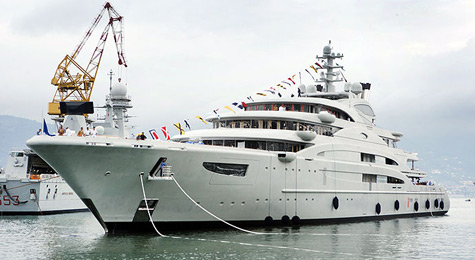 There is a first time for everything and Fincantieri has reached that milestone again with the launching of their first ever Superyacht Serene. The Serene is a culmination of more than 50 years of strong growth and creativity by Fincantieri whose base of operations is in Italy where it all started. Although, Fincantieri is only celebrated it's golden anniversary they have had more than 7000 vessels constructed and 200 years of actual shipbuilding experience within the companies that make up the shipbuilding firm known as Fincantieri. Fincantieri has 10 shipyards as well as subsidiaries in both Italy and the United States, which they can use to service your needs.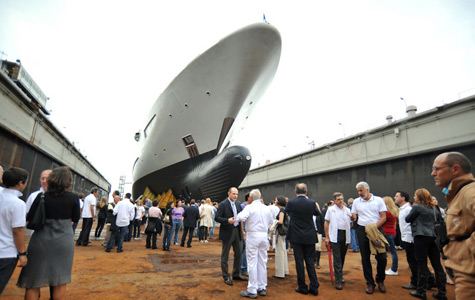 The largest yacht that has ever been built in Italy the mega yacht Serene is a grand achievement for both the shipbuilder and its ultimate owner. The Serene is in a very exclusive class since it is a member of the 10 largest yachts in the world club exclusivity makes this vessel very desirable amongst the world's wealthiest connoisseurs of yachting. The Serene has been designed with the incorporation of both sophistication and technology in mind making them one and the same. All of this adds up to a yacht that can serve as both a base of corporate operations and personal playground, and will set sail by years end making way for Fincatieri's next project at 140 metres.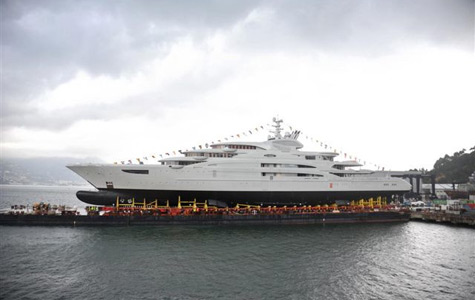 The 134-metre superyacht hull is a remarkable sight because of its impressive size and obvious claim as the centerpiece of any port it is at berth in. The hull of the Serene has been built to comply with the top class of international safety regulations regarding passenger transports. The hull of the Serene is constructed using the latest state of the art materials that will not only make it incredibly tough, but lightweight for a better max speed. Seven decks make up the Serene from top to bottom, which also includes a hanger, two helo-pads, and a salt-water swimming pool that can accommodate its service craft including a submarine that can reach 100 metres in depth.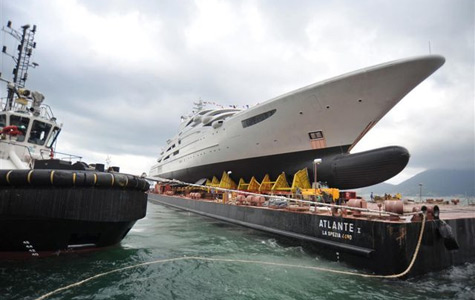 There has been no expense spared with regard to the interior of the Superyacht Serene as well. There is more than 4500 square metres of interior space that includes 2700 square metres of opulent luxury that Pascale Reymond personally designed. The bridge of this awesome ship is a captain's dream workspace with the best in operating systems that can do the job safer, easier, and comfortably. The owners and guests aboard the Serene will not want for any creature comfort that comes to mind either. The cabins are all well appointed with the finest in materials and furnishings. The common areas of the Serene are expertly appointed as well, and there are state of the art entertainment systems ship-wide for all to take advantage of personally or as a group.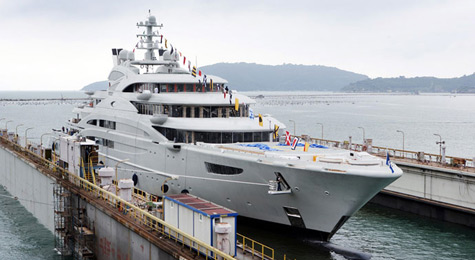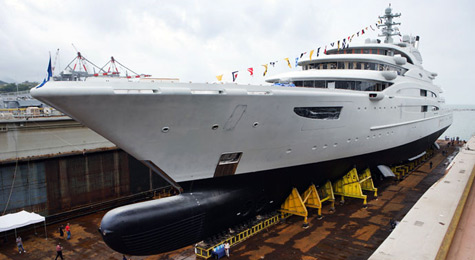 Specification of the Serene:
Length Overall: 133.90 m/439.30 ft
Beam: 18.50 m/60.70 ft
Draught Max: 5.50 m/18.04 ft
Hull Material: Steel
Superstructure: Aluminium
Naval Architect: Espen Oeino International
Exterior Designer: Espen Oeino International
Interior Designer: Reymond Langton Design Ltd.
* * *
Related links:
Fincantieri Yachts
Photo: fincantieri.it