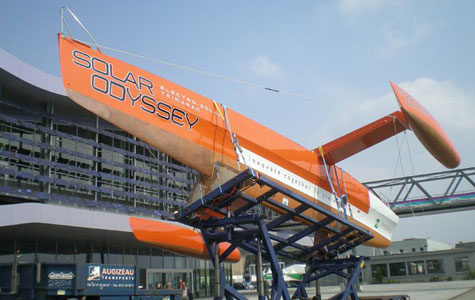 At the 2010 Grand Pavois International In-water Boat Show (15-20 September, Port des Minimes, La Rochelle) Lemer Pax launched the first solar-powered trimaran Solar Odyssey.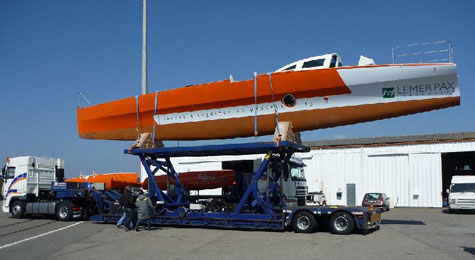 The trimaran measures 19 metres and is 10 metres wide. Exploiting a tried and tested short-float trimaran concept, Solar Odyssey's honeycomb carbon sandwich construction technology and evolutionary structure with photovoltaic cells makes for energy efficient navigation with her reduced displacement and faring.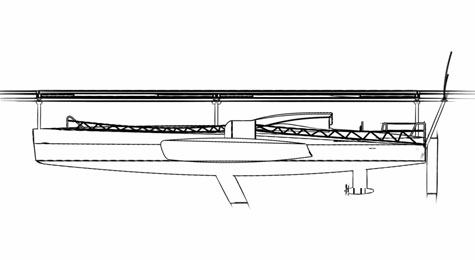 A specially designed rudder carried the electrical engine and propeller in a torpedo pod. This is a technical option which enables steering and propulsion to be accommodated into a single module, enhancing handling and reducing drag. It also simplifies and lightens the engine/propeller system overall.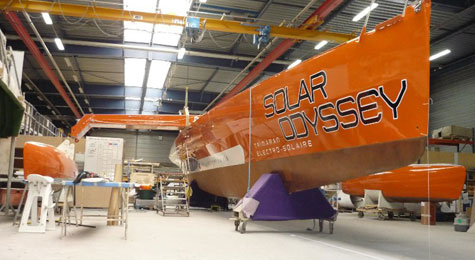 Solar power is without a doubt one of tomorrow's most realistic maritime propulsion alternatives. Energy will be produced by approximately 110 m² of mono crystalline silicon photovoltaic cells on composite panels. Positioning of the collector and refraction surfaces have been the subject of in-depth study.

Solar Odyssey is to attempt the official transatlantic and to be the first French boat to go down in the Guinness Book of Records on this course around the globe with no fuel consumption.
Specification of the Solar Odyssey:
Length overall: 18.28 m/60 ft
Max beam: 9.00 m/30 ft
Loaded displacement: 5t
Maximum speed: 18 knots
Record speed: 8 knots
Passengers: 6
Crew: 2
* * *
Related links:
Solar Odyssey Trimaran
Photo: solar-odyssey.com