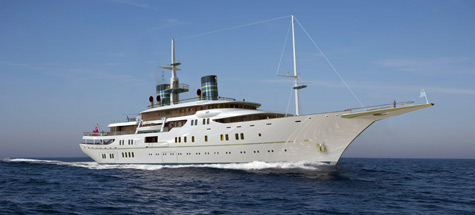 ThyssenKrupp Marine has a real good thing going on with its Blohm + Voss Shipyards, which concentrates solely on building luxury yachts. While new to the ThyssenKrupp Marine Systems family Blohm + Voss has actually been around since 1877 and has a reputation for engineering and building quality ocean-going vessels. It is this experience and expertise in shipbuilding that ThyssenKrupp is hoping to capitalize upon. Blohm + Voss has been given a very unique opportunity as a result by getting the green light to design and build a 111m in the Vintage Motor Yacht style.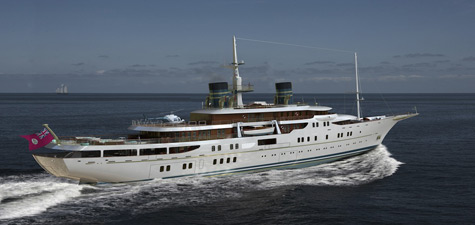 The 111m Vintage Motor Yacht is a unique marriage of both the old and new within the yachting world. The outer appearance of this yacht hearkens back to the steamships at the turn of the 20th century reminding us of a time when cruising was not just a means of travel, but an adventure as well. It is also a reminder to everyone that a yacht is the ultimate status symbol for the rich, successful, and famous marking them as the crème de la crème of high society. Of course, in todays yachting world technology and toys also count to any owner of a luxury yacht and this yacht has an abundance of those too.
The hull of this Blohm + Voss 111m Vintage Motor Yacht is constructed using the latest in fabricating technology and materials making for a sturdy, lighter, and aesthetically appealing sea going vessel. The outer appearance of the Vintage is very harmonious with its traditional sheer and its continuous decking that connects the bow-sprit and the classically shaped cruiser stern. Other accoutrements of the 111m Vintage is a helicopter landing deck, a pair of tender bays and a pair of on deck areas where picnic launches can be davit-launched.

The interior design of the 111m Vintage Motor Yacht has been designed with the owner, guests, and crew in mind. There is a definite separation of owner and passengers, and passengers and crew obvious within this design. Deck 5 is all about the master of the ship where their residential suite is located. In addition to the owners suite there is a private dining area and gym. Deck 4 is for the guests of the owner and can house 12 guests in 4 luxury and 2 VIP cabins. Deck 3 is for the crews quarters for 25 crew members, as well as where the galley and provisions are stored. Deck 3 houses a Beach Club as well.
To top it all off the Blohm + Voss 111m Vintage Motor yacht has the best engines and propulsion systems to power and move this magnificent craft on any ocean anywhere in the world. There are 2×2,560 KW diesel engines turning a twin screw propulsion system that can cruise at 14 knots and max out at 17 knots. The Vintage has a nautical range of 4000 miles at 14 knots and uses a maneuvering system that consists of 500 KW bow thrusters. State if the art electronics and computers give the 111m Vintage the technological edge in ship operations as well as its entertainment sytems.
Specification of the 111m Vintage motor yacht:
L.o.a.: 111 m/364 ft
Beam Waterline: 15.6 m/51.1 ft
Draught: 5.3 m/17.4 ft
Propulsion: 2×2,560 kW diesel via gearbox to controllable pitch propeller
Max. speed: 17 knots
Cruising speed: 14 knonts
Range: 4,000 nm @ 14 knots
Passengers: Owner: 2
Guests: 12
Crew: 25
Features: Helicopter Platform, Beach Club, Viewing platform in the aft mast with lift access, Water Toy garage
* * *
Related links:
ThyssenKrupp Marine

Photo: blohmvossyachts.com