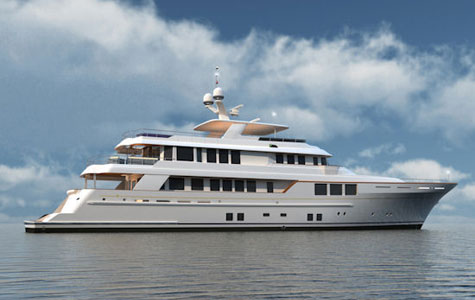 RMK Marine is planning to exhibit their stunning new superyacht BN 80 at the Monaco Yacht Show 2011. Designed by Ron Holland the motor yacht features the interior layout created by Mark Tucker from Design Unlimited.
Ron Holland wanted to create a design with classic ocean capable motor yacht proportions, but with the fresh styling that would allow a distinctive recognition for the first collaboration with the RMK Marine shipyard.
The RMK BN80 has superstructure lines that cleverly camouflage the incredibly spacious upper deck interior volume. Most of this area is exclusively reserved for the owner's accommodation where the full width lounge interior space is exaggerated by the full beam floor area and full height feature windows.
The superyacht has been designed to cross the ocean with maximum efficiency and comfort. The hull lines have been optimised incorporating the Ron Holland Design studio's experience with refined ocean capable sailing yachts. A fine angle of entry, integrated with bulb bow and fair clean lines aft, ensure maximising fuel range within the constraints of a twin screw displacement motor yacht of this length.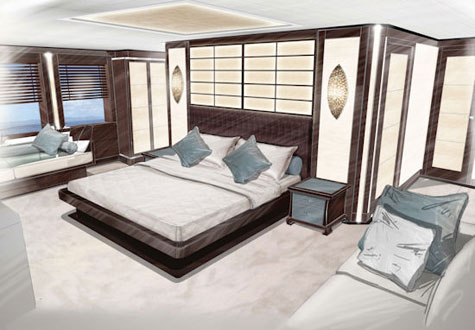 The VIP accommodation is located forward on the main deck. On the lower deck, four spacious guest cabins are accessed from the main deck lobby giving a 12 guest complement.
The main theme for the interior is the contemporary Asian design with the influences from Thailand and Japan. This has resulted in a rich palette of materials being assembled by the team which incorporate specialised finishes such as gold leaf stencilling, custom lacquering, parchment and shagreen all combined with the finest selection of silks and other sumptuous fabrics to give an eastern theme to complement and contrast with the contemporary uncluttered space planning of the interior.
Specification of the RMK BN80:
Length Overall: 45.00 m/147.64 ft
Beam: 9.00 m/29.53 ft
Draught Max: 2.80 m/9.19 ft
Hull Material: Steel
Superstructure: Aluminium
Engines: 2 x Kohler, 2,200 HP, 1,641 KW total
Range : 3500 nm
Maximum Speed: 14 knots
Cruise Speed: 12.5 knots
* * *
Related links:
RMK Yachts
Ron Holland Design
Photo: rmkyachts.com