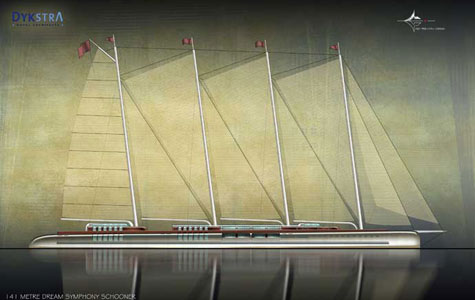 At the Monaco Yacht Show 2010 Dream Ship Victory signed a contract with Dykstra & Partners for the Naval Architecture and Ken Freivokh Design for the design and styling of the 141-metre sailing yacht Dream Symphony.
Dream Symphony will be the largest sailing yacht ever built. The yacht will be classical with a twist and will feature the unique all wood construction.
Dream Symphony will be the forth sailing yacht designed by the same naval architecture and design team. The previous three, Mikhail Vorontsov (65 m), Princess Maria (55 m) and Imagination (42 m), are currently under construction.
An initial concept of the Dream Symphony was presented at the Monaco Yacht Show on the Dykstra & Partners stand and construction will start in 2011.
* * *
Related links:
Dream Ship Victory
Dykstra & Partners Naval Architects
Ken Freivokh Design
Photo: dsvyachts.com