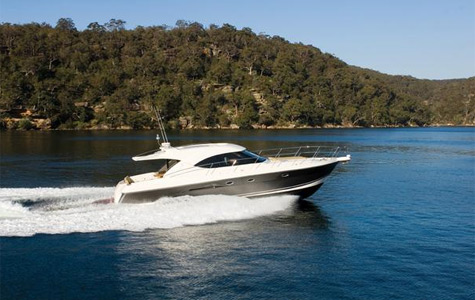 The new Riviera 5000 Sport Yacht has many different features that owner's will enjoy. For starters, it is powered by duel Commins Mercruiser diesel engines that are linked to the new Zeus pod drives, a revolutionary new drive design. This provides the boat with exceptional maneuverability, whether you are out on the open water, or the close quarters of bays and marinas. The Zeus drive systems, as well as the Cummins turbo diesels, boast superior performance, with a 30% increase in fuel economy, and 15% faster cruising and top speeds.
In addition, the underwater profile of the Riviera 5000 Sport Yacht also aft facing counter rotating propellers, as well as exhausts that the are tunnel mounted, protecting the pods from any debris that may be encountered in shallow waters. Another advancement is the controllers. For slow speed maneuvering, a simple yet advance joystick can be operated with just one hand, turning is done with a simple turn of the wrist. Another important advancement is speed control is the Skyhook feature, a system that continues to maintain course even in a tight area, even in strong winds or currents.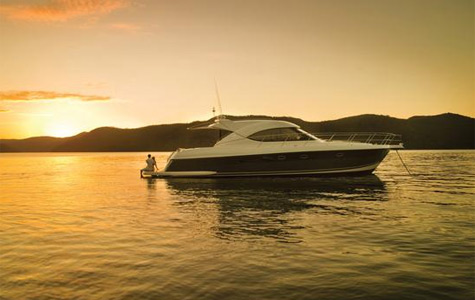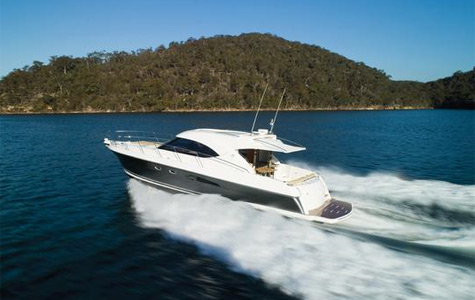 The large capacity mid mounted fuel tanks not only provide a more stable ride, but also extend the range of the Riviera 5000. Not only is this vessel great for day trips, but extended excursions as well. This means that you don't have to worry about how long you stay out, and a day adventure can turn into a weekend or even a week long outing.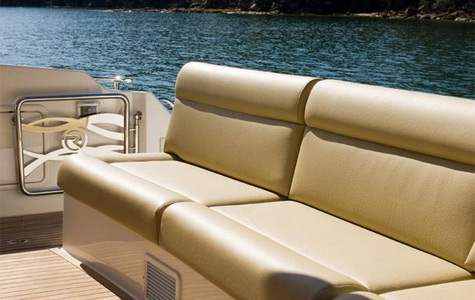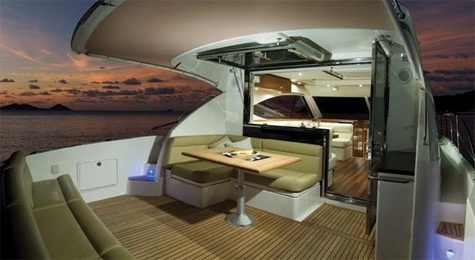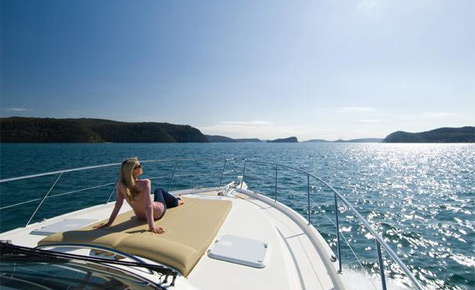 Although luxury is still as desirable as it ever was, people's lifestyles are gearing away from formality, stuffy traditions and impractical features. Now days people want to relax be more informal with the entertaining of their guests and families, and want a yacht to reflect these new values. The Riviera 5000 has done just that. There is more easy flow between the cockpit, and the main saloon, helping to bring the outside inside. The interior spaces are more open and brighter, employing more natural light sources. With the open floor plan it makes it easier to feed and entertain your friends and family. The dining and lounging areas are more relaxed, making people feel comfortable and at ease.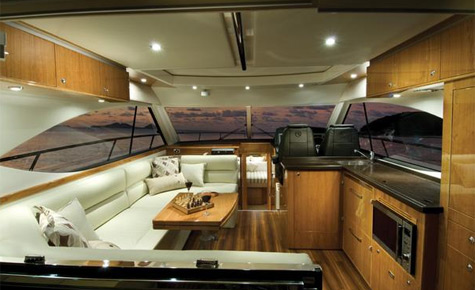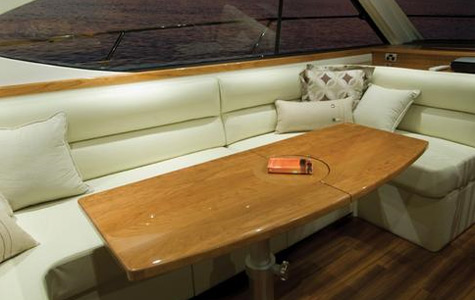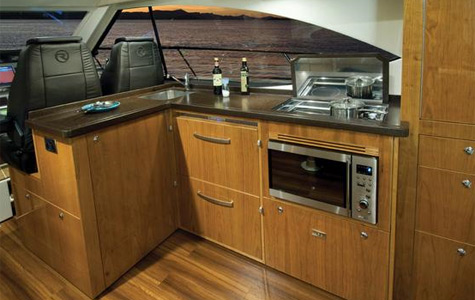 For an example you can open the saloon door, as well as the polished steel framed rear window, converting the cockpit and saloon into one giant area, great for informal entertaining, and the whole thing is all on just one level. In addition to this, to give it an even more open feeling, the large side windows open, and there is even an electric sunroof above the helm area. Aft of this is the large an spacious galley featuring amenities like a convection oven, a pull out pantry, drawer dishwasher and full sized refrigerator, and well as stainless steel sinks, not just in the galley area, but also in the wet bar.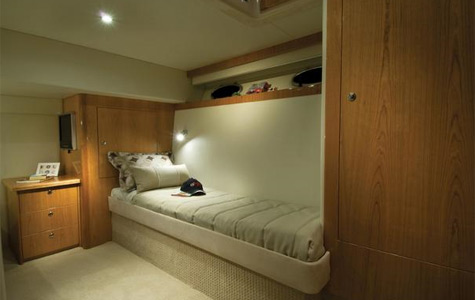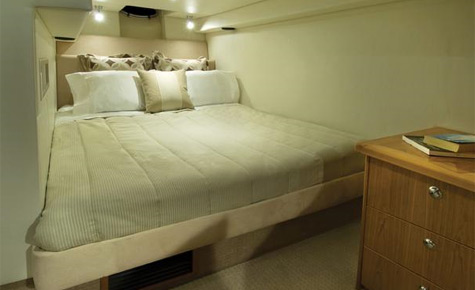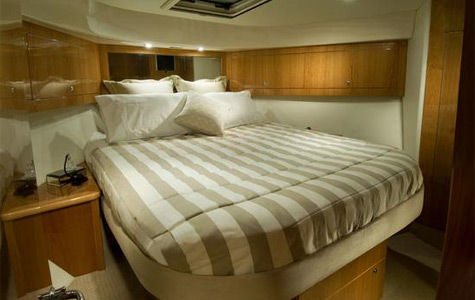 There are just too many different luxuries to list here. From the spacious central living areas, to the cabins with their own bathrooms, there are more amenities that can be included here.
Specification of the Riviera 5000 Sport Yacht:
Length Overall: 16.69 m/54′ 9
Beam: 4.76 m/15′ 7
Maximum Draft: 1.25 m/4′ 1
Dry Weight: 18,500 kgs/40,800 lbs
Engines: 2 x CATS, 423 KW, 575 HP each
Fuel Capacity: 2,400 l/634 gal
Water Capacity: 750 l/198 gal
Sleeping Capacity: 6 persons
* * *
Related links:
Riviera
Photo: riviera.com.au