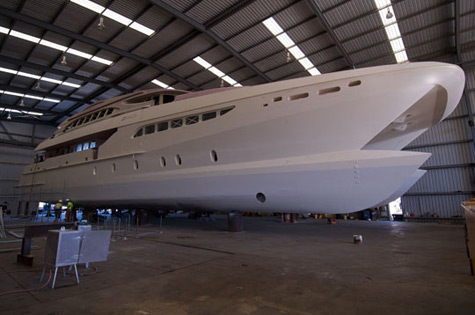 Due to be released sometime in early 2011, Incat Crowther has just released pictures of their latest 38 meter catamaran motor yacht. Currently it is being constructed at the Sabre Catamaran Shipyard in Perth, Australia. With collaboration of Waterline Yacht Design, she will be a mix of sleek lines and modern styles. At this point the hull fairing and all the aluminum work has been completed, and the interior spaces are now underway. Once completed, not only will she have the spaciousness found in many catamarans, but the long range capabilities of an ocean cruiser, a feature not found in many other catamaran designs.
With a fuel capacity of 50,000 liters, this motor catamaran will be powered by twin 12V4000M71 MTU diesel engines, with a cruising speed of 25 knots. At lower speeds it will be capable of traveling more that 3,500 nautical miles, with a fresh water holding tank of 4,000 liters. While the interior spaces will feature things like a fully equipped gymnasium, king sized staterooms, and a spacious central foyer, much of the details are being kept under wraps.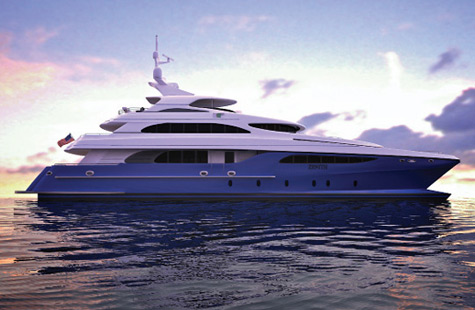 With both Incat Crowther as well as Waterline Yacht Design being world renown in the yachting world, this 38 meter catamaran motor yacht is sure to be an impressive vessel when it's complete. Incat Crowther has more than 170 different products under their belt, and was the first to incorporate the bulbous bow design on catamarans. They have an impressive list of working, ferry, and charter catamaran clients, including companies in Australia, and Africa.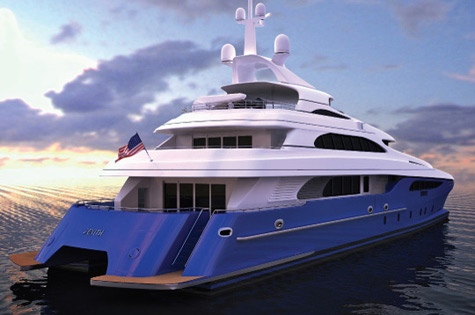 Waterline Yacht Design was created to bring out unique designs and techniques to create custom yachts that are an extension of their client's perspective, and have been a leader In the creation of architectural and interior designs, both in the private as well as the hospitality sector of the yachting industry. They specialize in creating interior spaces that are not only luxurious and extremely detailed, but have the lowest maintenance requirements. Bringing these two companies together in on collaboration, is sure to bring out the best and brightest creation possible.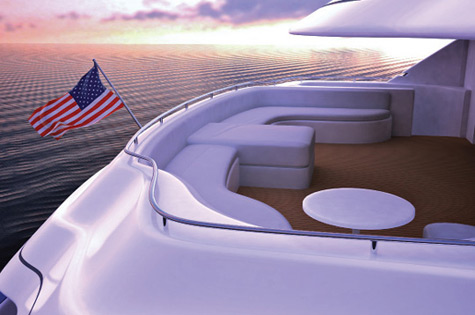 Both of these companies have their own websites, and you can easily find them online. You can see all the products both have to offer, look at specific yachting designs, and even contact them to set up your own contracts.
Specification of the 38 meter catamaran motor yacht:
Length Overall: 37.45 m
Length Waterline: 35.53 m
Beam: 10.30 m
Draft Max: 1.50 m
Depth: 3.6 m
Construction Material: Marine Grade Aluminium
Main Engines: 2 x MTU 12V4000M71
Fuel: 50 000 litres
Fresh Water: 4,000 l
Sullage: 900 l
* * *
Related links:
Incat Crowther
Waterline Yacht Design
Sabre Catamaran Shipyard
Photo: incatcrowther.com