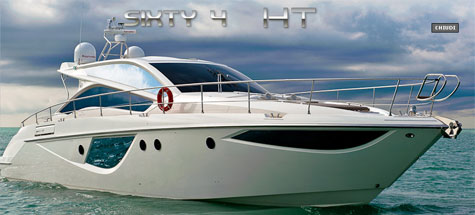 Italian boat builder Cranchi presented their latest project, the Sixty 4 HT motor yacht. "Generous" would best describe the boat, starting from its design, specifically developed with full optional fittings in mind.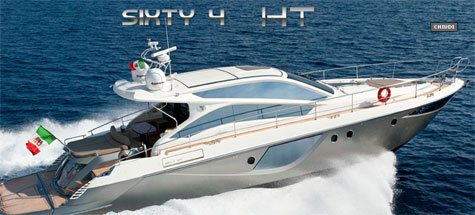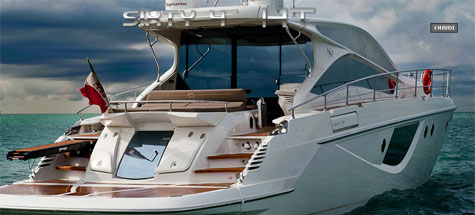 "Our aim is to provide a fully comprehensive product which can guarantee the utmost in comfort, from the very moment it is purchased. The results will surprise you. Not only does the boat have fittings and accessories supplied as standard, but it also has solutions and accessories usually only available on larger boats (more than 30 metres) provided as standard too. "
"Even small details such as chamois leather or the maintenance kit and more important items such as the night vision system are all included as standard fittings."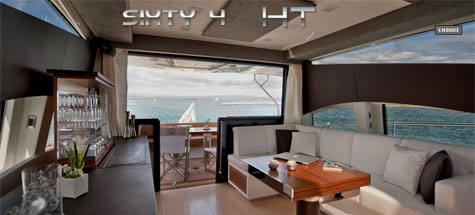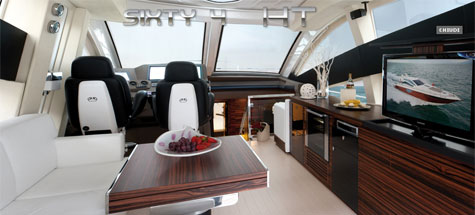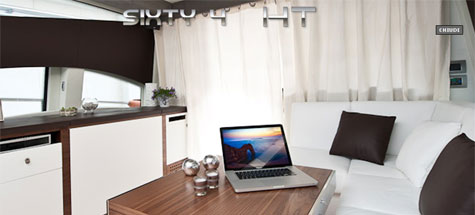 Every cabin of the yacht is free from structural "obstacles" often constituted by frame floors, shelves, etc. The saloon and galley have wood flooring (bleached oak), while pure wool carpeting was chosen for the cabins. The matte lacquer doors with the Canaletto walnut wall panelling make a unique match giving a sense of movement and spaciousness to the interior. The ample horizontal and vertical spaces of the suites and cabins afford incredible liveability.
The interior is divided into two parts: sleeping area with two cosy suites where you can recover your energy and enjoy the privacy (a bow guest cabin and stern master cabin) and 2 cabins (one with twin beds and a stern cabin).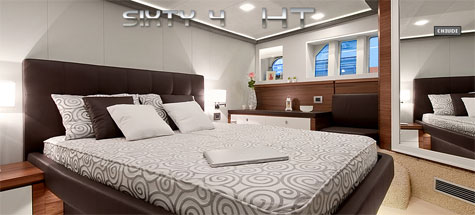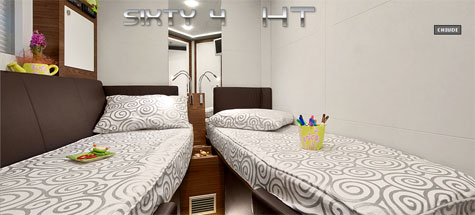 The kitchen was designed to be comfortable and full of light. It can be transformed into a covered gallery (thanks to the opening doors and windows), which, along with the cockpit, becomes a spacious saloon where you can spend delightful moments embraced by the sea.
Specification of the Sixty 4 HT:
Lenght overall: 20,85 m/68.40 ft
Lenght hull: 18,65 m/61.17 ft
Beam max: 5,10 m/16.87 ft
Draft (incl. props): 1,50 m/4.92 ft
Heigh above waterline (incl. light): 5,70 m/18.8 ft
Engines: 2 x Diesel Man D2862 V12-1400 Hp (2×1400 Hp)
Fuel capacity: 3,600 l/951,1 gal
Fresh water capacity: 770 l/203,5 gal
Passengers: 16
Suites/Cabine: 4
Guest or crew cabin: 1 of 4 aft
Beds: 8
* * *
Related links:
Cranchi
Photo: cranchi.it