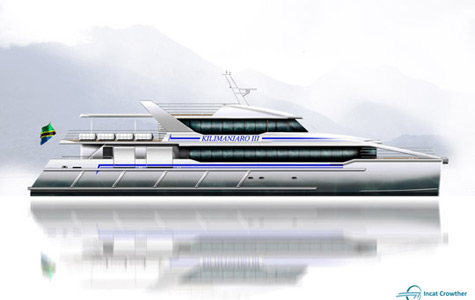 The Kilimanjaro III is the third in a series of fast ferries designed by Incat Crowther and built by Richardson Devine Marine. This contracted design with improve on the experience and operating success of her two predecessors, and is commissioned for Coastal Fast Ferries, out of Tanzania, Africa, for their Zanzibar to Der Es Salaam route. The first two Kilimanjaro catamarans, while much larger than their other fast ferries already on this route, are still constantly filled to capacity. Because of this success, this service has decided to contract a third.
There are two important enhancements to the Kilimanjaro III. On of them is its increased capacity, up to 558 passengers. The second is the hull design, which features better sea keeping abilities, as well as increased efficiency, lowering the over all cost per passenger. With the making of this catamaran, Coastal Fast Ferries will now be able to expand its services all the way to the island of Pemba, which the Kilimanjaro III is specifically designed for.
These are many different added features to the Kilimanjaro III. Because of the increased beam and the capacity for up to 558 passengers, they will be able to accommodate more travelers. The main passenger deck will feature 249 economy seats, with the ones furthest aft even having tables for eating. The back end of the main deck has also been reconfigured to accommodate more luggage, as well as side crew ramps to speed up efficiency. There is a seating capacity for more that a hundred passengers on the upper deck, with first class cabins being able to hold 74. In addition, the sundeck itself will be able to hold 60 more passengers.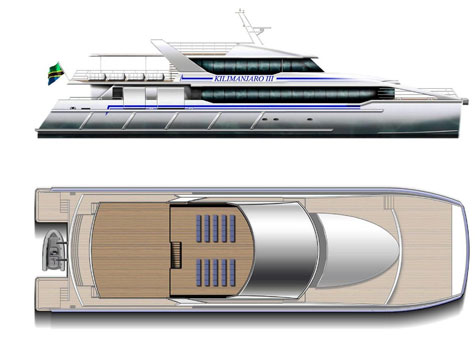 With a fuel capacity of 6,000 liters, the Kilimanjaro III is powered by twin KTA50 Cummins diesel engines, with two Cummins 170kVA and 1 Cummins 17kVA generators, with a service speed of almost 30 knots, making it one of the fastest catamarans in the industry. It is able to hold 1,500 liters of fresh water, and the same for gray or black water. This catamaran is made from Incat Crowther's standard marine grade aluminum, making it lighter, yet just as durable as heavier designs.
Coastal Fast Ferries is the number one ferry service between Zanzibar and Der Es Salaam, and their new route to Pemba Island is expected to be just as popular and profitable. Because of their successful relationship with Incat Crowther, they will most likely continue to contract other vessels because of the company's commitments to costumer satisfaction, allowing Fast Ferries to continue to provide comfortable, safe and fast ferry service long into the future.
For more information on Fast Ferries, or even Incat Crowther, there are many websites to choose from, including home sites for both companies. There is an abundance of information on available services for travel, costs and reservations. You can find out more about Incat Crowther, who have over 170 different working vessels under their belts.
Specification of the Kilimanjaro III:
Length Overall: 38.1 m
Length Waterline: 37.3 m
Beam: 10.5 m
Draft Max: 1.8 m
Draft Hull: 1.1 m
Depth: 3.65 m
Main Engines: 2 x Cummins KTA50
Service Speed: 29 knots
Fuel: 6,000 l
Fresh Water: 1,500 l
* * *
Related links:
Incat Crowther
Azam Marine
Photo: incatcrowther.com