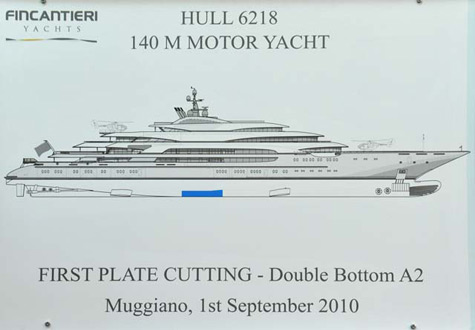 Fincantieri Yachts started works on the construction of the 140-metre megayacht Victory, hull number 6218. She was designed and built to become one of the world's most advanced vessels in terms of safety on board.
Based on a new, unique concept which is the brainchild of the Monaco based naval design architect Espen Oeino and the Paris based interior designer Alberto Pinto, the project "Victory" has been developed by the Fincantieri Yachts team – the unit specifically devoted to this business area within the Fincantieri Group – to meet the requirements of the owner in full.
The megayacht Victory will have seven decks, six pools of up to eight metres long and an internal floatable dock for a 14-metres tender. Great attention will be given to implementing environmentally friendly solutions.
"This megayacht is the start of another 'adventure' which proves we were right to enter this area of the market, an exclusive niche where we set out to base our success both on product quality and the efficiency of our construction process. Today, drawing on our experience with our first mega yacht and having further refined our expertise in managing complex processes, we are in a position to guarantee excellent performance levels thus meeting the needs of a market which, we trust, is on the road to recovery", said Giovanni Romano, head of Fincantieri Yachts.
* * *
Related links:
Fincantieri Yachts
Photo: fincantieri.it