Kingship Marine once again has made quite an impression, with the latest, Kingship 156. From its sleek exterior lines to the luxurious interior, it brings a refined elegance in today's yachting world. In collaboration with Azure Naval Architects, and long time friend Donald Starkey, Kingship will be building the 156 within the 500 ton rules for a 47.5 meter yacht. This will make it more manageable for getting crews hired in just about any region.
Even with these constraints, the 156 has everything a 50+ meter vessel will have, including sleeping areas for up to 12 guests, as well as crew quarters. There will be open, but covered deck spaces, as well as extremely accommodating lounge areas for entertainment, all that will be easily accessed from a central stair case, including the sun deck. This partially shaded area will feature dining and bar facilities, with food served from a lift, and it will also have a forward jacuzzi area.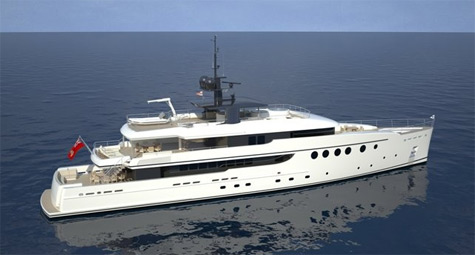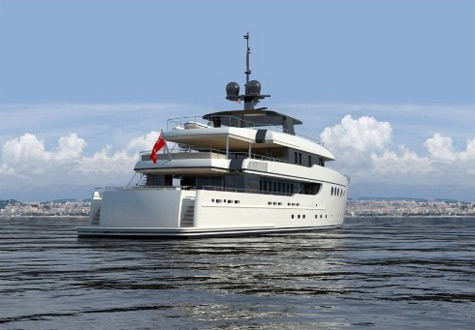 Breaking away from the traditional style Kingship has to offer, the 156 will have a plumb bow, as well as large circular port lights in order to give the impression of a modern 'gentleman's yacht.' Keeping with the 500GT restrictions, Azure Architects, a company from the Netherlands, put it's maximum effort in designing a superstructure and hull that will give the most interior spaces as possible. With the most advanced system and structural designs from the Class Society requirements, there are new borders and lines that will guarantee the most comfort while at sea.



With an overall length of more than 47 meters, or 156 feet, this yacht will be an impressive sight to see. It has a beam of almost 9 meters, and a draft of almost three meters. It will have a 10 knot cruising speed, with fifteen knots maximum. It will have a range of 8,500 nautical miles at cruising speeds, giving it the longest ocean voyage capabilities of it's class. With a fuel capacity of 46 tonnes and a fresh water tank of 20 tonnes, you won't have any troubles traveling around the world. It also features a 20,000 liter a day fresh water making system. It is powered by two 720 kw engines, as well as twin 115eKW generators.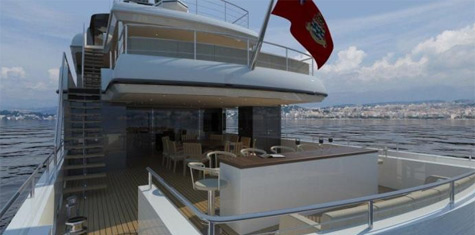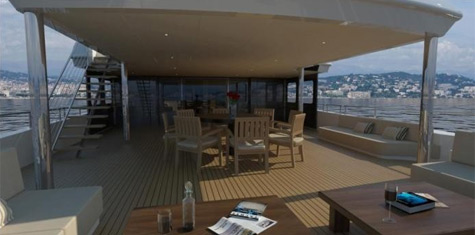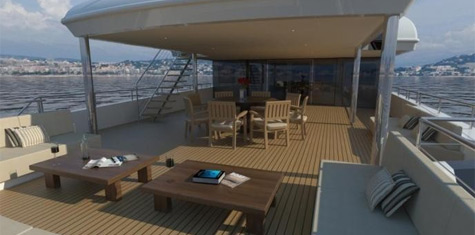 Kingship revealed all the details of this impressive yacht at the Monaco Yacht Show 2010.
Specification of the Kingship 156:
Length Overall: 47.5m / 156'
LWL: 46.8m / 153'5''
Beam: 8.7m / 28'56''
Draft: 2.7m / 8'86''
Hull Material: Steel
Superstructure: Aluminium
Engines: 2 x 720 kw
Max Speed: 15 knots
Cruise Speed: 10 knots
Range: 8,500 nm at 10 knots
Fuel Capacity: 46 tonnes
Water Capacity: 20 tonnes
Accomodation: 12 guests in 6 cabins
Exterior Designer: Donald Starkeys Designs
Interior Designer: Donald Starkeys Designs
Naval Architect: Azure Naval Architects
* * *
Related links:
Kingship Marine Ltd
Azure Naval Architects
Donald Starkey Designs
Photo: kingship.com