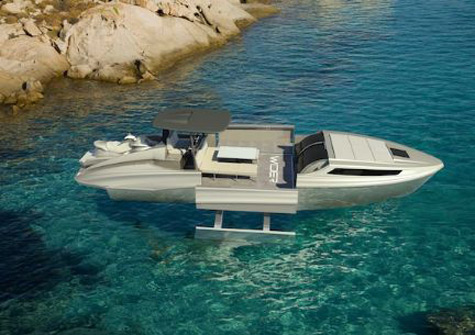 Tilli Antonelli, the former CEO of the prestigious shipyard, Pershing, has formed another company and named it Wider. The first project is the Wider 42 day-cruiser that has been acclaimed already due to the innovative extended cockpit that was patented by Antonelli.
The yacht really is wider; the foldout cockpit expansion allows double the room as far as floor area is concerned. The 15 sq meter cockpit and an open space of 20 ft wide allow more room to move around on the yacht. This is not the only new innovation that Antonelli has added to the design of this beautiful yacht.
In the center console of the cabin forward is the helm position that features the multi-functional steering wheel. The built in instrument panel allows a display of all the information that is necessary for navigation. The personal dock at the stern is another feature that makes this yacht unique.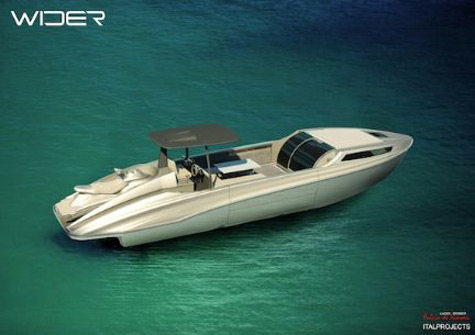 Inside this beauty is plenty of room to enjoy your time on the yacht. The flexible furniture provides cushioning and seats, a head with a separate shower, and a dinette with seating that is transformed into a comfortable sleeping arrangement.
The top speed of the yacht is over 45 knots. The innovative blend of strong design and versatility that offers the ultimate luxury cruise is found on the newly developed model Wider 42. There will be a smaller model in production of 35 feet and a larger production model as well, topping out at 50 feet.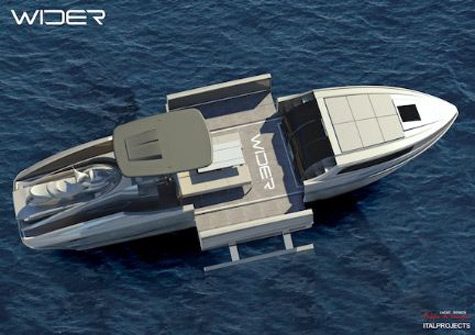 The two guys responsible for the creation of this cutting edge technology that advances the functionality of the day cruiser category of yacht are Tilli Antonelli and Fulvio De Simoni, both experienced in the craft of building sea worthy vessels from their work at Pershing. Wider has begun production with the 42 foot model and will expand to the smaller yacht and the larger model as well in the near future.
The yacht is also "green" as it includes an on board electronic system called the CAN bus electrical system that is extremely lightweight, and this provides a considerable savings in engine energy.
One of the interesting aspects of the day cruiser is the increased stability that is provided by two floatation chambers on the sides of the vessel. The extra floatation and the personal dock on the stern makes getting back onto the pier much easier when you want to disembark for a night on the town and return to the yacht later.
This pretty much sums up the new toy for the jet-set and for the racers as well as those that are interested in a top notch day cruise for leisure will outperform in all areas the other vessels on the water. This day cruiser offers functionality with sleek design. It will be interesting to watch the innovations that this company comes up with in their next models, as this last innovation really stirred up a storm of interest and admiration.
* * *
Related links:
Wider
Photo: wider-y.it