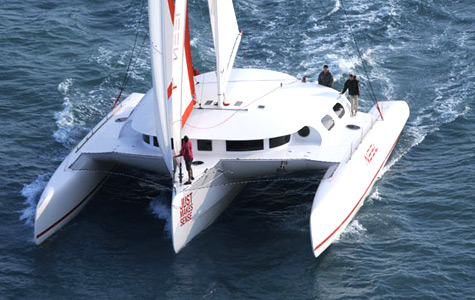 Created in 2009 by founder and manager Eric Bruneel, based in La Rochelle, also known as the capital city of sailing in France, Neel Trimarans designs and creates cruising trimarans. With over 30 years of personal experience in the design and manufacturing of multihulls, Eric Bruneel brings to the organization a style all of his own, which has been showcased in a number of other instances devoted to the development of Fountaine-Pajot SA and helped design and build the sport catamarans Corneel 18, winners of the main European regattas. With a number of accomplishments on his resume, Eric Bruneel has also tried his hand at racing and won many well-known events since 1987 until the present time, giving him an edge on his knowledge of multihulls behaviour while seafaring.
The Neel 50 trimaran can be described as a vessel that is above all the rest in many different categories. Breaking free of past layout plans of cruising trimarans, the Neel 50 connects the two wings at cockpit level with a living platform, which gives it an innovative look and feel all its own. Open spaces and airy living on the Neel 50 can be experienced much like that of a loft dwelling with a central kitchen area, a saloon that showcases an outstanding panoramic view, two bathrooms and three double cabins for those staying onboard. Known for its innovative design, the Neel 50 can be recognized by its interior decoration and simplistic style.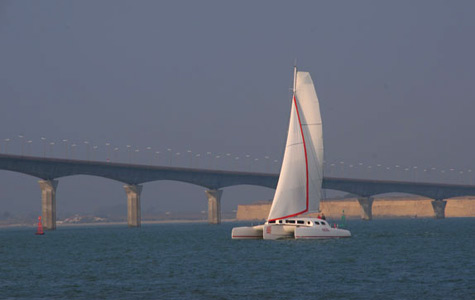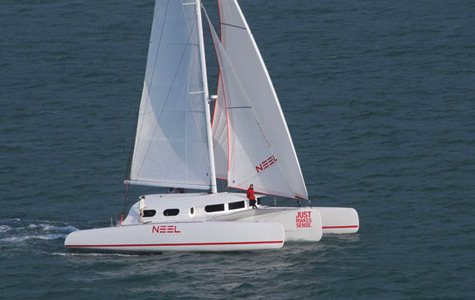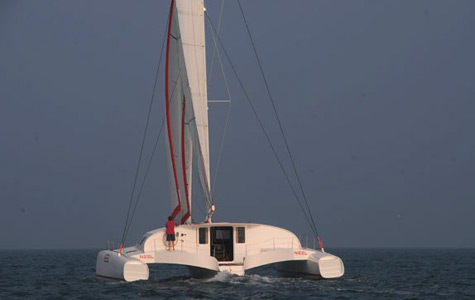 The living space onboard the Neel 50 is 650 sq meters giving those an entire 2 meters of headroom with an excellent panoramic view. Jerome Bruneel has used innovative style and design in order to bring together contemporary materials, complimentary colors and a loft atmosphere all of its own. A piano is showcased alongside the island kitchen off the entrance for the enjoyment of all. With two oblong main cabins that boast 90 sq meters of space, adjoining bathrooms and double beds are included for the utmost comfort. Warm colors contrast with oranges, reds and different grays for added effect throughout and the port dining room is uncluttered and continues the look of continuity.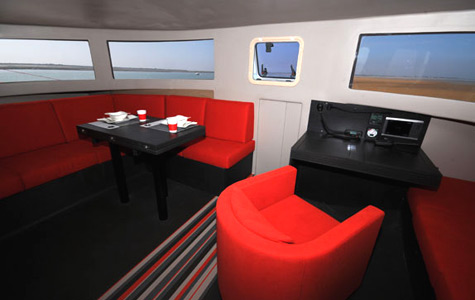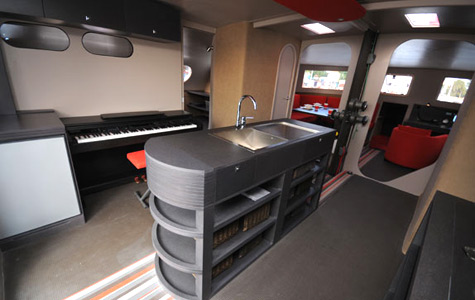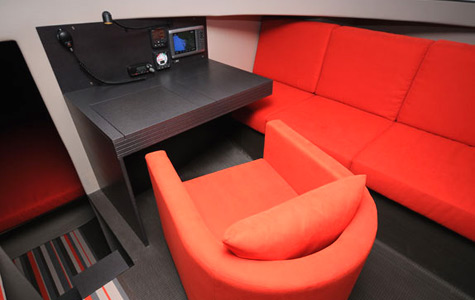 Safety is an important aspect of any sailing vessel and is considered essential for the Neel 50. With travel in the high seas, safety and stability are important aspects to consider and should not be overlooked. Making the Neel 50 lighter than water itself, the PVC foam sandwich construction and anti-collision partitions make it virtually unsinkable. There are three fins that protect the hulls, rudder and propeller from any debris or outside factors. With the ability to land on a beach or a ramp and still remain stable, the Neel 50 can sail in shallow waters for protection or exploration without damage. Personal safety is also key for the Neel 50 since the winches and stoppers for maneuvering the sails are all built directly inside, which helps protect any crew members in strong winds or during late night navigations.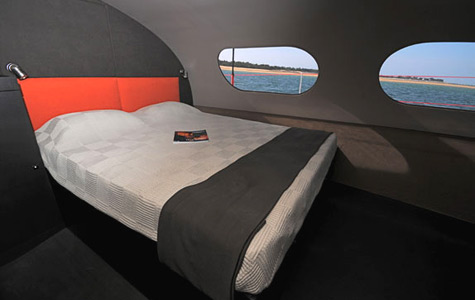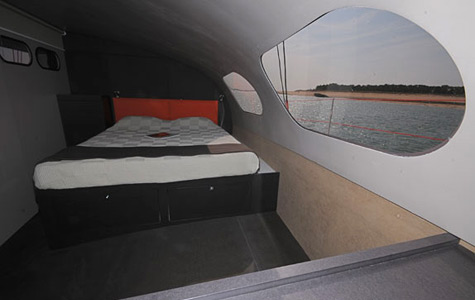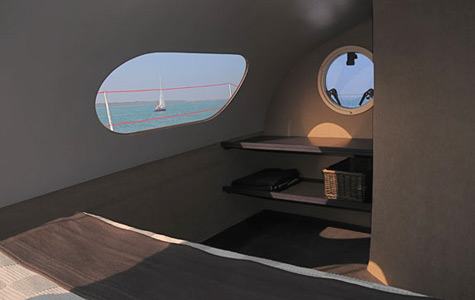 Designed for fast cruising, the Neel 50 can cover over 220 miles for each 24 hours of time. At more than 10 knots on average, often 15 to 20 knots can be reached when the winds are stronger and optimal for sailing.
Specification of the Neel 50 trimaran:
Length: 50 ft
Beam: 36,7 ft
Draft: 3,6 ft
Displacement unloaded: 10 t
Main Sail area: 950 sq ft
Genoa area: 750 sq ft
Trinquette area: 300 sq ft
Diesel engine: 75 HP
Diesel tank: 130 gal
Water tank: 184 gal
Ship designers: Joubert Nivelt Design
Conception: Eric Bruneel
* * *
Related links:
Neel Trimarans
Photo: neel-trimarans.com