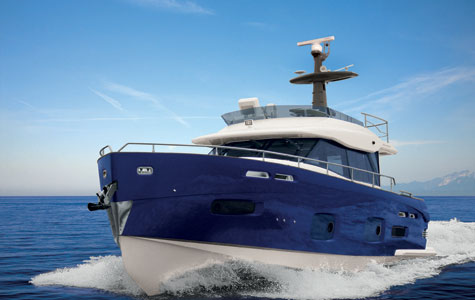 Azimut Yachts presented their new project, Magellano 50, the first 50' motor yacht that can sail continuously, everywhere and with the greatest respect for the environment.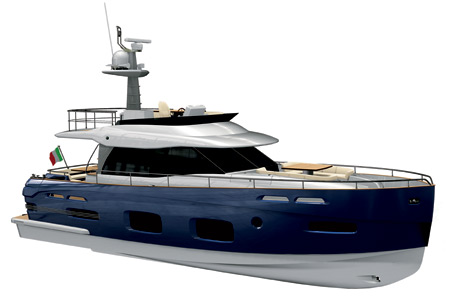 Azimut Magellano 50 is the first of the "New Classic" vessels to offer an abundance of light and large windows throughout the lower deck; and absolutely the first 50-footer to offer an outdoor saloon in the bow and four alternative layouts below deck, responding perfectly to the owner's requirements.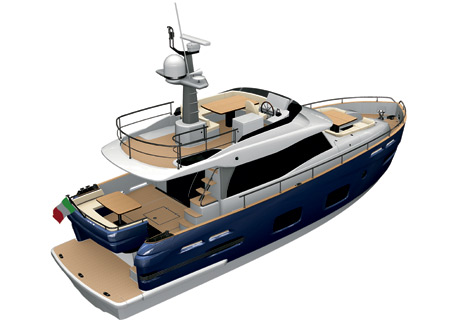 A high level of eco-compatibility, safety and cruising stability in all sea conditions, long range, easy handling and fuel efficiency, top comfort for extended staying on board and a natural exquisite taste: these are the characteristics of this innovative craft, where for the first time, modern style and seafaring tradition have come together in perfect harmony.
Magellano 50 features low-emission engines, a high-performance hull and propellers, the anti-UV film applied to reduce heat exchange through the glass surface and the LED lighting to the infusion lamination of the principal fibreglass components.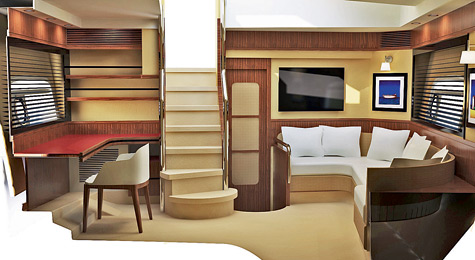 Easy Hybrid engines The Magellano 50 offers a hybrid propulsion configuration, an optional feature that is sure to be chosen by an increasing number of owners, considering the advantages it holds: almost total elimination of noise (up to 80%), greater cruising comfort and a further reduction of consumption during short day-cruising outings. Hybrid propulsion is provided by backing up the traditional engines with two 20 Kilowatt electric motors connected to batteries, which are charged on shore and kept topped-up by the on-board generators. The electric motors operate when the diesel propulsion systems are stopped, giving the Magellano 50 a top speed of 8 knots.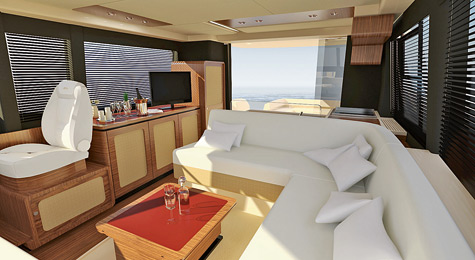 The distinguishing characteristics of the hull are its deep-V bow section, a very shallow deadrise at the stern, wide chines and a distinctive soft section in the middle which acts like a shock absorber. All of these factors contribute towards making the switch between displacement and planing crusing extremely easy, guaranteeing both optimum stability, soft ride, and great responsiveness and efficiency of the hull. The vertical bow also reduce the pitching acceleration, making for more comfortable sailing.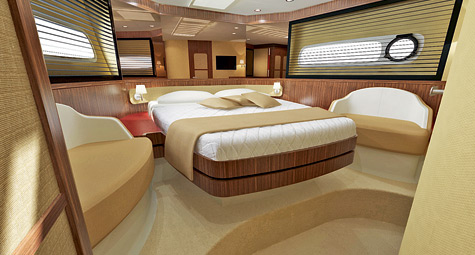 The lower deck is a masterpiece of design, and is the only one in the world offered in motor yachts of this length that allows the owner to choose between 4 options. In the spacious area between the master cabin, located midships, and the VIP cabin in the bow, it is possible to choose the studio and guest cabin configuration, or studio and second dinette, or a second dinette and guest cabin, or, finally, a studio and separate utility area, with laundry and dryer and additional stowage space. This possibility of customizing the vessel strengthens the bond between the owner and his Magellano 50.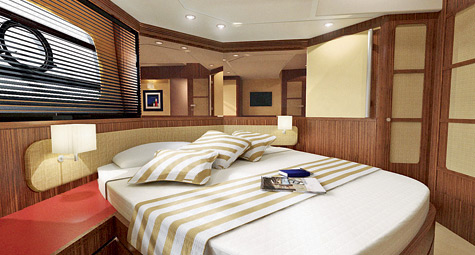 The world preview of the Azimut Magellano 50 shall take place at the Genoa International Boat Show (2-10 October 2010).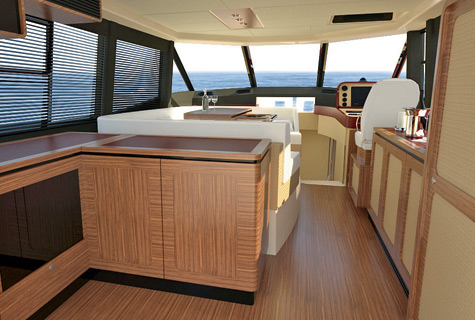 * * *
Related links:
Azimut Yachts
Photo: azimutyachts.com