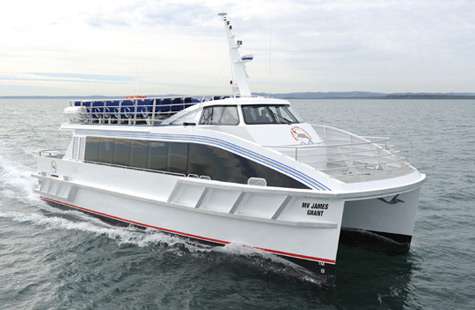 Incat Crowther has announced the launch of their newest passenger ferry catamaran, the MV James Grant. A company synonymous for their expertise with creating the fastest yet economical working catamarans, this is just one in a long line of products they have constructed. This design is the first to employ the latest hull form, which will provide excellent performance and yet require the minimal of power output. This is one of the many different catamarans for their repeat customer, Inter Island Ferries.
The MV James Grant's hull design, which has been recently implemented on other working class catamarans, with be able to reach top speeds of 27 knots, and yet use only 373 Kilowatts of power. This is the fourth design that Incat Crowther has created for this operator, but they have close to a dozen different working catamarans under their belt, and more than 170 different vessels.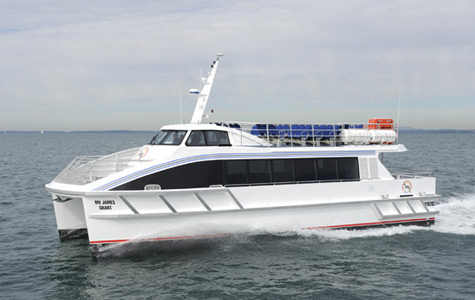 Incat Crowther was actually two different design firms, Incat Designs, and Crowther Design, with their origins dating back to the 1970′s. Now together, they have greatly expanded their products, and now even have offices in Louisiana, in the United States. Lock Crowther was a pioneer in the sailing catamaran industry, whose bulbous bow design is now the normal design.
The MV James grant is 18 meter in overall length, with a water line length of just a little over 17 meters. It is able to accommodate up to 100 passengers, who will board via the two aft side gates. A large luggage rack is across the aft Bulwark, and this deck has 2 WC compartments, with a set of stairs leading up to the main passenger deck. This area features large main windows that that passengers can see over the main foredeck, and includes are wide screen television behind the the wheel house, entertaining passengers during their ride. There is seating for up to 64 people at a time. You can even enjoy the sun from the sundeck, taking in all the sights and sounds that this cruise line has to offer.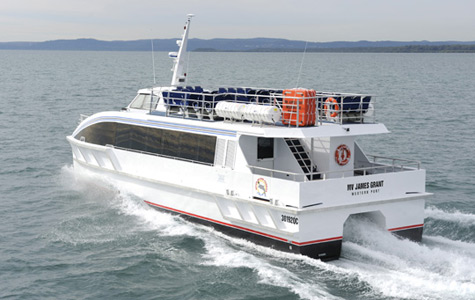 The MV James Grant is powered by two Yanmar 6HY-ETE motors, with an installed power of 746k W. It features twin propeller powered with Yanmar YXH160 gear boxes. While it can attain speeds up to 27 knots, it's cruising speed it 25. Made of marine grade aluminum, it is fast, lightweight, and highly maneuverable. It has a 4,000 liter fuel tank, and 400 liter tanks for fresh water, and sullage.
Inter Island Ferries is an Australian based ferry and tour service, featuring trips to French Island, Phillip Island, and even Seal Rocks. They have many different educational trips for adults and children alike, from watching the playful seals, to the Penguin Parade. You can even plan a day to French Island, with plenty of opportunities to see pristine plants and flowers as well as an abundance of koala bears. This service has many package deals and is even available for private charter.
Specification of the MV James Grant:
Length Overall: 18.0 m
Length Waterline: 17.3 m
Beam: 6.0 m
Beam Hull: 1.15 m
Depth: 2.2 m
Construction Material: Marine Grade Aluminium
Engines: 2 x Yanmar 6HY-ETE
Service Speed: 25 knots
Maximum Speed: 27 knots
Fuel: 4,000 l
Fresh Water: 400 l
* * *
Related links:
Incat Crowther
Inter Island Ferries
Photo: incatcrowther.com