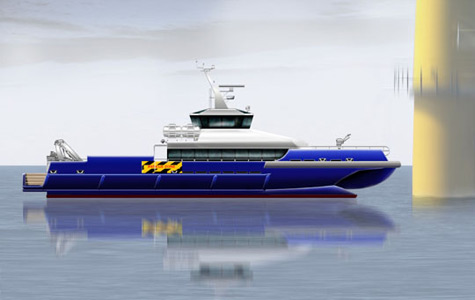 Incat Crowther have announced that they have been contracted to design an innovative  28 meter Wave Piercing Catamaran Crew Boat in conjunction with Topaz Shipbuilding. The vessel will be built for a large petroleum firm and will feature a new and cleverly developed layout.
The first was to develop a put an Oil Spill Recovery container on the aft deck. The solution to this was upright topsides aft, similar to a regular catamaran. The owners also required that instead of the tradition dual hull design in the front, they wanted a mono hull, but one that flowed smoothly with the rest of the catamaran design. They also needed to make sure that in addition to having to interface cleanly with oil rig superstructure, it didn't collide with other areas risk injury and damage.
The Wave Piercer's central bow was an ideal solution. They also reconfigured the hull bows so they didn't extend further than the foredecks outline, eliminating the risks of collision or other damages. The resulting design was excellent for for functionality, as well as still keeping the catamaran's off shore performance.
Now the ship features an aft-deck with different container mounts, an Effer 155m deck crane, and still 50 square meters or more of deck space. The passenger area is accessible through gates forward of the cargo deck, and the passenger walkways are protected buy large barriers, so the crew can load cargo and passengers at the same time without the risk of injury.
Because this is a working catamaran, this vessel will have a top speed of up to 32 knots, with a cruising speed of 28, allowing it to makes it's journey quickly and efficiently. This is because the power plant is dual C32 Acert Caterpillar engines. Each motor producese 1193 kW at 2,100 rpms. Instead of propellers, these motors with power HM651 Hamilton waterjets instead. In addition, the port side motor will also power a FFS 250×350 HD FiFi pump, supplying the needs of the fore deck fire control monitor.
The reason that Incat Crowther was able to come up with such a workable design is because of their commitment to improving and evolving their current product line. Another vessel of the same design but larger passenger capabilities is also being constructed at the Topaz Marine Shipbuilding company in the Middle East, where their center for operations is located. With more that 100 vessels in their fleet, they are an extensive supplier of multipurpose supply vessels, barges and even ice breakers in the area.
Specification of Incat Crowther 28m Wave Piercing Catamaran Crew Boat:
Length Overall: 27.6 m
Length Waterline: 23.0 m
Beam: 7.5 m
Draft Hull: 1.4 m
Depth: 3.2 m
Construction Material: Marine Grade Aluminium
Main Engines: 2 x Caterpillar C32 Acert D Rating
Service Speed: 28 knots
Maximum Speed: 32 knots
Fuel: 10,000 l
Fresh Water: 5,000 l
* * *
Related links:
Incat Crowther
Topaz Energy and Marine
Photo: incatcrowther.com