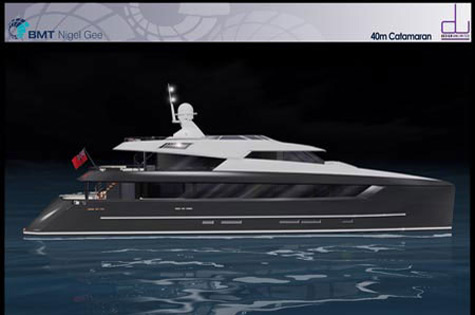 There is always something inspiring about a catamaran. Maybe it is the added width that is not included in many standard yachts of today. It can also be the openness that a catamaran provides, and the almost complete use of available space. Certainly, with a catamaran, there is much more available area, since the sleeping quarters are in the twin hulls, giving you a much more usable living area.
Design Unlimited is proud to announce it's collaboration with BMT Nigel Gee to create a truly exciting 40 meter power catamaran. This brings together two powerful entities to create a truly remarkable design. BMT's extensive experience with naval architecture and the engineering of high speed cats, with the versatile exterior and interior skills of Design Unlimited.
First thing that is exclusive about the 40m Catamaran is the number of different propulsion options, which really depends on the clients preferences, but no matter which, they will feature BMT's proven and extensive hull forms from a large portfolio of designs. The base model propulsion system will be twin 1,432 kilowatt diesel motors, giving the catamaran a top speed of 20 knots, as well as a range of 2,600 nautical miles. If the client wants more speed and performance, there is a twin diesel water jet motors for up to 32knots, and even speeds of up to forty knots with either four diesel motors, or a combination of diesel, and gas turbine designs.
The main catamaran platform has always been able to accommodate more space than a regular yacht of the same length, but this one pushes those boundaries. The beam on these catamaran is almost 12 full meters, and is still ideally suited for even high speed propulsion designs. This additional space is put to good use through extensive optional interior space designs, and many different entertainment configurations.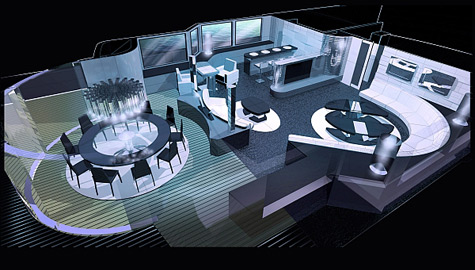 This catamaran has three different deck levels. The lower deck is split between the twin hulls. On the port side, there is crew cabins for six, the crew mess and galley, as well as the laundry area, and separate foredeck access. On the starboard side, there are two very large en-suite VIP cabins, with options for conversion into one large VIP cabin, or even a master suite.
The main deck has two more VIP cabins, a gym with an opening terraces for both indoor, as well as outdoor workouts. There is an exceptionally large fully equipped galley. The full beam saloon takes up the full aft of the main deck, with seating for 12 in an indoor or outdoor atmosphere. There is also large comforting lounging areas, a full bar, and access to the aft sun deck through circular sliding doors. This area also incorporates a pool, and which can be accessed from the sun deck, or even from the aft swimming platforms.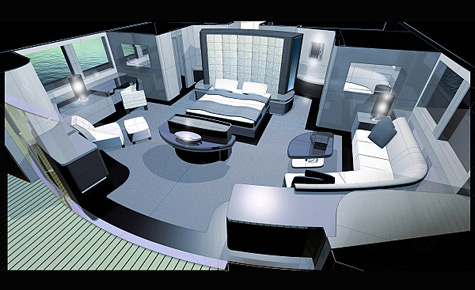 Most of the upper deck is taken by the massive owner's cabin. This suite has an aft facing bed, which takes int the whole aft of the ships view. There are walk in closets, a full sized luxury bathroom, as well as a exceptionally accommodating office area. A private sky lounge is also an option. This upper deck also is where the captain's large cabin is located, with private access to the wheel house.
* * *
Related links:
BMT Yachts
Design Unlimited