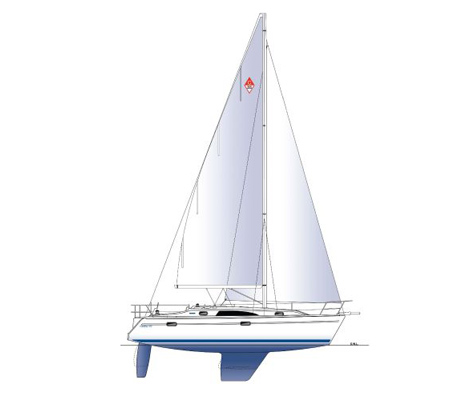 Catalina Yachts out of Largo, Florida is a world renown and internationally recognized yacht designer and ship builder, and they have announced the launch of their newest model, the Catalina 355. Some of the same admired qualities of their award winning model 445 have been incorporated into this one, the versatility, comforts and safety, all in a new smaller 35'5″ yacht. This one is perfect for family outings, and even long adventures.
There are many ideal things about the Catalina 355 that make it outstanding for control by one or just two people. It has a five foot traveler, which makes mainsail control easy and precise. There are long genoa tracks for the 155% genoa headsail, to the storm gib for added balance and control in all kinds of wind conditions. When there is no wind, or when mooring in harbors or berthing accommodations, is also has a single diesel engine design. It also features six different inboard shrouds, and these are secured with Catalina's special ball and socket chain plates and tie rods. These create better critical load resolution, as well as water tight integrity.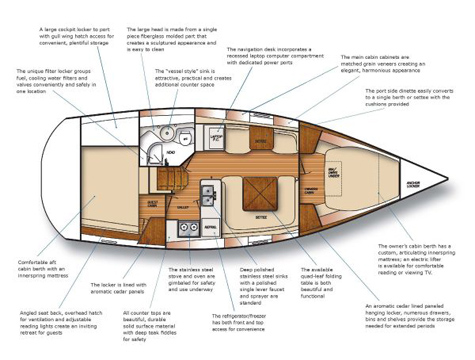 For upwind performances, there are inboard shrouds, as well as cover hardware. The steering and cockpit areas are elevated for better visibility and comfort. All the primary instruments winches and other controls are within convenient reach, allowing total sail and steering controls for one to two people. The decks are unobstructed, for safety, and another added feature is the collision bulkhead, just aft of where the anchor is stowed. This is watertight, and God's forbid you have some kind of head on collision, you will still be safe within reason.
The interior is just as appropriately designed, with teak, finished with clear varnish. There is an aft guest cabin, as well as a forward owner's cabin. This space includes an innerspring mattress, and an electric lifter for watching television or reading, with a shared bathroom. It has a navigation desk that includes a space for a laptop and separate power ports. There is a adequate galley, a folding quad leafed table on the starboard side that can easily accommodate the entire family, as well as a smaller port dinette that can be made down into a single bed.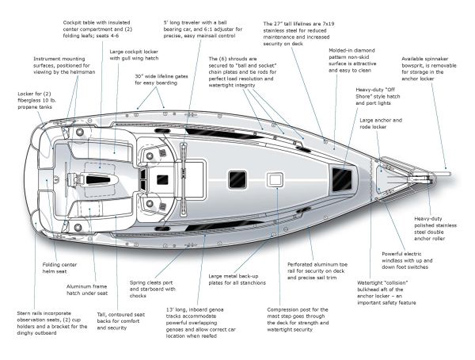 The Catalina 355 yacht conforms with all the requirements as laid out by category A standards, and then some. The Catalina 355 yacht will make its debut from October 7-11 of this year, during the United States Sailboat Show, being held in Annapolis, Maryland.
Catalina Yachts has always maintained a straightforward philosophy, to design and build yachts that can always stand up to every day, real world circumstances, and sail well too. Their yachts must be comfortable, both below, as well as on the outside. They have to be maintenance friendly, and retain their overall value. This company holds owner satisfaction in highest regards. Because of this commitment, they have become one of the most prominent sailboat builders in the United States. Not only do they build all of their yachts with the highest quality in mind, but are reasonably priced as well. The Catalina 355 has a base price of just $165,450 FOB.
Specification of the Catalina 355:
Length Overall: 10.76 m/35'5″
Length of Hull: 10.49 m/34'6″
Length at Waterline: 9.17 m/30'2″
Beam: 3.65 m/12′
Mast Height Above Waterline: 16.54 m/54'5″
Draft:
Fin Keel: 2.2 m/6'8″
Wing Keel: 1.37 m/4'6″
Ballast:
Fin Keel: 2,355 kg/5,200 lbs
Wing Keel: 2,808 kg/6,200 lbs
Designed Weight:
Fin Keel: 6,251 kg/13,800 lbs
Wing Keel: 6,704 kg/14,800 lbs
Engine: Yanmar 3YM30 Diesel 21.66 kw 29 hp
Sail Area:
100% Foretriangle: 53 m2/572 sq ft
Standard 135% Genoa: 62 m2/669 sq ft
* * *
Related links:
Catalina Yachts

Photo: catalinayachts.com