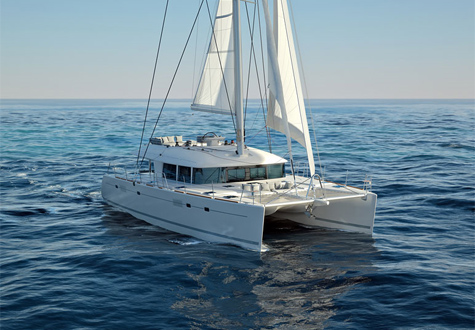 The Lagoon 560 is a more rugged version of the Lagoon 450, larger, and with more cabin configurations. This fast cruising catamaran is an innovative and more luxurious range of the lagoons style, with a large functional and yet elegant interior design by Nauta Yachts.
The main salon and galley are split by an extra large storage block, but still able to offer an airy look. There is also a navigational area on this deck, but the main cockpit area is above the main cabin.
The main cockpit area is open, with easy operating steering wheel, large electronic read outs, and state of the art sail technology, allowing complete functional operation with just a touch of a button or turn of a handle. This makes it so just about anyone can sail and operate this fast cruising catamaran. The higher cockpit also means greater visibility, so you can navigate through the tightest marina or harbor with relative ease.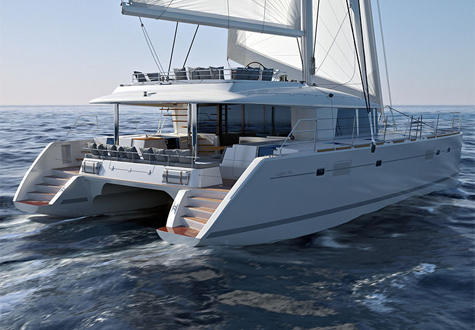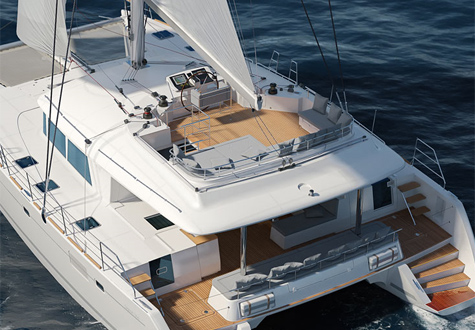 The Lagoon 560 catamaran also has a four and five cabin design. The four cabins version has large beds, full bathrooms, with showers. The aft master cabin also has a private entrance to the main deck, on open deck. The five cabin design is a little tighter, but still accommodating. The main deck has three different areas. The front has ample views of the water, the main salon has the galley, as well as the dining area, the covered aft section opens to the back, and this also gives you access to the rear swimming platforms. The cockpit deck is completely open, with large seating and lounging areas, providing you and your family or guest with great sun bathing opportunities.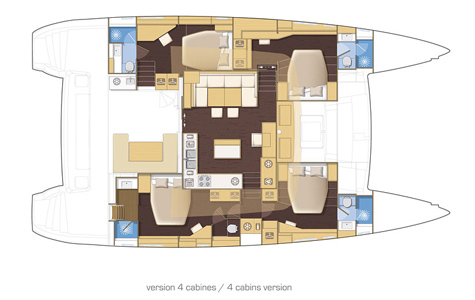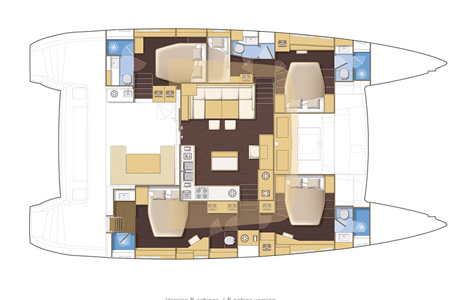 Here are some of the specifications for the Lagoon 560. It has a length of 56ft and a width of 31ft. It's draft is just under five feet. It weight 28 tons, with a 2227 square foot main sail. It is also powered by 2×75 HP Saildrive diesel motors. It has a 344 gallon fuel and a 252 gallon capacity.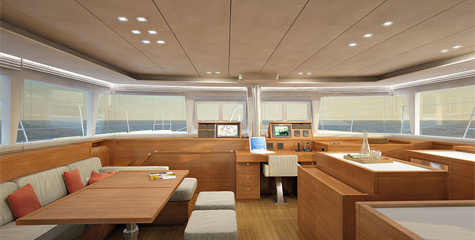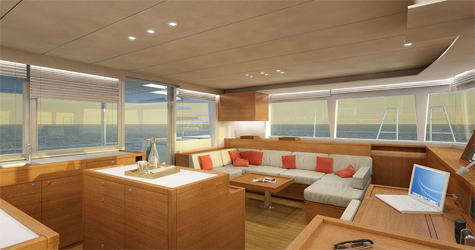 Lagoon also has the 400, the 450, as well as the 500 and 620 offering a full line of luxurious catamaran designs. All of these models are excellent for off shore sailing and cruising, and this company dedicates itself to the satisfaction of its customers. More that 100 model four hundreds have already been delivered, and many more of these larger models are also expected to roll out the door.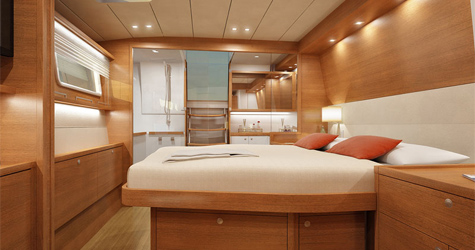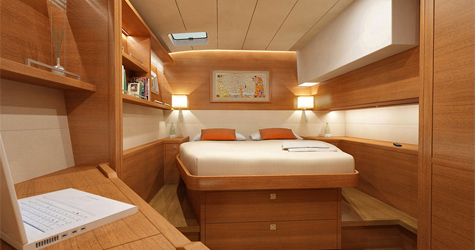 If you want a well built, high performance catamaran, then the Lagoon 560 is one of the best on the market today. Whether you are vacationing with your family, or entertaining guest, this is one catamaran that is hard to beat.
Specification of the Lagoon 560 Catamaran:
Length : 17,07 m/ 56'
Beam: 9,44 m/ 31'
Draft: 1,50 m/ 4'11″
Displacement: 28 t/61,740 lbs
Upwind sail area: 207 m²/ 2,227 sq ft
Engines: 2 x 75 HP Saildrive diesel
Fresh water capacity: 960 l/ 252 gal
Fuel capacity: 1,300 l/ 344 gal
Design: VPLP
Interior design: Nauta Yachts
Lagoon will be strongly represented at the Cannes International Boat And Yacht Show 2010 with no less than 6 boats exhibited, including the new Lagoon 450 and Lagoon 560 – Stand MTC 105.
* * *
Related links:
Lagoon 560 Catamaran
Bénéteau Group
Nauta Yachts
VPLP Yacht Design
Photo: lagoon560.com