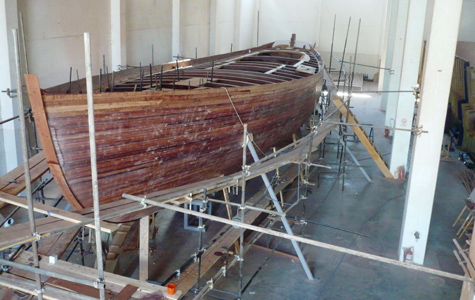 Burnett Yacht Design is a yacht designing and consultancy company. It is a renowned designer and architect of yachts and naval vessels of great distinction, both traditional and modern vessels. Arkin Pruva Argos Yachts is a ship building company based in Antalya, Turkey. Established in 2007, the company specializes in constructing custom-made yachts. It also offers charter business services. Both companies are currently building a 25m Schooner. The yacht is being made on order from a British customer.
The 25m Schooner is a super yacht whose hull and deck structure will be about 83ft (or 25m). It is being constructed using wood epoxy techniques and is nearing completion. Its construction is in the hands of the shipyard, the designer (Burnett Yacht), as well as the owner's surveyor, a Richard Ayers.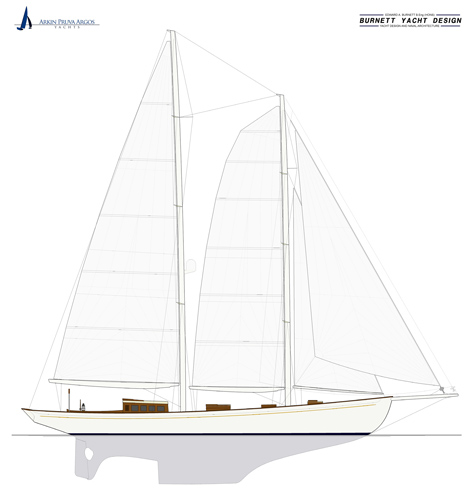 The yacht is designed to achieve terrific speeds while at sea. It is being built with superb precision, with the comfort of its occupants being the main goal. The yacht is expected to accommodate a modest crew. Its rig is versatile enough to allow those on board the ability to access it, while interacting with each other throughout the sailing expedition. In addition, the deck has ample space for maximum enjoyment while on the anchor and during the trip.
The super yacht will measure 25.33m (83' 1") in length (overall) with the waterline length generally being about 20.21m (66'4"). The full length of its beam will be 5.51m (18'1") while its draught will be 3.35m (11'). Its displacement weight capacity will be about 61.2 tons (134,600lbs).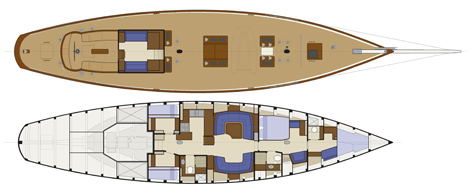 As noted earlier, the hull and deck of the yacht will be built using wood epoxy methods. The main engine of the yacht will comprise a Cummins MerCruiser Diesel model QSB5.9-305, capable of producing 224kw (300bhp) at 2600 rpm. The gearbox will be a ZF 85A model, while the generator will be a Cummins Onan 22.5MDKBT model generating 22.5 kVA.
Once complete, the 25m Schooner will include a rig and deck gear from Formula Marine. This gear will also consist of aluminum spars, made at the facility's plant in Holland. The yacht's sails will come from Doyle's loft in Istanbul.
This super yacht will be able to accommodate up to about six of the owner's guests on board. It will have the owner's suite, equipped with a WC and a shower. There will also be two Guests' cabins, both sharing a shower and a WC. The deck house will have
enough space for two extra guests to sleep in. The Crew cabin will also be installed with a WC and a shower. The living area of the yacht will consist of a general sitting area, gallery and a saloon.
Burnett Yacht Design and Arkin Pruva Argos Yachts intend to complete construction of this magnificent yacht by May 2011.
Specification of the Burnett 25m Schooner:
Length Overall: 25.33 m/83' 1"
Length Waterline: 20.21 m/66' 4"
Beam Overall: 5.51 m/18' 1"
Draught: 3.35 m/11' 0"
Displacement: 61.2 t
* * *
Related links:
Burnett Yacht Design
Arkin Pruva Argos
Photo: arkinpruva.com