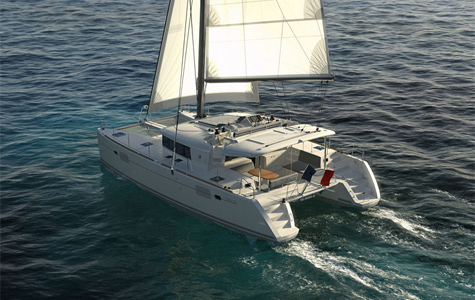 While not able to sail the seven seas, a Catamaran always brings thoughts of leisurely sailing, and a sense of luxury and openness that few real yachts can boast about. They are fairly easy to operate, whether sailing, or using to back up motors. With their dual hull design, and open middle layouts, they are ideal for family vacations, or entertaining a wide variety of guests.
The latest and greatest design recently released is the Lagoon 450 catamaran. This is the latest creation by LAG designs, and features an open air cockpit design, with easy to operate controls and state of the art sailing, needing only one or two people to completely handle this luxury sailing catamaran. Having the cockpit well above the boat allows for a superb visual range, with improved handling in tight harbors or marinas.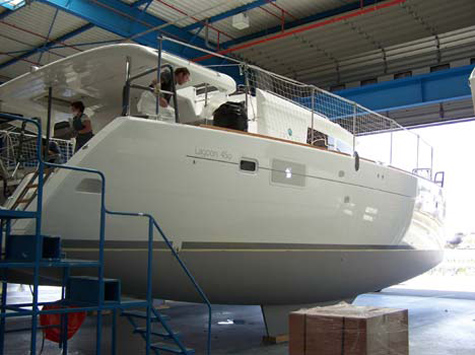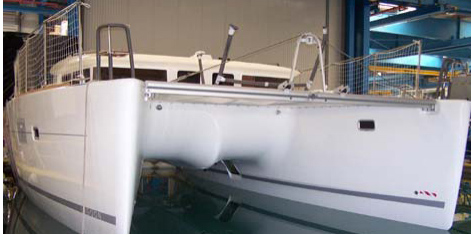 Many of the controls can be operated from the main deck, which is where the main living area is located. The interior space is home to the ample galley main dining and central eating area.
Then you have another large seating and entertainment area aft, as well as forward. The aft area has a hard top covering, to protect you from the sun, and light rain. The forward area has full views, and a wet bar.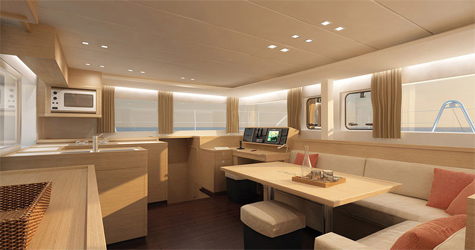 Below in the hull are the main cabins, with a choice of three or four cabin layouts. The four cabin layouts have a large beds, full bathrooms with showers, and large storage spaces. The three cabin layout it even more accommodating, with a master suite the runs almost the entire length of the hull, with desk and seating area for an on board office, plus a full sized bathroom.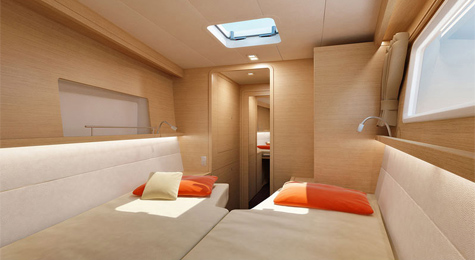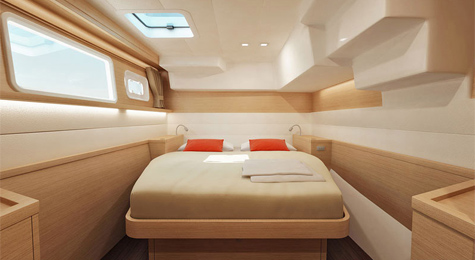 Some of the Lagoon 450′s specifications are a maximum L.O.A of just under 46′, a beam of 25'9″ and a draft of just 4'3." It has a light displacement of 15.5 tons, with an upwind sail of 1071 square feet. It can also run without any wind, with it's two 40 HP and 2 55HP Saildrive diesel motors. It has a fuel capacity of 1000 liters, and a 350 liter fresh water holding tank.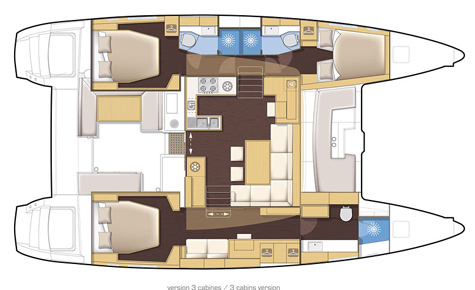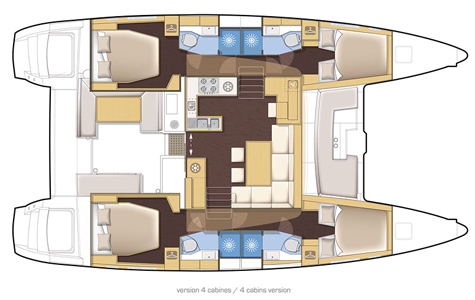 The whole staff at Beneteau Belleville-sur-Vie (Vendee, France) are so excited, not only at the 30 plans for the new 450, but also because they delivered the 100th Lagoon 400 to a customer on July 8th of this year. With more one Lagoon 400 rolling of the assembly line every two days, they are going to have their hands full with all the orders already received for the 450 Prices are expected to be comparable to the 400, which sells for just 229,500 Euros, before any taxes or delivery charges. These larger models are going to be built in the CNB factory in Bordeaux, South of Vendee.
Specification of the Lagoon 450 catamaran:
Length : 13,96 m / 45'10"
Beam: 7,84 m / 25'9''
Draft: 1,30 m / 4'3″
Displacement: 15,5 t
Engines: 2 x 40 HP to  2 X55 HP Saildrive diesel
Fresh water capacity: 350 l / 92 gal
Fuel capacity: 1,000 l / 264 gal
Upwind sail area: 134 m² / 1,071 sq ft
Design: VPLP
Interior design: Nauta Yachts
* * *
Related links:
Lagoon Catamarans
Lagoon 450 Catamaran
CNB – Construction Navale Bordeaux
Bénéteau Group
Photo: lagoon450.com