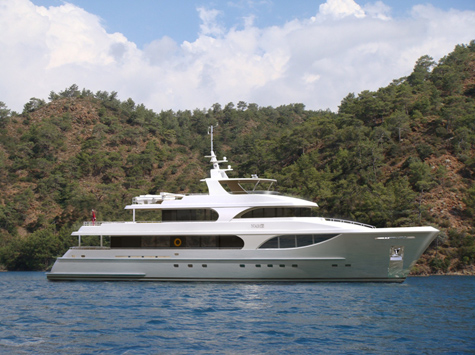 The new Conrad-Vripack motor yacht is a new build designed as a long-range expedition cruiser. It has been designed by the ever innovative and very able Vripack team, based in Holland and built by Poland based Conrad Shipyard. The two have been in the ship making business for long and have consistently proven themselves when it comes to making high-end private yachts, motor yachts and luxurious sailing yachts.
The Superyacht Conrad-Vripack has a length of 132 feet and a 28.15 feet beam. It's made of steel and aluminum and has a gross tonnage of 455.
This horizontal flow gives it a cool low profile. The windows are made in a vertical forward design, which minimizes glare and at the same time makes the interior roomy. The sky lounge is designed in a full beam style, which increases volume and gives enough room for the aft sun deck to have spacious dining and lounge entities.
This classy yacht has Twin Screw propulsion and a cruise speed of 133. It uses two Caterpillar engines and can do approximately 5,000 nautical miles. It operates on diesel and has a total horse power of 1,440 and 1,074 total kilowatts.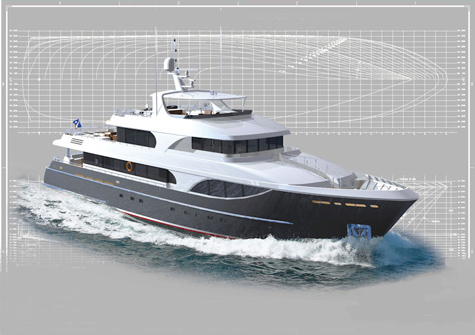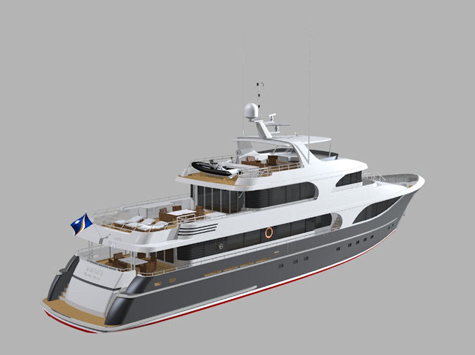 This Conrad-Vripack 132 is designed for easy handling and is easy to maintain. It can be used as a private or charter yacht. A small cabin crew of up to six can adequately manage the yacht. It can comfortably accommodate up to 10 people. The yacht owner's cabin, an executive stateroom, is on the lower deck in the most comfortable location. There are two double guest cabins and two convertible twins with Pullman berths where guests can stay in absolute comfort. The twin cabins can be combined to form a double cabin should the need arise. There are three crew cabins where the crew can feel at home and relax when they need to.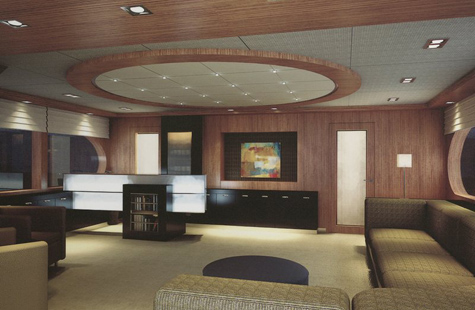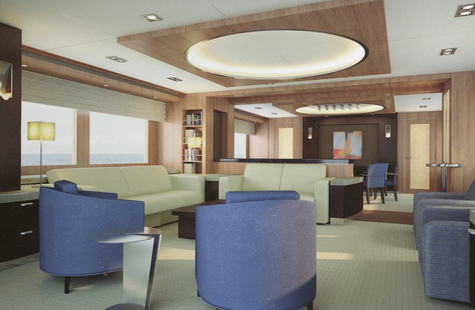 The yacht cabins are spacious and look like large master bedrooms. There is plenty of room even with the basic furniture and pieces put in place. The same is true of the lounge and dining areas. The interior design is art in perfection. Made in pear wood and wenge wood, it looks sleek and executive. It is accented with white leather and suede to give a unique, modern look. Once you buy, you can easily alter this interior décor should you wish to do so. You can bring in designers to modify the look to project your personal taste and preference.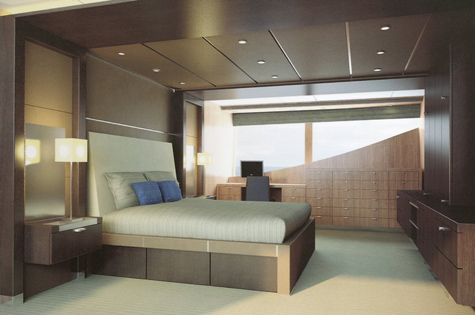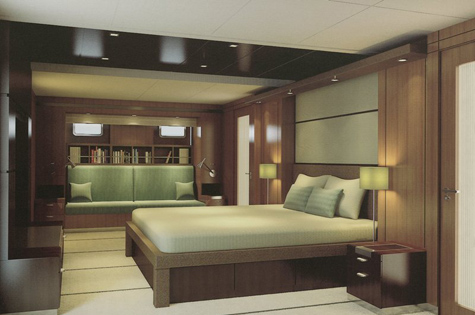 The Conrad-Vripack new build yacht offers the highest level of comfort on a yacht yet. Many safety precautions have been put in place to ensure safe ride; it meets all Maritime ratings and standards and is MCA compliant. It can be bought through Yachting Partnership International (YPI) at 14,500,000 Euros – an equivalent of 18,237,230 U.S dollars. This amount can be paid up to 24 months from the time of the purchase sign up. Delivery is done in a highly efficient and timely manner.
Specification of the Conrad-Vripack:
Length Overall: 40.29 m/132.19 ft
Beam: 8.58 m/28.15 ft
Draft: 2.52 m/8.27 ft
Hull Material: Steel
Superstructure: Aluminium
Gross Tonnage: 455
Engines: 2 x Caterpillar Inc C32 Acert, 1,440 HP, 1,074 KW total
Max Speed: 13.8 knots
Cruise Speed: 13.3 knots
Range: 5,000 at 12
Guest Cabins: 2 Double, 2 Convertible Twins + 2 Pullmans
Guests: 10
Crew Cabins: 3 Cabins
Crew: 6
Naval Architect: Vripack ®
Exterior Designer: Vripack ®
Interior Designer: Vripack ®
* * *
Related links:
Conrad Shipyard
Vripack
Photo: conradshipyard.com