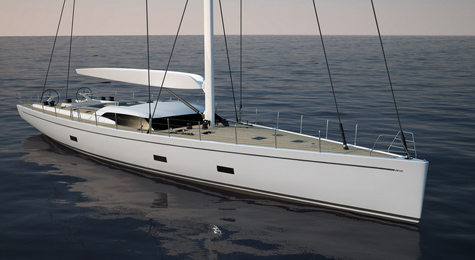 Once again South African based yacht builder Southern Wind establishes itself as the foremost leader in the building of high quality performance sailing yachts. Around the world, every ships master and sailor knows that statement to be the absolute truth and their latest project for which the hull mould has recently been completed will once again set the standard for sailing superyacht's in the 100 footer rang. In cooperation with the yacht design firms Farr Yacht Design and Nauta Yachts they have launched a brand new yacht design with the introduction of the Southern Wind SW 102 DS.
Farr Yacht Design Ltd is widely acknowledges as the best racing yacht design team worldwide. With the most impressive and extensive record of winning sailing yacht races by just one design group, this is most certainly not an idle boast and the title is well deserved.. Bruce Farr and Russel Bowler founded the design group in 1981 then known as Bruce Farr and associates, but since then has grown to become Farr Yacht Design. The current design team is comprised of 18 members all experts in their particular fields of yacht design and construction. In more than 25 years, Farr designs have won more than 40 world championships under their belt including several Americas Cup victories.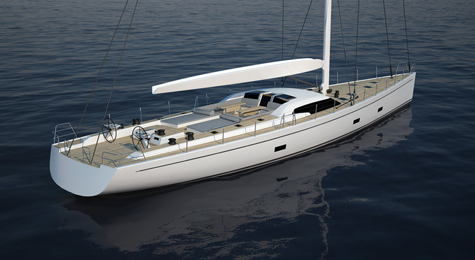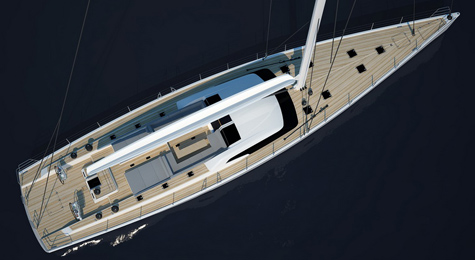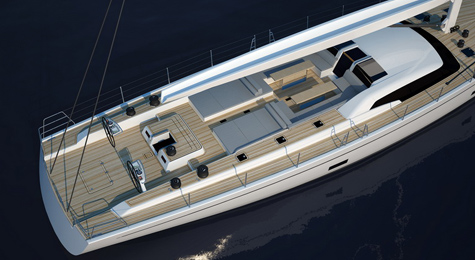 Nauta Yachts came to life in 1985 and was originally operated as a shipyard who not only built their ships, but designed semi customized power and sailing yachts that had both a great style and elegance, as well as being innovative in design within the yachting community. However, since 1994 Nauta Yachts has turned away from their shipbuilding operations and decided to concentrate solely on the design and brokerage of quality sailing and power superyacht's. The name of Nauta Yachts has become synonymous with elegant styling for both exteriors and interiors of yachts under power or under sail. Nauta also has a stellar reputation in project management and yacht construction consultation.
With all of this expertise and experience that these three master design and shipbuilders have at their disposal it is about time that they have come together to produce what will most certainly be considered the finest luxury sailing yacht in its class. The culmination of all three of these powerhouse firms the Southern Wind 102 DS is sure to turn heads where ever it is spotted, whether it be in port, on the bay, or in deep water. The SW 102 Deck Saloon is beautifully styled and looks like the graceful sailing yacht she most certainly is with a smart sail design and an excellent top deck plan that gives the owner an excellent platform form which to sail comfortably and with minimal effort.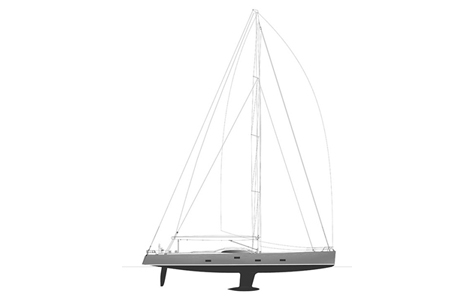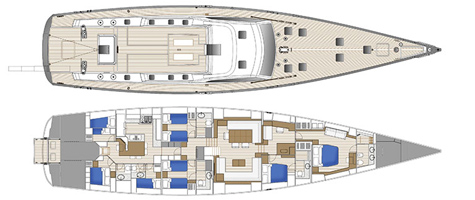 The specifications for the Southern Wind 102 DS are excellent as well. The naval architecture is a Farr Yacht Design. The hull materials are a composite sandwich made up of three materials Kevlar, Carbon Fibre, and an Epoxy Resin that makes the ship not only very strong, but also light weight and fast. The SW 102 DS is equipped with a Cummins QSB 5.9 MCD 305 hp Common Rail marine diesel for docking or reaching an acceptable point from which to hoist sails. The boat is 31.12m long and 27.72m at the waterline with a beam of 6.90m and a draft of 4.20m max. The SW 102 DS displaces 64.5 tons (light), has a sailing area of approximately 477 sqm, and took a year to complete.
Specification of the SW 102 DS:
L.O.A.: 31.12 m
L.W.L.: 27.72 m
Beam max.: 6.90 m
Draft: 3.95 m. or 4.20 m
Displacement: 64.5 t
Sail area: 477 sqm.
* * *
Related links:
Southern Wind Shipyard
Farr Yacht Design
Nauta Yachts
Photo: southernwindshipyard.com