What one word would you use to describe this vessel? WOW, that's right. WOW, because this ocean going luxury workhorse is anything but ordinary and it is certainly in a class all of its own. Yacht builder Amels has definitely set the standard for a Fast Yacht Support Vessel with their 67-meter Sea Axe yacht tender.
The Sea Axe 6700 is the third and largest hull in the Damen shipyards Sea Axe line and is definitely number one in the game of mega yacht support systems with both superior technology and design. This extraordinary ship is worthy of cruising right along side of the mother ship too.
The attention to detail on the Sea Axe 6700 is immediately obvious at a glance. This awesome ship can be painted and faired to yacht standard and the deck can be made of Bolidt artificial teak giving the Sea Axe 6700 a very aesthetically pleasing look. The attention to detail does not stop at the top deck and hull, as the interior of the 6700 is a cut above your ordinary workboat too.
The 21 person crew lives in an environment that is no less comfortable than a crew aboard any mega yacht enjoying excellent appointments in their cabins like yacht quality furnishings, state if the art galleys and entertainment systems.

The Sea Axe 6700 is of course being outfitted according to the client's requirements and includes some great features. This ship has an overall length of 220.3 feet with an exterior deck size of 1080 square feet. This 6700 hull will have a helipad that is certified to M.C.A. LY2 code, which will support a large helicopter that can launch at 5000 kg max weight. In addition to the helipad, the exterior deck can also carry a variety of smaller boats such as a yacht tender, ski boat, or Ribex boat in addition to the usual assortment of water going toys like jet skis and Seadoos.
The power that pushes the Sea Axe 6700 is also impressive and includes a variety of configurations for the owner to choose from too. The 6700 is powered by four Caterpillar model 3512C each delivering 1,911 horsepower, with a total of 7,644 total horsepower. The 6700 also has a four-prop drive train that will certainly make good use of the four Caterpillar engines power too. This power train/drive train configuration can achieve a maximum speed of 25 knots with a cruising speed of 18 knots. With a fuel capacity of 79,260 gallons, the Sea Axe can travel a vast distance before refueling.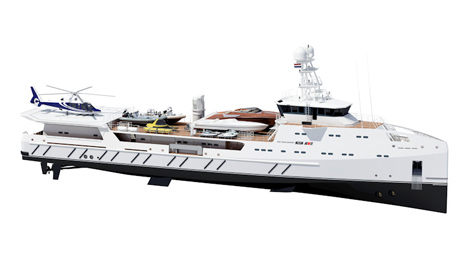 The Dutch yacht builder has plans to deliver the first Sea Axe 6700 to its client in the spring of 2012 and client is almost certainly going to be ecstatic about this investment acquisition when he sees the finished product too. The client will also be able to use this ship for many different things as well as just tending to his mega yacht. The Sea Axe is perfect for scouting out things such as anchorages and fishing sites suitable for a mega yacht. The Sea Axe can also be used to as the lead vessel in a driving expedition giving the owner an opportunity to have a base of operations already set up when he gets to the end of his voyage.
Specification of the Sea Axe 6700:
Length Overall: 67.15 m/220.31 ft
Length Waterline: 66.91 m/219.52 ft
Beam: 11.25 m/36.91 ft
Draught Max: 4.00 m/13.12 ft
Hull Material: Steel
Superstructure: Steel / Aluminium
Gross Tonnage: 1128
Engines: 4 x Caterpillar Inc 3512C, 1,911 HP, 1,425 KW each
Max Speed: 25
Cruise Speed: 18
Fuel Capacity: 300,000 l/79,260 gal
Water Capacity: 42,000 l/11,096 gal
Crew: 21
Naval Architect: Damen
Exterior Designer: Damen
* * *