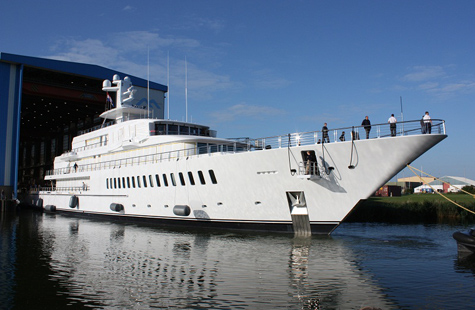 Well it looks like that partnership Feadship has done it again. They have had a preliminary, but unofficial launch of their latest superyacht. This is of course nothing new to those in the know within the yachting community, because Feadship has been doing the same thing for more than sixty years. Feadship is comprised of the shipyards of Koninklijke De Vries Scheepsbouw, Royal van Lent, and the Naval Architectural firm of De Voogt who joined forces in 1949. Since that time, Feadship has built some of the most well known motoryachts in history.
The newest and as was said unofficial launch by Feadship is that of the superyacht Musashi, the new flagship of Feadship family of yacht builders. However, the Musashi was not entirely built at either the De Vries Makkum shipyard, or the Royal van Dent shipyard, because the hull was manufactured at Feadships hull manufacturing facility at Paendrecht, Holland. However, the Makkum facility did indeed complete the construction of the superyacht Musashi and in the spirit of cooperation Sinot Yacht Design created the interior.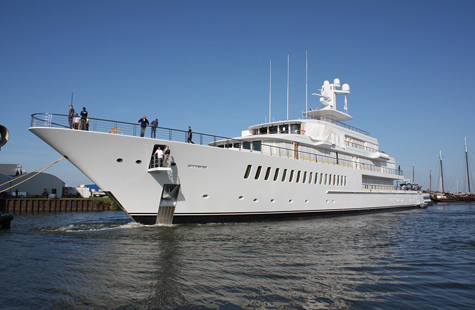 Sinot Yacht Design is another name who is well known in the yacht building and yacht design world as well. In the early 90′s founder, Sander Sinot finally opened his own design firm after working for the world famous design firm of Henry Dreyfuss. Sinot specializes in creating ultra modern designs for both the interior and exterior of luxury superyachts and they have built a stellar reputation within the industry and amongst yachting aficionado's worldwide. Their design for the interior of the superyacht Musashi is certainly sure to be no exception.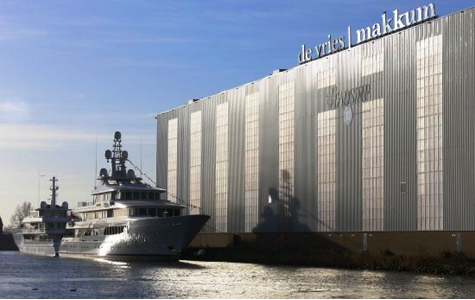 The latest information on the XL 88 Musashi superyacht sounds very exceptional. The Musashi is 287.99 feet long and comprised with a full displacement steel hull and an aluminum superstructure. De Voogt of the Feadship group created both the Naval Architecture and the exterior design plus lines. The Musashi being an 88 meter ship is now the company's largest build to date and the staff of the Makkum shipyard have been focused on completing the Musashi project with their usual dedication and professionalism that makes them some of the best ship builders world wide.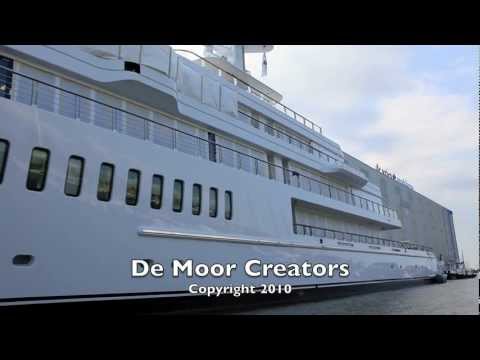 Some of the specs for the superyacht Musashi are quite nice and considering the size quite necessary. Four MTU 16V 4000 M90 diesel engines, putting out a whopping 14,600 total horsepower, power the magnificent mega yacht. The propulsion unit is a four-screw system that can certainly do the job of propelling this Megayacht anywhere in the world. We also know that the Musashi is flagged in the Cayman Islands. Currently the status of the Musashi superyacht is still being outfitted. Unfortunately, we do not yet know the max speed, cruising speed, guest, or crew capacities.
Specification of the Feadship 88 Musashi:
Length Overall: 87.78 m/287.99 ft
Beam: 16.50 m/54.13 ft
Hull Material: Steel
Superstructure: Aluminium
Engines: 4 x MTU 16V 4000 M90, 14,600 HP, 10,887 KW total
Naval Architect: De Voogt Naval Architects
Exterior Designer: De Voogt Naval Architects
Interior Designer: Sinot Yacht Design
* * *
Related links:
Feadship
De Voogt Naval Architects
Sinot Yacht Design
Photo: feadship.nl