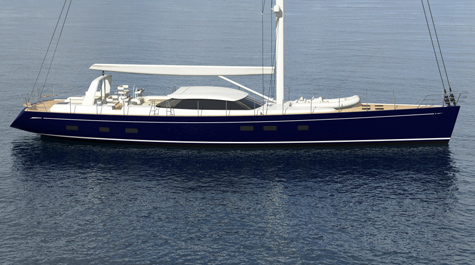 The 100′ Meteor is a composite material sailing sloop with gentle lines from her bow to her stern. Built at Auckland New Zealand, and designed with the experience of Dixon Yachts, this boat is built with strict compliance Germanischer Lloyd and MCA classifications, but is not constructed with the standard aluminum. Instead, a composite of Kevlar, carbon, and Eglass, as well as a sandwich foam technology, makes this vessel up to 30% lighter, than aluminum, yet still incredibly strong. For even more impact resistance, the entire outer skin is composed of Kevlar as well.
The mainsheet is attached to an aft arch, which keeps it up and clear of the crew and passengers. The rigging and spars are made from carbon fiber, and have hydraulic furlers. The rudder is also made from carbon fiber, with its high aspect underwater shape, and non assisted, direct quadrant steering, give the helmsman the most feel when steering and guiding the boat itself, yet also extremely easy to navigate.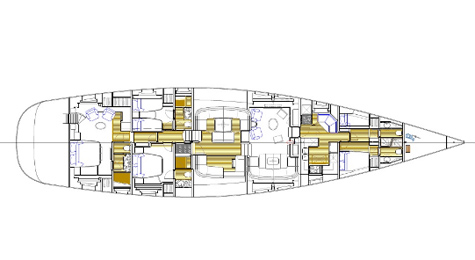 The interior is designed by Rhoades Young, and will feature blond teak for the walls, wide planks of walnut for the floors, and with have extremely comfortable sofas. The owner's quarters will be full beam, and just over 24 feet, and will also have a privat access to the control room. While there is not a lot of details, mainly because it is still under construction at Yachting Developments special craftsman, here are a few of the other details that are known.
There is no conventional motor, being as it is a sailing ship, and will just have maneuvering motors when in a harbor or marina. Empty, it will sit in the water at 98 feet, fully loaded, 87.5.' It has a beam of just over 24′ and a draft of 12.6.' It's displacement is 100 tons, and a ballast weight of just over 28 tons. This luxury yacht, toe 100′ Meteor, is scheduled for completion in 2011.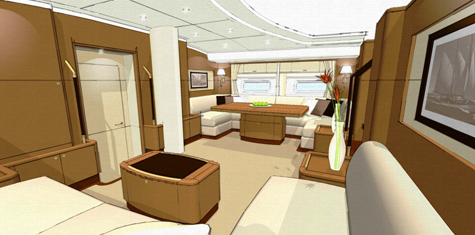 If the Meteor is anything as good as other yachts created by Yachting Developments, it is going to be one extraordinary luxury yacht, with other famous creations that have come out of this shipyard, the Bliss, Q5, Angel, and the Endeavour, just to name a few, this is one of the most well known and sought after ship yards in the industry. You can find out much more information on this company, the yachts they have built, as well as the many refits they have completed online at their own website. You can see some concept drawings of the meteor here as well at other sites. It isn't hard to see why the Meteor is going to be one of the most anticipated projects to come out of this company, and the owner's representative, Patrick Yeoward, has not only been fully involved with this project, but three others for the same owners.
Specification of the Meteor:
LOA: 30.00 m/ 98.43 ft
LWL: 26.7 m/ 87.5 ft
Beam: 7.35 m/ 24.1 ft
Draft: 3.85 m/ 12.6 ft
Displacement: 100 t
Ballast:  28.5 t
Hull Material: GRP
Superstructure: GRP
Naval Architect: Dixon Yacht Design
Exterior Designer: Dixon Yacht Design
Interior Designer: Rhoades Young
* * *
Related links:
Yachting Developments
Dixon Yachts Design
Rhoades Young Design