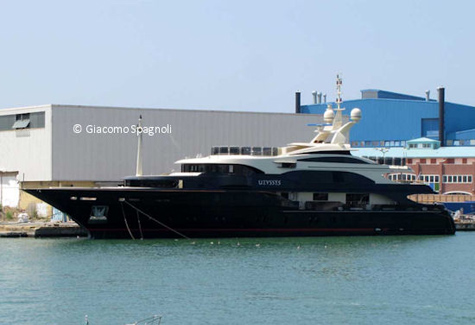 Private yachts or ships have always been a badge of the rich, famous, and powerful. This tradition yachting amongst the financial elite in the world is not anything new either it has been going on for almost as long as there has been a boat on the water. From the time of antiquity and their massive ships that were rowed by slaves and owned by kings, to the great sailing vessels of the renaissance and European empires, and finally to present day with the fabulous sailing yachts and awesome power yachts of today you can have this experience for the right price. The Benetti Ulysses is the newest way to have that experience.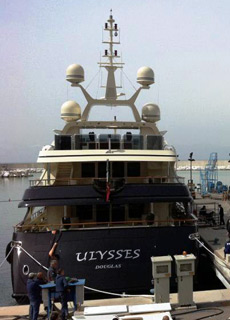 The Ulysses superyacht is the latest creation in a long line of watercraft built by the Benetti shipyard of Italy. The Ulysses, which was launched by Benetti Yachts, is a composite boat of 46.5 meters in length with a unique paint design in black on her topsides, hull, and the lower part of her superstructure. When you look at the Ulysses she appears to be related to other yachts in Benetti's FB group, but it not only clearly stands out from this group of watercraft, but also is obviously a departure from the norm that Benetti apparently was looking for.
The Benetti shipyard was founded by Lorenzo Benetti and has been in business since 1873. After Lorenzo passed away his two sons Gino and Emilio took over the operation, renamed the business Fratelli Benetti, and ultimately garnered some recognition outside of the Mediterranean Sea. In the 1980′s Azimut SpA took over the management and the control of the shipyard, and as of this year Azimut Benetti is number one in the world with regards to production for the six straight years. Benetti Yachts boasts three shipyards in Italy and in 2004 signed a deal allying both Benetti and Fincanteri another ship builder.
* * *
Related links:
Benetti Yachts