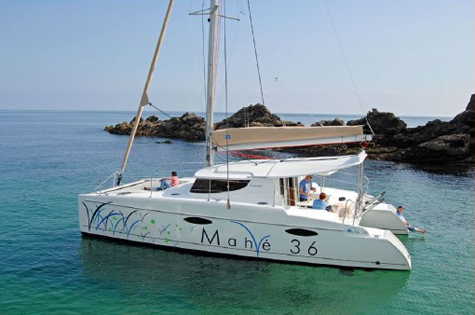 While the Mahe 36 Evolution is indeed a catamaran, there many features that you would normally find on standard luxury yachts.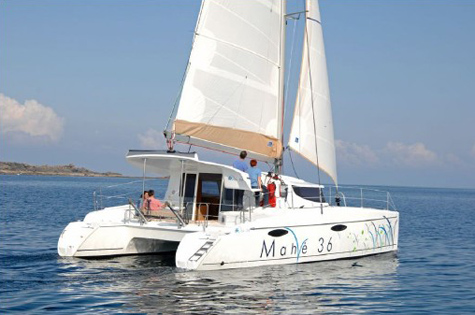 One of the biggest is the integrated full length hard top, which makes this the first in it's class. This rigid bimini covers all aspects of the sailing controls, even the main sheet tracking system. The double helm seating arrangement gives a commanding view that is a full 360 degrees, much like it's larger sister cat, the Lipari 41. Because of this integrated design, the whole cockpit is now free for entertaining and relaxing. Now you will have such a vast living area, protected from the elements, and the beating sun. It boasts a 160 square foot saloon.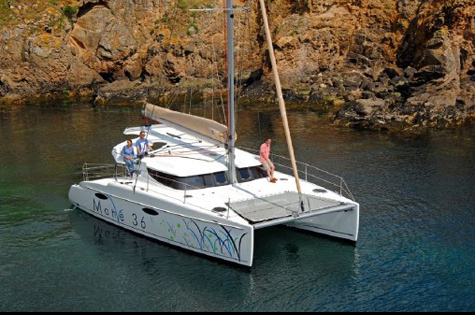 Inside is just as spectacularly spacious as the outside, which were inspired by some of the larger catamarans, in the Fountaine Pajot's line up. The galley area has been totally redesigned, with two large stainless steel sinks. The front opening refrigerator has been expanded to a 130 liter capacity, and sits closer the the cockpit area. In addition to the traditional saloon area, there is now another built in bench seat, which can also be used for extra storage.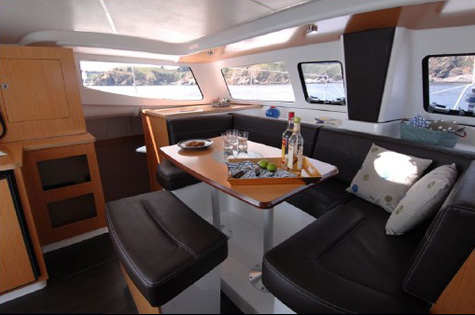 Two additional, large hatches in this area also provide better comfort and enhanced ventilation. They are located on both sides of the main mast, as an extension of the wrap around front window. Some of the other features you will find are the chocolate colored fabrics, and the rich cherry wood cabinetry. The Mahe 36 Evolution will be available in two different cabin floor plans, a three cabin plan, with will appeal to families and is quite spacious, or the deluxe two cabin version, with one full suite per hull, for the ultimate in catamaran luxury.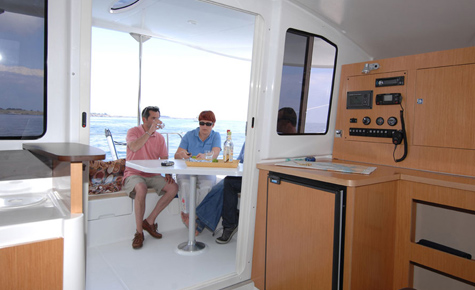 Whether you are considering chartering this magnificent specimen, or are wanting to buy it outright, you will not be disappointed. While only 36 feet in length, it affords many of the same luxuries and considerations that you would normally find in larger, more expensive vessels.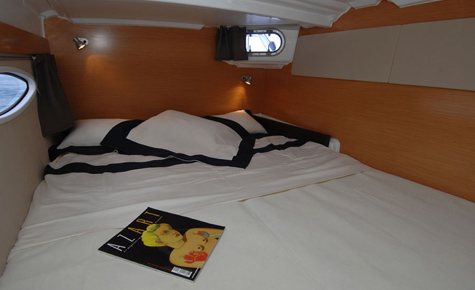 Located in La Rochelle, one of the most important building areas, Fountaine Pajot has been in the business of building catamarans since 1983. Now they have a full line up of state of the art sailing and motor cats available. They are a leader in the use of the most advance technologies, which is no wonder they are one of the most popular shipyards in the industry. With such big name vessels under their belt like the Lipari 41, Salina 48, the Summerland 40, and Cumberland 46 just to name a few, it isn't hard to see why this would be the first company to go to for your catamaran needs.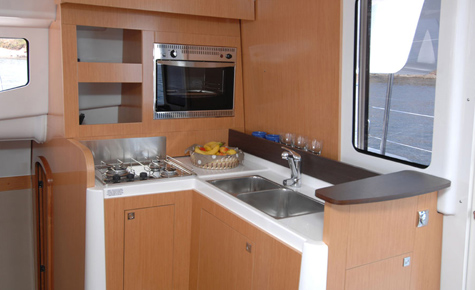 * * *
Related links:
Mahe 36 Evolution
Fountaine Pajot