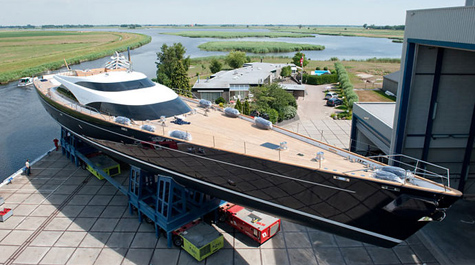 The sailing superyacht Twizzle is just about ready to be handed over to her owners, and is the first of it's kind to be constructed by the famous yacht builders Royal Huisan. This yacht has a Dubois style fly wheel ketch, who has also commissioned other motor yacht, also named Twizzle by another Dutch yacht building company. These owners also have another 55m Perini Navy Sailing yacht in their collection.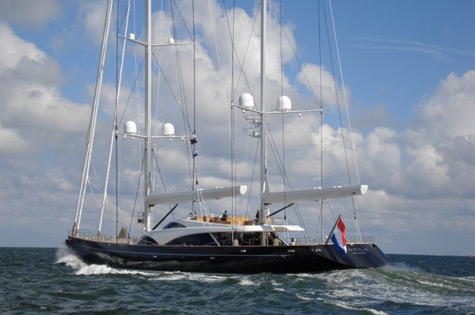 The yacht Twizzle was built and designed for the whole family to sail anywhere on Earth, with style, safety and speed in mind. Not only is it the first yacht that has been built by Royal Huisan styled and designed by Todhunter Designers, and Redman Whiteley Dixon, with contributions by the owner, it was also the first build with an extra fly bridge. This bridge was constructed by Ed Dubois, a naval architect whose designs are often constructed in ship building yards out of New Zealand.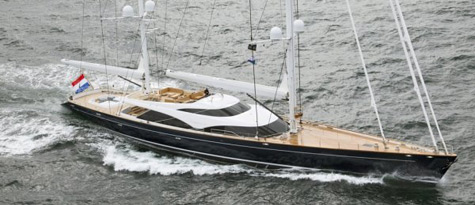 The name "Twizzle" actually comes from a 1950s television puppet. This magnificent sailing yacht is a high tech, high performance sailing yacht that is capable of long distance cruising, and has the mix of luxury and comfort that you would normally find in high end motor yachts.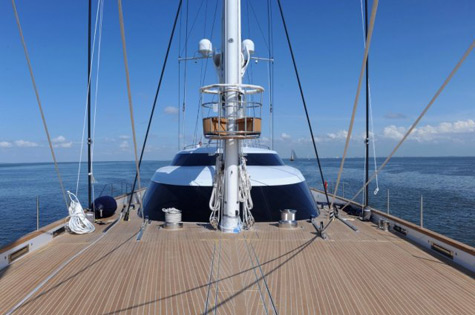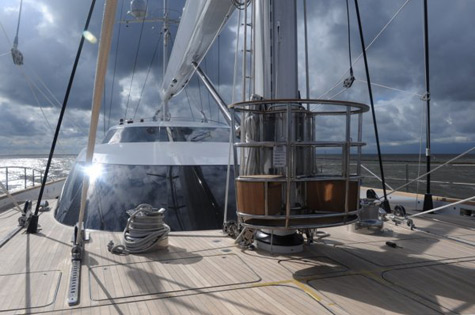 Our previous story about Twizzle can give you many of the fine details regarding the yacht, including concept pictures, design specifications, and other interesting facts. One of them is that there is 120 tons of internal ballast, which give much more stability and stiffness to the yacht. Another important aspect is that the owners where highly involved with the creation and design, and brought in their own particular ideas about the technology that is involved in the navigation, as well as adding their personal experiences, which often challenged the creators, and added to the momentum of the process.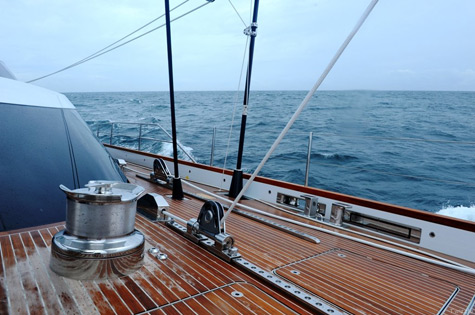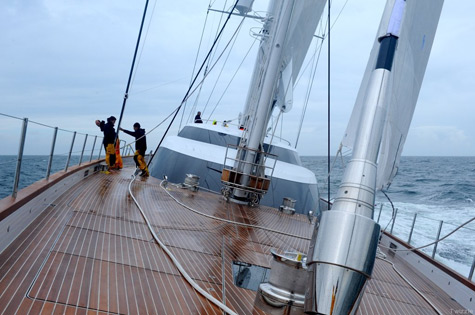 Some of the other specifications to the Twizzle are that the guest and owner's quarters are abaft of the engine room, the crew's cabin in much forward. In order to create a refined and relaxed atmosphere, the uses of hand painted fabrics, natural silks and linens are incorporated into the living areas. There is a saloon and central dining area located about the engine room, with the galley on the mezzanine deck, and another raised deck for the pilot's area.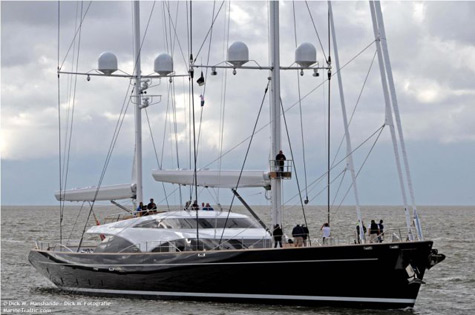 Specification of the Twizzle:
L.O.A: 57.5 m/188.64 ft
D.W.L: 48.99 m/60.73 ft
Beam: 11.58 m/37.99 ft
Draft: 3.8 m/12.47 ft
Displacement: 550 t
Engine: 1 x Caterpillar C32 ACERT – 970kW/1300hp@2100rpm (B-rating)
Construction: Aluminium (ALUSTAR)
Fuel capacity: 44,658 l
Fresh water capacity: 11,679 l
Builder: Royal Huisman Shipyard
Naval Architect: Dubois Naval Architects
Exterior styling: Redman Whiteley Dixon
Interior styling: Redman Whitely Dixon
* * *
Related links:
Superyacht Twizzle
Royal Huisman
Dubois Naval Architects
Redman Whiteley Dixon
Photo: royalhuisman.com, twizzle.org