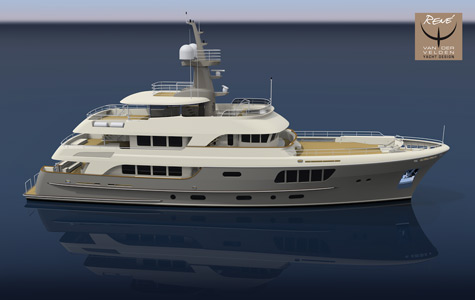 Less than a month after the launch of the 44m super yacht Imagine, Alloy Yachts out of New Zealand is already getting started on another, the AY44 super motor yacht. This World Explorer class will be able to find the far reaches of the world without compromising safety or comfort, and is scheduled for launch sometime in 2012. The interior of the AY 44 will be designed buy Redman Whitely Dixon, and the owner's representative, Peter Wilson, who is seen regularly around this shipyard. Here are some of the features that AY44 will have.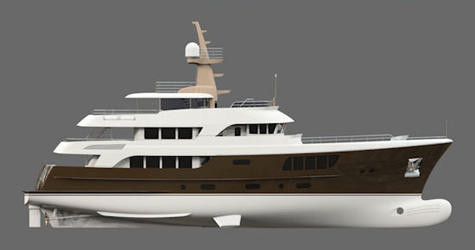 When empty, the LWL will be just 36.03 meters, at full load 39.16. The maximum beam size is almost nine meters, with just over eight and a half at the water line. It will have a draft of just 2.7 meters. It will be powered by twin Caterpillar C32 ACERT "C" rated diesel engines. There is expected to be four full decks, as well as a set of stairs leading up to the navigational equipment, high in the crow's nest. As it is just being started in construction, there is not a lot of detailed information that has been released yet.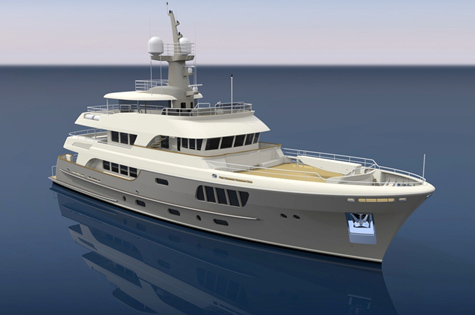 Alloy Yachts is a custom builder of luxury motor and sailing yachts out of New Zealand. They have built some of the largest ships in the industry, from 30 meter, to a whopping 68 meters, or 100-220 feet in length. All their productions have had a world wide reputation, for the most reliability, luxury, and class. Because of their innovation, style and reliability, Alloy Yachts have won many prestigious international awards, including the winner of the Boat International Award for Style, the International Superyacht Design Award, and the Showboats International Award for Best Sailing Yacht Interior, just to name a few.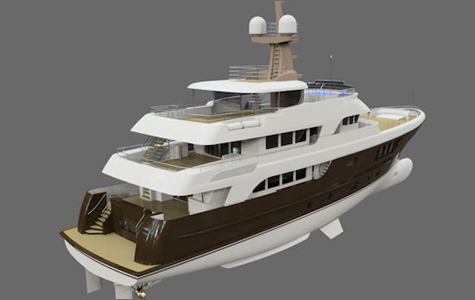 Enjoying the great confidence by leading naval architects, the head of operations for Alloy Yachts is world renowned managing director Tony Hambrook. Together with his team of highly experienced and sought after designers and craftsmen, it is no wonder why they are at the top of the list when owners are looking for a world class yacht design. Their staff of more than 300, have an combined 500,000 sea miles of experience behind them, and know their stuff. This passion is what makes Allow Yachts a world class leader in the yachting industry.
Specification of the World Explorer AY44:
Length Overall: 39.16 m/128.48 ft
Length Waterline: 36.03 m/118.21 ft
Beam: 8.80 m/28.87 ft
Draught Max: 2.70 m/8.86 ft
Hull Material: Steel
Superstructure: Aluminium
Engines: 2 x Caterpillar Inc C32 Acert
Naval Architect: René van der Velden Designs b.v.
Exterior Designer: René van der Velden Designs b.v.
Interior Designer: Redman Whiteley Dixon Ltd.
* * *
Related links:
Alloy Yachts
Redman Whitely Dixon
René van der Velden Designs
Photo: alloyyachts.co.nz