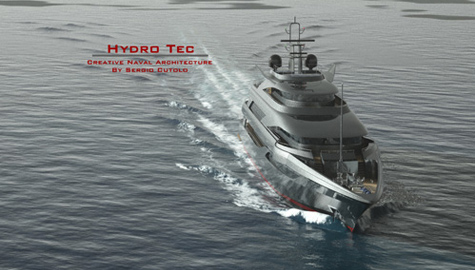 The motor yacht Columbus 199 is currently under construction by Cantieri Navale Palumbo, and will be ready to launch sometime in 2012. It is a steel hulled superyacht, which when completed will be 60 meters long, more that 190 feet, making one of the longest yachts in production.
The Columbus 199 motor yacht is very streamlined, designed by Hydro-Tec, an Italian firm. It will rise five decks with a full displacement hull, and will be fitted with a bulbous like bow for more stability while at sea. There is planned to be seven cabins, with a full beam owner's suite, on the upper deck directly behind the wheel house. Two VIP cabins will be on the main deck, and with four more, plus the crew quarter on the lower deck. There will be an elevator, servicing four of the five decks.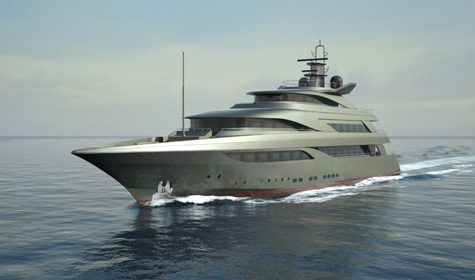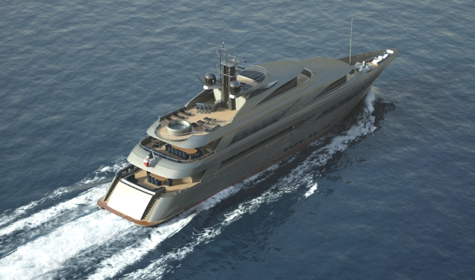 Some of the added features that will also be included with the Columbus are an enclosed gym and alfresco bar on the upper fly deck, a spa style pool, a large beach club area, and a large tender garage, big enough to hold a guest skiff as well as numerous water craft and sport toys. The aft club area also has and another hydraulic platform, and when this is open, extend the length of the hull around another three meters, giving ample space for swimming and lounging.
For it's size, the Columbus 199 will be able to reach top speeds of up to 18 knots, with a regular cruising speed of 14-16 knots. This is done with the help of the two 16Volt, 4000 M60 diesel motors, each capable of producing 2,300 horsepower, and more that 1,700 kilowatts of energy, as well as a twin screw propulsion system. With it's 126,000 liter fuel tanks, it is capable of traveling up to 5,000 nautical miles on a single fill up. This combined with a fresh water holding tank of almost 28,000 liters, this super yacht is ready and willing to take you wherever you want to go.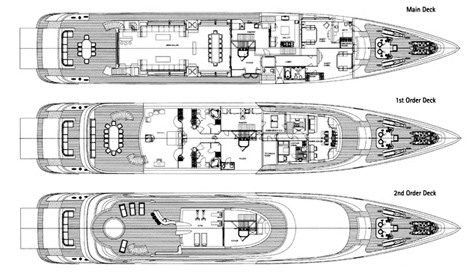 Some of the other dimensions are; a length of almost 70 meters, and a maximum beam of 10.2 meters. It has a maximum draught of 3.3 meters at a full load, with a displacement of more that 800 tons with full fuel tanks. One of the other nice things about the Columbus 199 is that when finished it will meet or exceed the Registro Italiano Navele, or RINA Green Star Code. This is a classification only given to ships that are constructed, designed and operated with the maximum environmental respects.
Palumbo is also working on another, smaller vessel, a sister ship under the same name, but will be the 177. This yacht is almost finished right now, and will be just as Eco-Friendly but a more of a classical design than the highly aggressive 199. More information about the Columbus 199, Columbus 177 and other super yachts, there are numerous websites to choose from, and Palumbo even has their own site. After looking over the specifications, the concept drawings, and who exactly has their hand into the project, it isn't hard to see why this is going to blow many other superyachts out of the water, no pun intended.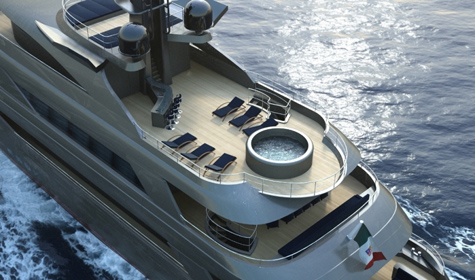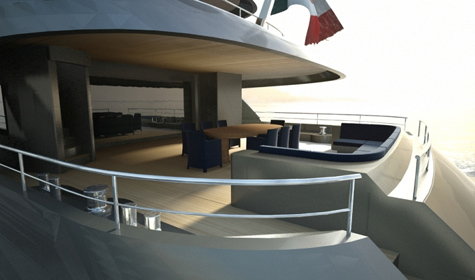 Specification of the Columbus 199:
Length Overall: 60.70 m/ 199.15 ft
Beam: 10.20 m/ 33.46 ft
Draft: 3.30 m/ 10.83 ft
Hull Material: Steel
Superstructure: Aluminium
Engines: 2 x MTU 16V 4000 M60, 4,640 HP, 3,460 KW total
Max Speed: 18
Cruise Speed: 16
Range: 5,000 at 12
Fuel Capacity: 126,000 l/ 33,289 gal
Water Capacity: 27,900 l/ 7,371 gal
Guests: 14
Crew: 14
Naval Architect: Hydro Tec S.r.l.
Exterior Designer: Hydro Tec S.r.l.
* * *
Related links:
Hydro Tec S.r.l.
Cantieri Navale Palumbo