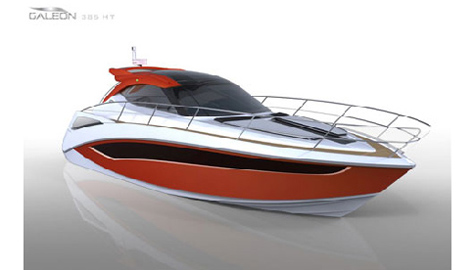 The Galeon shipyard continues to triumph, as they begin to expand on the models currently offered. The design of the Galeon 385 HT is based off the 325, as well as other HT models. Throughout the time in production, they have evolved to become bigger and now offer more space.
Primarily, the UK based designer, Tony Castro has designed for the Galeon Shipyard. Once again, from his design studio, the Navel Architects and Yacht Designers have started to work in the production for the Polish yacht builder Galeon. As a result, another addition to the Galeon Sports Cruisers has been made with the 385 HT.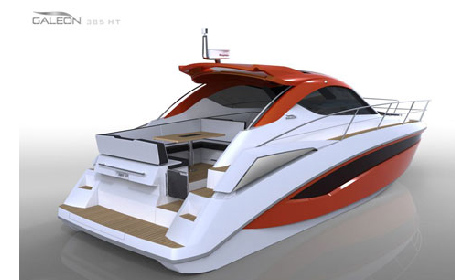 Although the model looks very similar to the 325 HT, it becomes apparent after looking inside that it is larger and more appealing to the eye. Overall, the sport cruiser is 39.5 feet long and comes equipped with an electric driven hardtop. It does not lack in performance by any means.
The 385 HT has both style and a modern touch, while keeping the size on the smaller side. One of the dominant features is the hull, which allows for amazing handling. It has a max speed of 37 knots and a cruising speed of 32 knots.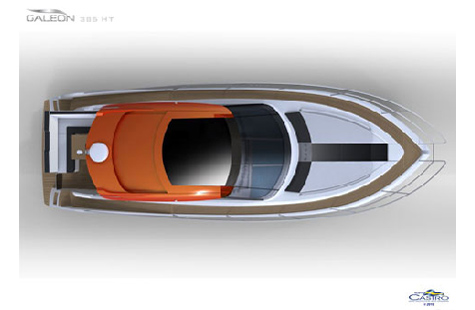 The 385HT runs from the 2x Volvo D6 370 HP engine. As with many of the most current types of ships today, the 385 HT features a single level main deck. In order to make the best use out of all of the space within the deck, Galeon and Castro worked together in the creation.
The exterior of the 385 HT features a modernly clean and sporty look. Within the forward deck, people are sure to enjoy the versatile function offered. People have the choice to whether they want to sun bathe or use the large seating area provided.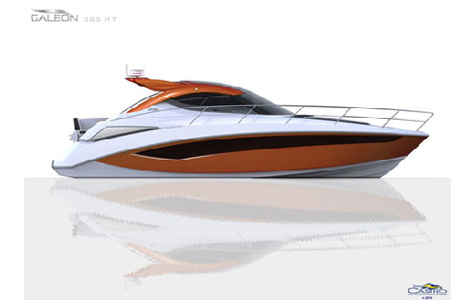 The seating area consists of a C-shape design. Additionally, the transom seats lift for access to a storage area. A large amount of detail has been put into the cushions, which consist of a two-tone material. Additionally, the control panel, lounge, and wet bar are located on the forward deck.
As for the lower deck, the owner's suite is located at the fore end. The suite is a full width double cabin. In addition, another cabin offers an area for guests with a private bathroom and twin bed. The L-shaped sofa and dining area serve as a saloon and caboose.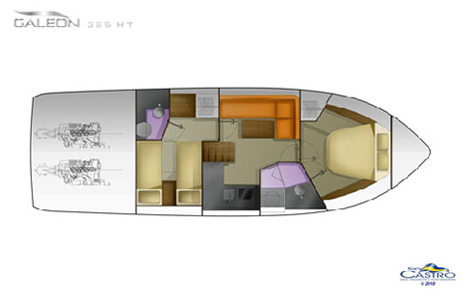 Ultimately, people will enjoy having enough room for entertaining and relaxation. Furthermore, they will have plenty of room for people to sleep. The 385 HT is the evolution of Galeon ships.
Largely, the suggestions and wants of customers was the foundation for the vessels creation. The vessel speaks both sporty and elegance at the same time, while boasting comfort and performance. Within the interior, it features modern living spaces, which are bright and comfortable for all.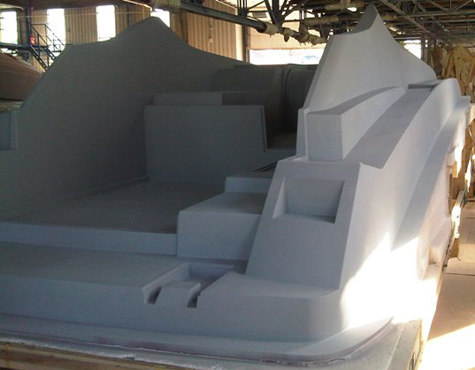 * * *
Related links:
Galeon Yachts
Tony Castro
Photo: galeon.pl