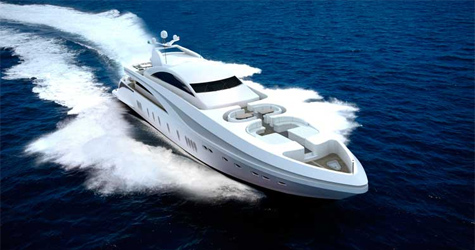 Leopard Yachts have really outdone themselves with the new Leopard 56. With it's contemporary profile, and excellent performance, owning this motor yacht is sure to be the envy of all around you.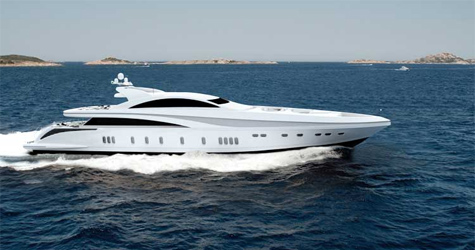 These are just some of the great features about this boat. This is just the beginning of what the Leopard 56 has to offer. With a length of over 180 feet, and a beam of over 32 feet, this yacht is large enough to accommodate up to twelve guests and a large crew of 12, your every desire can be fulfilled. With three large decks, there is ample room for you and your guests.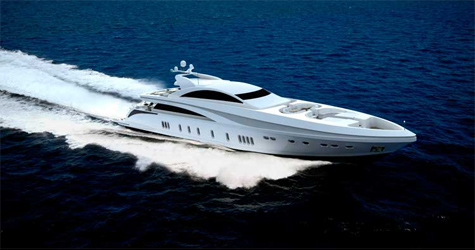 Because it is the combination of the naval architect Andre Bacigalupo, and the Italian shipyard, together with the interior design by Cristiano Gatto, this is the pinnacle of modern luxury. With frise and wenge maple for the wall finishings, the floors and bioseries, and leather decorative panels, you can easily see yourself here. The large fly bridge has different open areas, dedicated to specific needs, including dining areas, relaxing spaces, and even a large pool with a sun bathing that is wide and inviting, and welcome you to enjoy panoramic views of the ocean, or harbor, or wherever else you happen to be.
Here is one set of layouts that are available to the Leopard 56, and since this can be customized to the owner's specifications, it isn't set in stone. On the upper deck is the captain's area, flight deck and many living areas. There are two dining spaces, both fore as well as aft, as well as two different spaces for relaxing. In the far fore section is where you will find the pool and sunbathing area.
The main deck, which has the main saloon, dining and galley, but also has the owner's quarters, that take up most of the forward space. This area has a large king bed, space for private guests to visit, as well as an office area. There are two bathrooms, both with large tubs, and a walk in closet. There are private entrances to both the main area, as well as the stairs leading to the upper deck. This deck also has access to the rear swimming platform and skiff launch.

The lower decks are where the crew and guest quarters are located, as well as another dining area and a twelve seat theater in the fore section. You heard that right a private theater. There is also a full sized gym with a private bathroom. There are five different guest cabins, three that have one large bed, private baths, and large closets. The other two guest cabins have twin beds and bathrooms. There are six crew cabins, with bunk style beds and bathrooms. This is also where the swimming deck is located, as well as a large skiff, and two jet skis. There is ample storage for any type water activities you want as well.

If you want power, you have it. The twin MTU Diesel 12V 4000 M93L engines, as well as a 16V 4000 M93L back up, it's triple jet propulsion really make this ship get up and go. It is capable of a top speed of 32 knots, and cruises at 28 knots, much faster than other yachts of it's class, ABS. With over 14,000 gallon fuel tanks, and a fresh water capacity of more than 1,300 gallons, this baby will take you anywhere you want to go.
Specification of the Leopard 56:
Length : 56.00 m/183.73 ft
Beam: 10.00 m/32.81 ft
Draft: 1.70 m/ 5.58 ft
Displacement: 360 t
Engine: 2 x MTU 12V 4000 M93L 3,460 HP/2,580 KW each and 1 x MTU 16V 4000 M93L 4,600 HP 3,430
Max speed: 32 knots
Cruise Speed: 28 knots
Fuel Capacity: 55,000 l/14,531 gal
Water Capacity: 5,000 l/1,321 gal
Guests: 12
Crew: 12
* * *
Related links:
Leopard Yachts
Andre Bacigalupo
Cristiano Gatto
Photo: leopardyachts.it