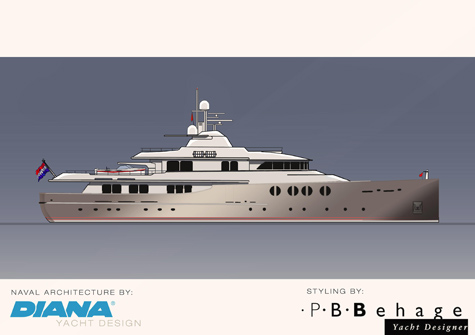 As the name suggests, the Nostalgic II will bring back fond memories of the yachts of old, but with new state of the art features and electronics. This super motor yacht is a combination of old lines and new designs. Her steel displacement hull is combined with an aluminum superstructure, and this vessel even has a canoe like stern, offering optimal performance, as well as complete luxury. She will have a maximum speed of about 14 knots, and will be able to travel up to 5,000 nautical miles, making her suitable for just about any blue water cruising, anywhere in the world.
The Nostalgic II will be able to comfortably house 10 guests, the owner plus crew. The main deck is where you will find the owner's state room. There has been spared no expense here. It has a spacious bathroom, with a king size bathtub, and a full walk in closet. There is four VIP suites on the lower deck, plus two double cabins, and two twin cabins on top of all of this.
In addition to the owner's state room, the main deck will also have the main salon, a separate formal dining area, as well as the main galley. The bridge deck will have the offices, as well as the captain's quarters, an a large but less formal salon area. There will also be two tenders located in the aft part of the bridge deck. On the sundeck, there will be a large jacuzzi to the bow, and sunbeds and loungers to the aft. One of the most interesting features about the Nostalgic II is the exterior stairs that go up the sun deck. These placed in the center line of the yacht, and the deck itself also features built in seating against the bulwarks.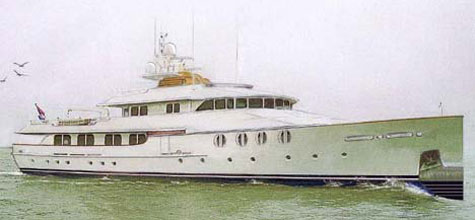 There will be an outside shower, life rafts storage in the sides, reminiscent of the vessels of old. There is also two bars, swimming and tender launch deck, a gym and each of the guest quarter will have it's own bathroom. There will even be a laundry area, and full crew quarters, with their own galley and dining areas.
There also some other special features of this vessel that need to be mentioned. One of them is that the Nostalgic II has the most modern state of the art, yet the lowest energy consuming equipment, lights, and other systems, as well as being extremely Eco-Friendly, and maintainance pleasant. The canoe stern provides course stability, and to vertical bow allows this vessel to slice through water like a hot knife through butter, also cutting down on fuel consumption. Because of the vertical bow, there is also much more actual storage area.
Specification of the Nostalgic II:
Length over all: 44.00 m
LWL: 42.85 m
Beam over all: 8.45 m
Draft: 2.65 m
Engines: 2x 796 kW each
Speed approx.: 14 knots
* * *
Related links:
P. B. Behage
Diana Yacht Design
Photo: dianayachtdesign.com